MLB.com Columnist
Jonathan Mayo
MLB Pipeline checks in from D-backs camp
Young pitchers offer promise for new regime; Blair talks first big league camp experience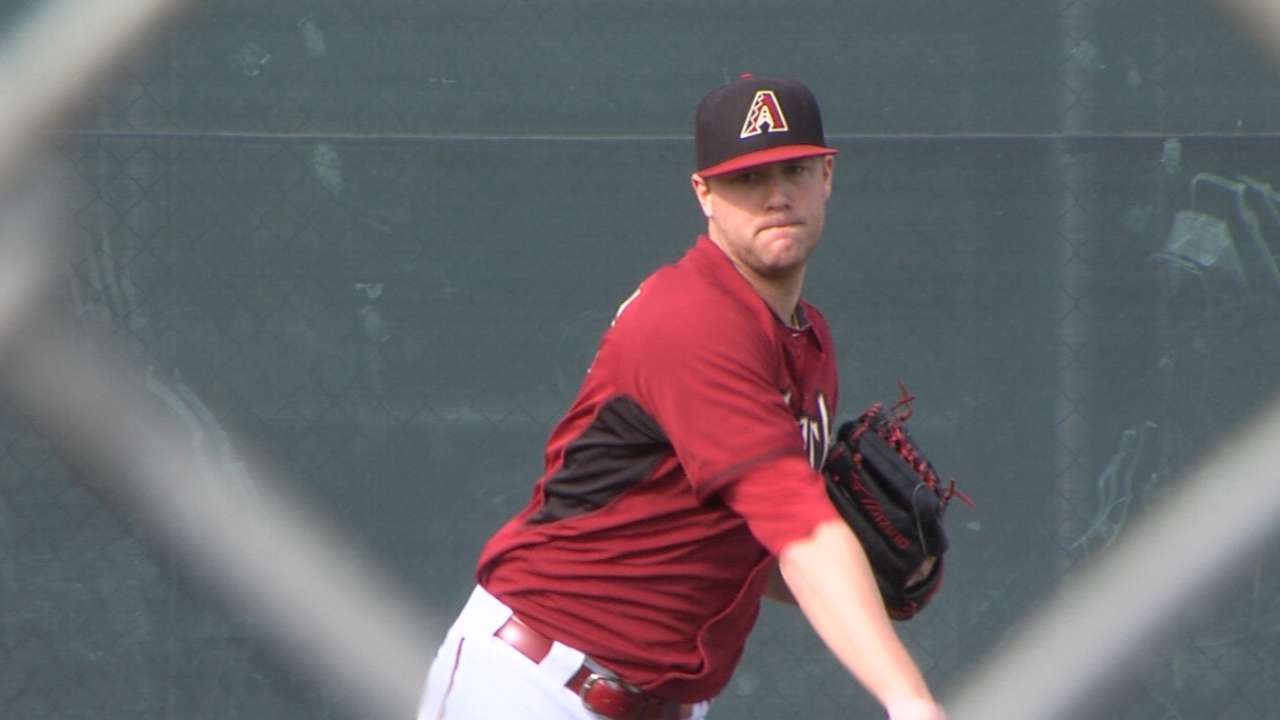 Every Spring Training, prospects get a chance to show what they can do as they prepare for the season ahead. Some are competing for jobs in big league camp, others are prepping for the season as they vie for spots at Minor League affiliates up and down a team's system. MLBPipeline.com will be visiting all 30 camps this spring. Today, we check in on the Arizona Diamondbacks.
SCOTTSDALE, Ariz. -- It's not unusual for a front office to have to get used to new personnel over the course of Spring Training. In the case of the new regime running the Diamondbacks, it's a top-to-bottom orientation.
Tony La Russa, of course, was hired to be chief baseball officer last May. He helped bring in Dave Stewart as senior vice president and general manager in September, followed by DeJon Watson coming aboard as senior vice president of baseball operations. Watson has been spending as much time as possible on the back fields just trying to familiarize himself with the D-backs' fairly robust system.
MLB Pipeline Spring Training Reports
"We have a lot of names that we're trying to process and get to know, but it's been really fun," Watson said. "I've been trying to get here early every day and talking about players and what they bring to the ballclub. [Director of player development] Mike Bell has been phenomenal as far as sharing information, getting myself and Dave prepared as far as who the better players are, our upper-echelon guys, even with guys going down to our extended program. It's been fun for us."
Camp standouts
They only threw a combined 11 innings in big league camp, but there's no question Braden Shipley and Aaron Blair, Arizona's Nos. 2 and 4 prospects, made a lasting impression before focusing their attention fully on preparing for the 2015 Minor League season. They gave up three runs in total, and the powers that be know they will be able to count on them to impact the big league club in the near future.
"Getting to see Blair and Shipley firsthand has been really impressive," Watson said. "They are big, strong young men who I think have a chance to fit in the middle of a rotation, if not higher. I think they learned a ton. They competed and it was their first opportunity at a true Major League camp. They showed exceptionally well."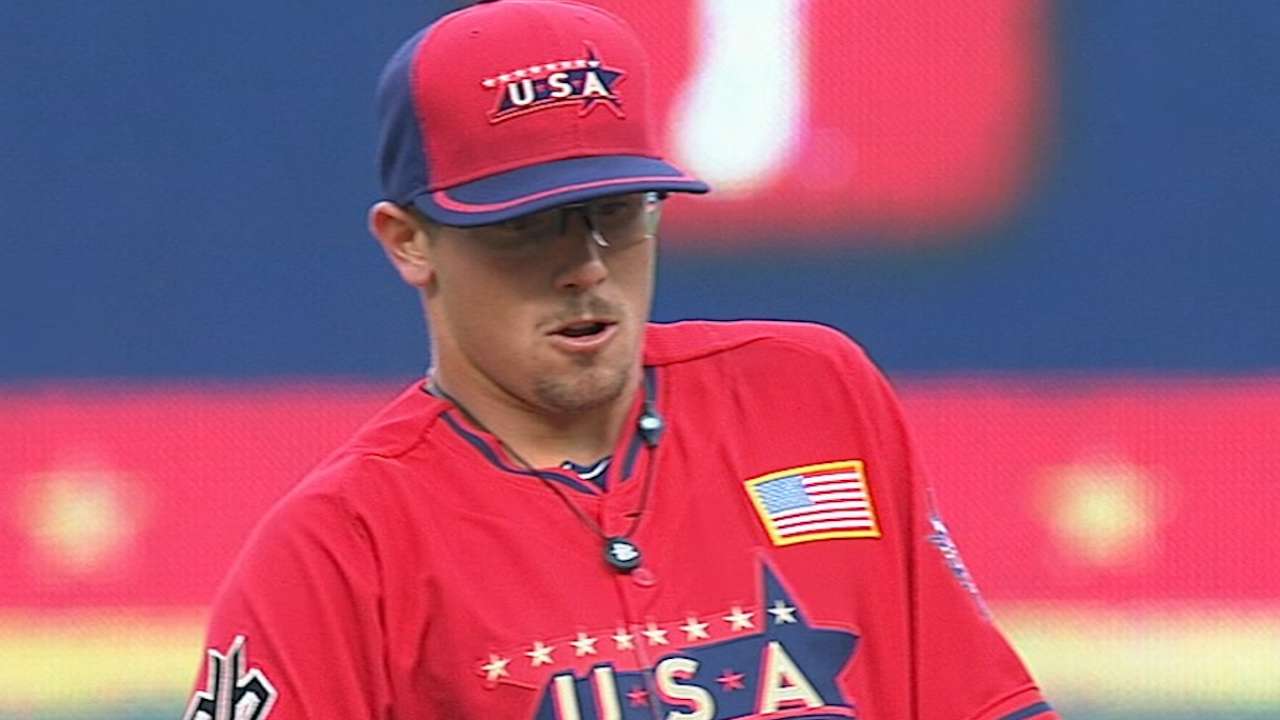 Many have stood out on the Minor League side, especially a duo who could be batterymates in Kane County when the Midwest League season kicks off. First-round pick Touki Toussaint reported in terrific shape, and he has impressed with his athleticism and delivery. He could end up throwing to former first-rounder Stryker Trahan, who was moved out behind the plate, then returned to catching late last year.
"Trahan has come in a little heavier than he was last year," Watson said. "The power is there, the swing is there. He's been behind the plate and catching well. I'm excited to see what he brings to the table this year."
Breakout candidates
The D-backs added some young talent during the offseason via trades, and while their impact won't be felt at Chase Field for a few years, they could really jump onto prospect radars in 2015.
For now, Robbie Ray is the better-known name that came from the Tigers in the three-team trade that sent Didi Gregorius to the Yankees. But don't be surprised if middle infielder Domingo Leyba ends up being the steal of that deal. He'll be just 19 for the 2015 season and already hit full-season ball in 2014, hitting .323 in 67 total games.
"I don't think many people knew Lebya," Watson said. "I think he has the chance to make some noise this year."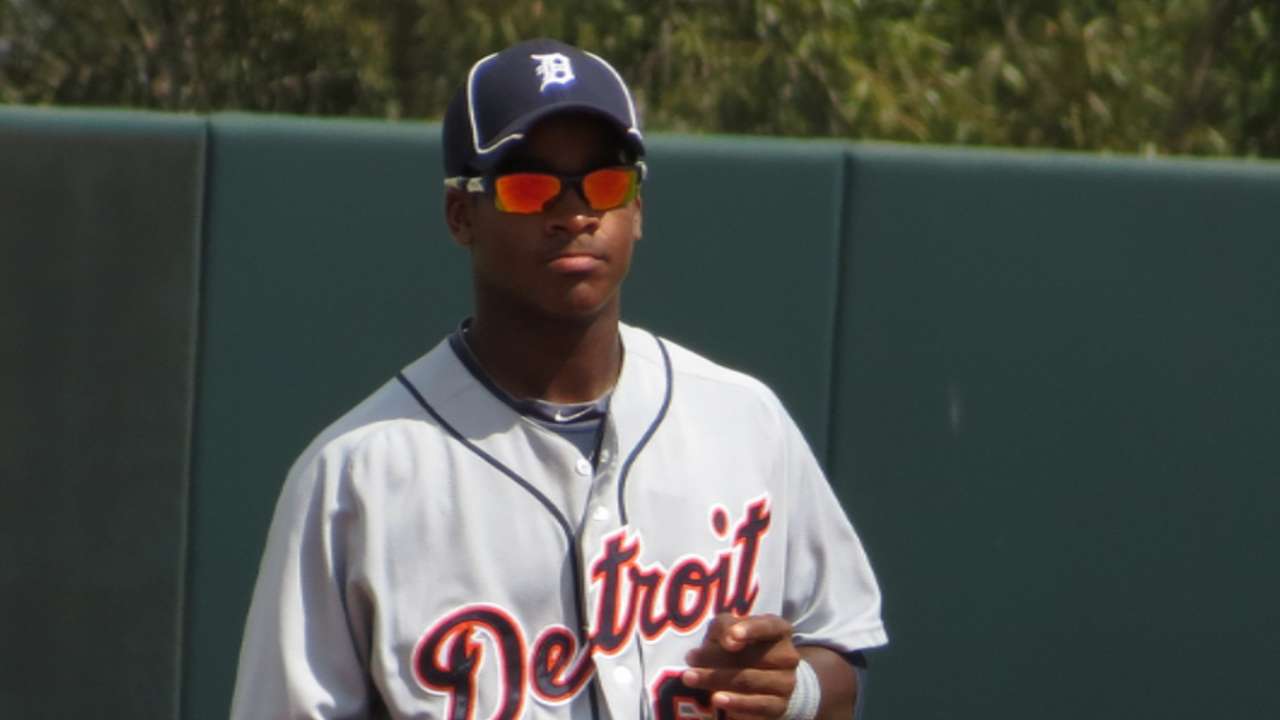 So does Jeferson Mejia, the big right-hander acquired in the Miguel Montero trade with the Cubs who made his United States debut last summer. Watson last saw him in the Dominican, and he reports the 6-foot-7 hurler looks much bigger and stronger.
"It looks like he's grown even more, gotten a little more physical," Watson said. "He's going to be a large man. He's 93-98 mph with a pretty good slider and he throws strikes."
Three questions with Aaron Blair
Blair was a Competitive Balance Round A pick in the 2013 Draft, taken No. 36 overall.
MLBPipeline.com: What was your experience in big league camp like?
Blair: I felt like I competed well. I had a rough outing my second outing. I was leaving balls up. I learned the big league guys can hit that. When I faced the Giants, I showed everybody I can get big league guys out. I have the stuff to do it now. Now it's just about refining my stuff and getting better fastball control and going from there.
MLBPipeline.com: You've tweaked your breaking ball. How much of an impact has that had?
Blair: My breaking ball last year was probably my best strikeout pitch. Years before that, even in college, it was kind of loopy and it was inconsistent. I changed the angle of my wrist to be more over the top, and it made it sharper, the velocity on it went up. As for my other pitches, my changeup has always been my go-to pitch, I throw it to righties and lefties. I can command the fastball to both sides. Last year, the big thing was really the curveball improvement.
MLBPipeline.com: You and Braden Shipley have often been paired together. How would you describe your relationship?
Blair: We're good friends. I want him to do well, he wants me to do well. At the same time, we are competing against each other. We know that when it's our time to pitch, we have to go out and not necessarily out-do the other, but you have to match what the other person does. We started together. We've been together for two years now. It's a friendly rivalry.
Jonathan Mayo is a reporter for MLBPipeline.com and writes a blog, B3. Follow @JonathanMayoB3 on Twitter. This story was not subject to the approval of Major League Baseball or its clubs.