Former starter Flynn flourishing as bullpen candidate
Royals impressed by work of tall southpaw this spring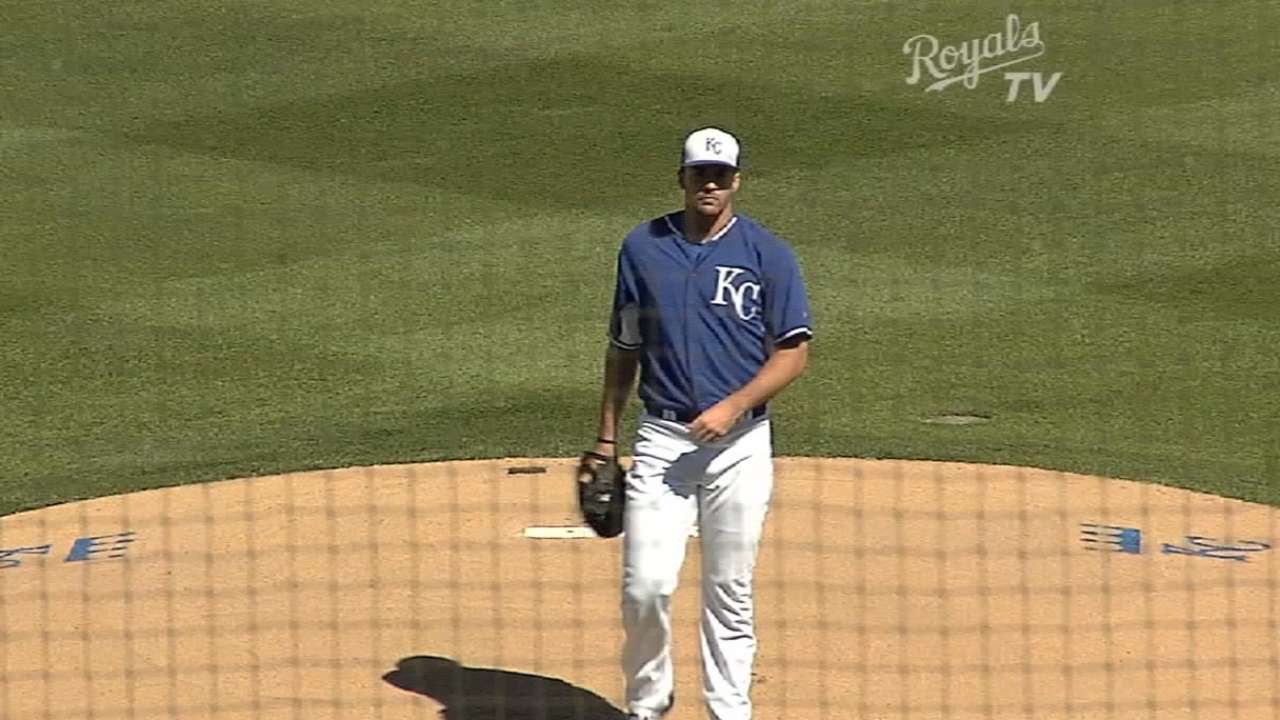 SURPRISE, Ariz. -- In 98 professional outings, Royals left-hander Brian Flynn has been a reliever exactly once, and that came last year in a brief stint with the Marlins.
But Flynn is now trying to prove to the Royals that his greatest value to the team is out of the bullpen. Flynn is making a strong case, to say the least.
In seven games this spring entering Monday, Flynn, acquired last fall in the Aaron Crow deal, has a 1.74 ERA and has struck out eight batters in 10 1/3 innings.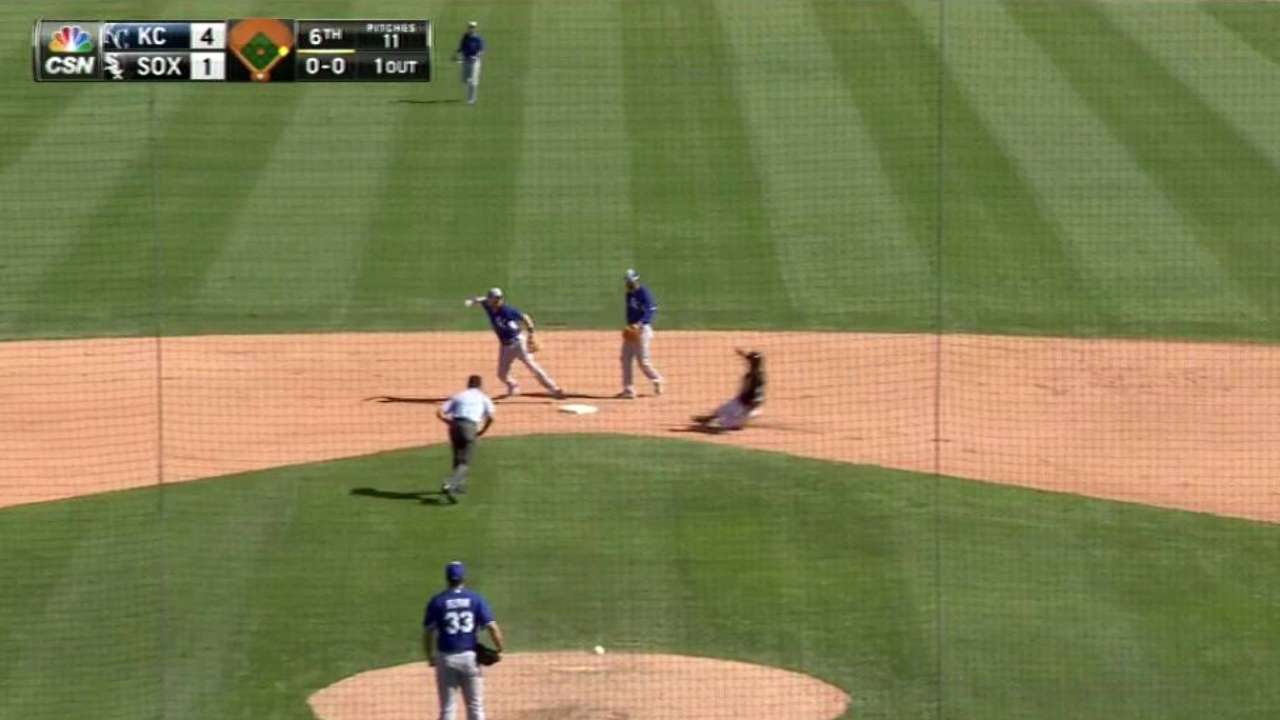 "He's been really impressive to come in and do what he's done," manager Ned Yost said. "We traded for him for a reason -- because we liked his stuff. We expected him to show good stuff and he's done it.
"He's a big guy [6-foot-7] with a hard slider. A good [pitching] angle. He's not a comfortable at-bat."
Flynn, ranked by MLB.com as the Royals' No. 18 prospect, has made the adjustment to the bullpen look relatively easy.
"The first thing I did is hover around Wade [Davis]," Flynn said. "I knew he had made the transition so well. And I talked to Hoch [Luke Hochevar] and Ryan Madson. They've all been real helpful."
Flynn has been somewhat amazed by how his arm has reacted to the transition. As a starter, he sat in the 90-92 mph range. Out of the bullpen his fastball has reached 94 mph.
"My arm has just felt so much looser," he said. "The ball is coming out easier."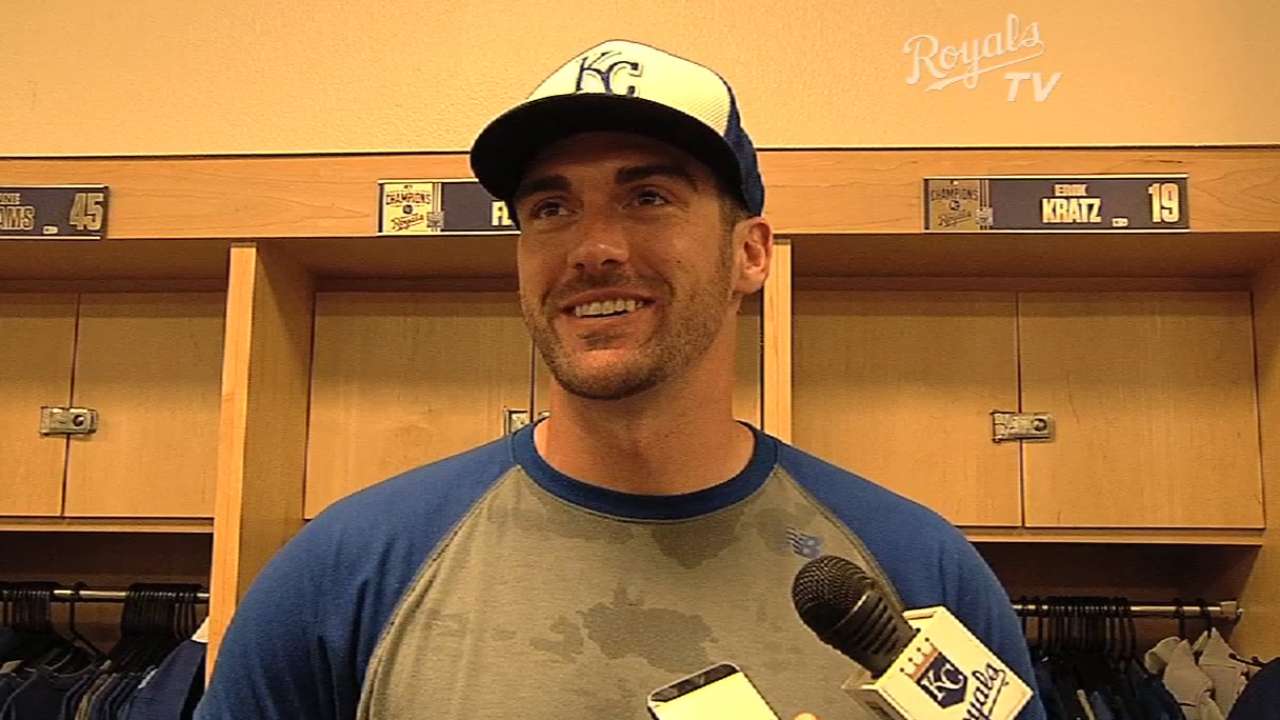 Flynn is in a heated battle for what likely will be the final spot in the Royals' bullpen. Greg Holland, Davis, Kelvin Herrera, Jason Frasor and Chris Young are locks in the bullpen. Left-hander Franklin Morales is a virtual lock.
And with Yost's suggestion Monday that he was leaning toward carrying a seven-man bullpen, the final spot likely will come down to Flynn, Louis Coleman, Madson and Hochevar. Madson probably is ticketed for Triple-A Omaha to continue his comeback bid. As impressive as Hochevar has been this spring in his comeback from Tommy John surgery, he probably could benefit from a rehab stint with Omaha.
Coleman is out of options, which would appear to give him the edge over Flynn, who has options. But then again, it's possible Coleman would clear waivers if he was designated for assignment, so the fear factor of possibly losing him isn't that high.
"No matter what, it's been a great feeling for me," Flynn said. "This has been rewarding because I'm proving to myself that I can handle the pressure and compete with the eyes on me. I'm just trying to make the decision as hard as I can for them."
Jeffrey Flanagan is a reporter for MLB.com. Follow him on Twitter at @jflanagankc. This story was not subject to the approval of Major League Baseball or its clubs.