Sitcom recreates The Vet for special Phillies episodes
'The Goldbergs' creator remembers colorful trips to stadium with family in '80s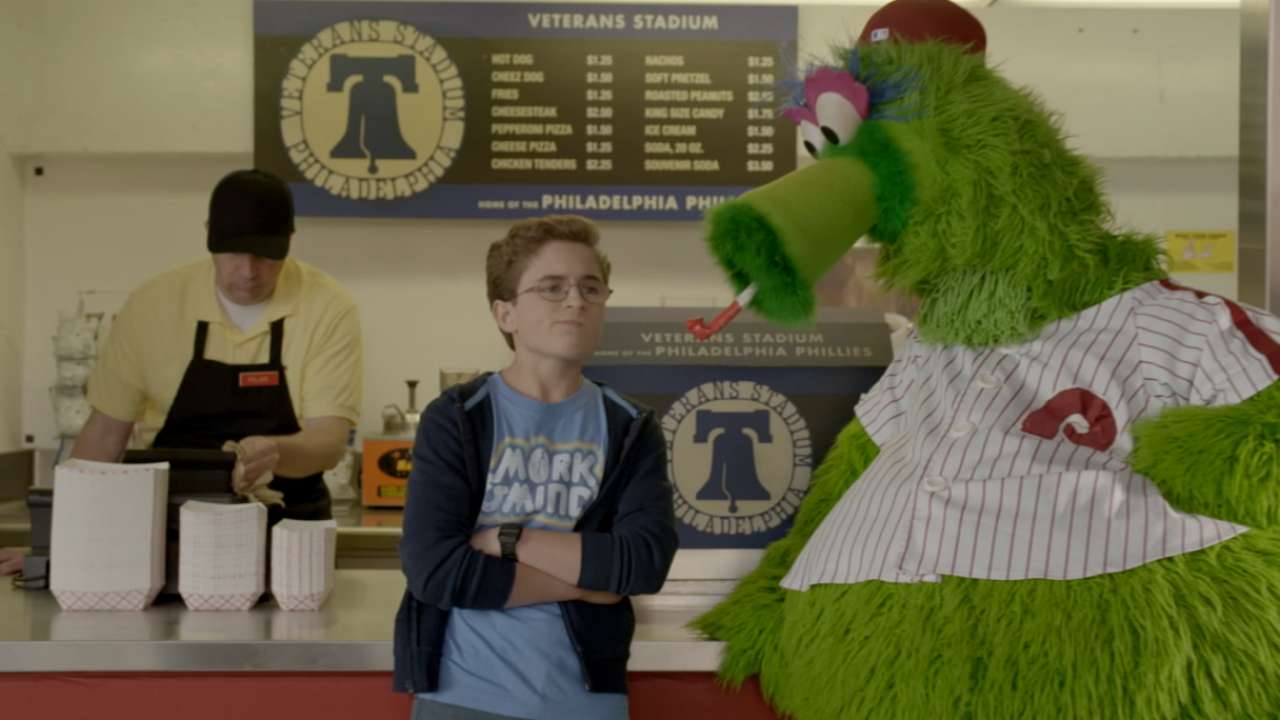 CLEARWATER, Fla. -- Veterans Stadium could be an intimidating place for opposing teams and opposing fans.
It could be scarring for young Phillies fans, too.
Adam Goldberg knows. He is the executive producer and creator of ABC's "The Goldbergs," a sitcom about his family in 1980s suburban Philadelphia. The show is a love letter to the '80s and Philly, and has made numerous Philly references since its 2013 debut, including a remake of a Flyers game at the Spectrum.
"The Goldbergs" gives the Phillies and The Vet some love in "The Lost Boy" episode at 8:30 p.m. ET on Wednesday.
"Some of my best memories were going to Phillies games with my dad [Murray, portrayed by Jeff Garlin], going to Veterans Stadium," Goldberg said in an interview with MLB.com. "There was one particular instance where we got separated, and in the '80s when you got separated from somebody in a big place without a cell phone, there was no way to find them. So I was telling this story [in the writers' room] about how I went with my dad to a Phillies game and we got separated. And there was this panic you felt, because Veterans Stadium was so big and so scary. It was terrifying. It's really an episode about Adam's [portrayed by Sean Giambrone] transition into manhood as he learns to survive in Veterans Stadium by himself."
But at one point, it looked like the episode would not happen. The scripts for "The Lost Boy" and an earlier episode, "Barry Goldberg's Day Off," were not initially cleared by Major League Baseball.
Goldberg expressed his frustrations on Twitter.
Phillies director of marketing and special projects Michael Harris quickly contacted Goldberg on the social media site, and later that night, they were on the phone resolving the scripts' issues.
It turns out one joke caused the biggest hiccup.
Goldberg said he "very cavalierly" wrote a joke in "Barry Goldberg's Day Off" about Barry Goldberg (Adam's older brother, portrayed by Troy Gentile) being pelted by batteries at a Phillies game after he caught a ball.
"And here come the batteries," the announcer said.
"That one line they were like, 'Oh, boy. That's a nonstarter. That's something we never want to happen again. We don't want to encourage it,'" Goldberg said. "When I heard that was the concern, I was like, 'Oh, I totally get what you're saying. We'll remove it.'
"They had concerns about the scripts as any franchise would, be it sports or even when we try to get an '80s movie cleared. Everyone wants their property to be portrayed in the right way, and they have concerns."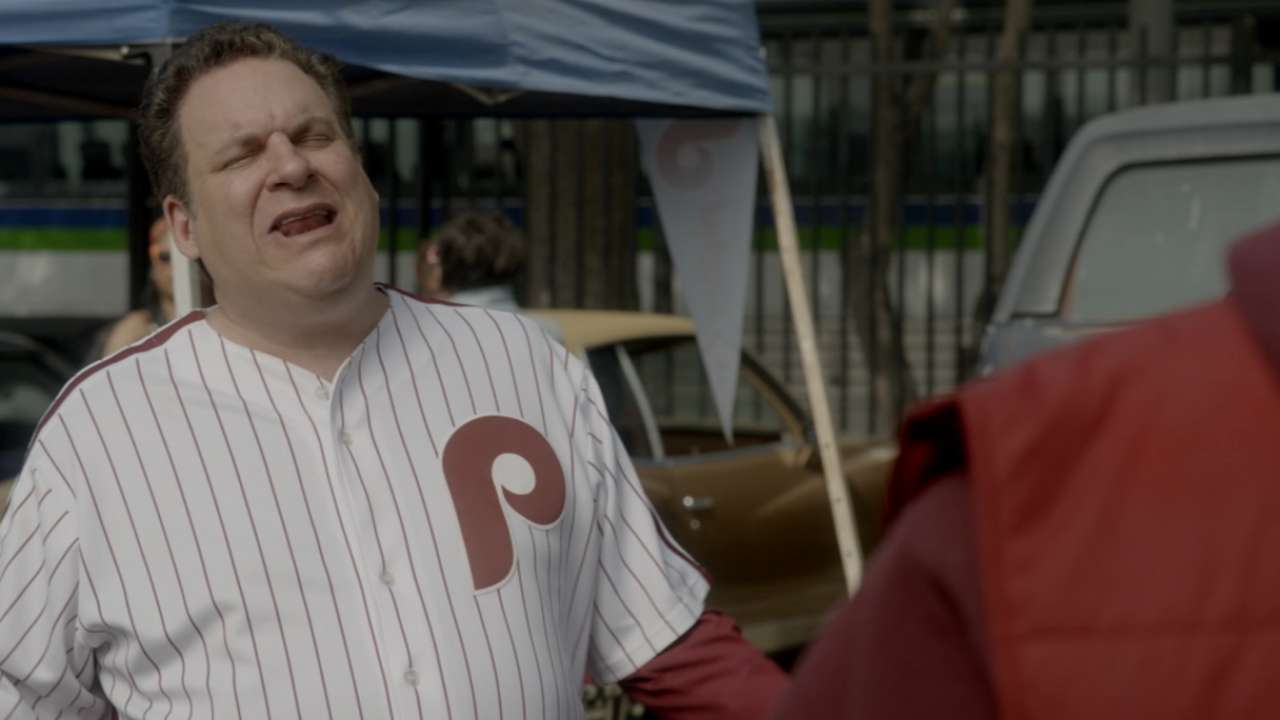 Said Harris: "Once Adam and I directly connected, we were able to resolve [the concerns] instantaneously. A good old-fashioned phone conversation is all it took. He was able to quickly tweak a few things without impacting the original integrity and intent of the scenes. It's obviously a comedy, and everything is in good fun. Adam is a big fan of the team, and obviously we're thrilled the Phillies will be featured on such an enormously popular national TV show."
But clearance meant Goldberg had to recreate The Vet, which was imploded in March 2004.
It was a challenge. The show does not have a massive budget, so it could not build something from the ground up. It could not use CGI. It essentially reconfigured a college football stadium near Los Angeles and had two days to shoot everything.
A crew recreated the stands, yanking out the seats and replacing them with the ones Goldberg remembered. It recreated the concourses, concession stands and bathrooms, looking at old photographs as a guide.
"Those bathrooms," Goldberg said. "Those giant troughs that you had to pee in with the drunk fans. You're so crowded in. I remember having stage fright for the first time, having to go so bad, but being so freaked out by the experience, I couldn't go.
"I know I'm going to get tweets and Facebook messages about how they saw an orange seat, and they were blue or green. But it's what I'm working with. At the very least, I got approval from the Phillies. They're being as cooperative as possible. They're being awesome, and within my budget, I'm trying to do as much as I can. It was so ripe for material. This episode came out so easily, because we all have so many experiences going to Phillies games [at] Veterans Stadium."
Goldberg also looked into recreating the Phanatic, but found it cost about $8,000 for a reproduction. He asked Harris if they could send him a Phanatic costume.
"How about we send you the Phanatic?" Harris replied.
"I think they're seeing that this show is a love letter to everything we grew up with," Goldberg said. "They're excited to be part of that, which is very cool.
"Some of my best memories were going to watch those Phillies games. This was a way that [my father] could connect with us. There was an awesome activity going on, we didn't have to talk that much and we could cheer and be on the same team. And even though I didn't really know all of the players and my dad would have to tell me what was going on, it was still some of my fondest memories of him. So it always holds a big place in my heart."
Todd Zolecki is a reporter for MLB.com. This story was not subject to the approval of Major League Baseball or its clubs.