Chacin release means time is now for pitching prospects
Gray, Butler among young arms ready to make impact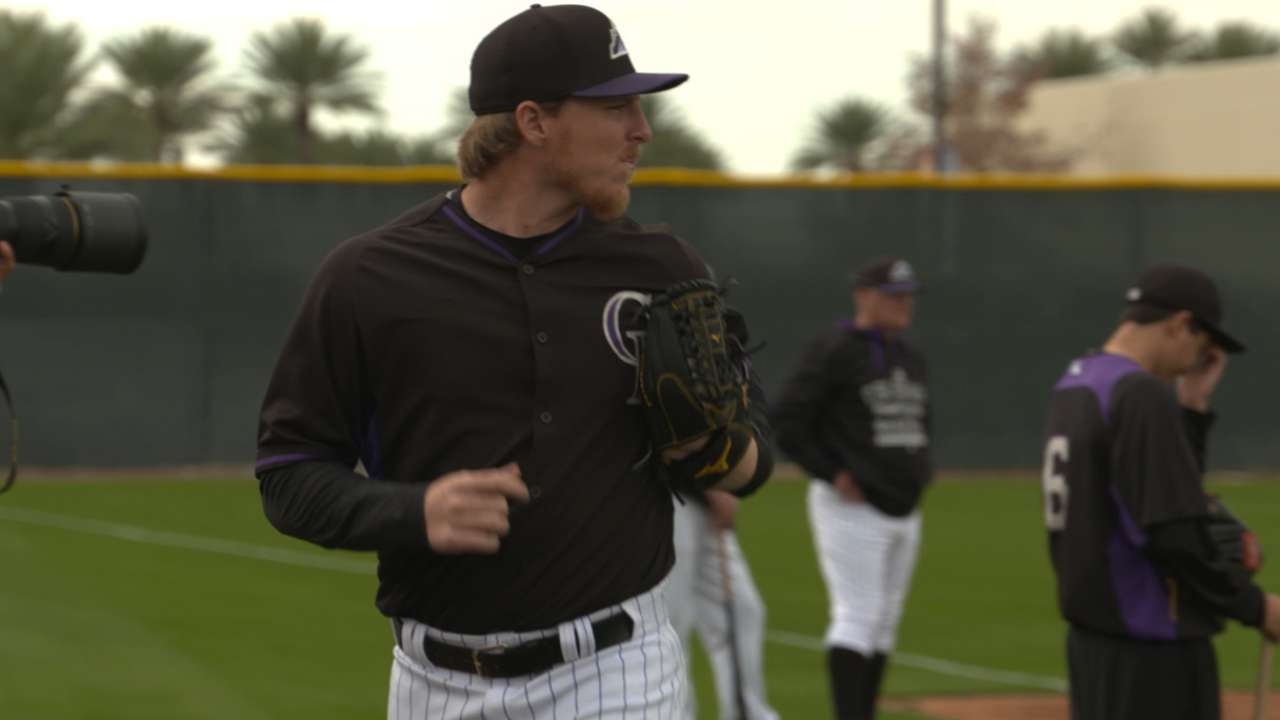 SCOTTSDALE, Ariz. -- Rockies manager Walt Weiss admitted Monday that releasing veteran right-handed pitcher Jhoulys Chacin could be risky, but they can't worry about the possibility that they made a mistake.
The decision was based on righty prospects Jon Gray and Eddie Butler -- and other young pitchers such as Christian Bergman and David Hale -- displaying that they could be ready to make an impact. The other side is, they let go of an experienced pitcher in Chacin, who at 27 could spend the rest of his career making the Rockies regret the move.
"You can't get caught up in that," Weiss said. "It's happened probably thousands of times in the history of this game, and it's going to happen thousands more. It comes down to, are you willing to make a baseball decision based on where you're at, at that point in time?"
The Rockies might have two holes in their rotation. Lefty Jorge De La Rosa, the projected starter in the April 10 home opener against the Cubs, is nursing left hamstring tightness. De La Rosa played catch Monday morning. But on Wednesday, his next turn to pitch in a Cactus League game, Butler is scheduled to start and De La Rosa is not listed as one of the pitchers. The good news for De La Rosa is an MRI did not show extensive damage.
Weiss is closely watching the young pitchers to determine if they have the makeup to function under Major League pressure. He has a fallback in non-roster lefty John Lannan, who was sent to Minor League camp Sunday to allow him to accelerate his innings. But he has seen indications that it could be safe to put starts in younger hands.
"With some of our young pitchers, we're seeing the maturity level starting to line up with their talent level," Weiss said.
The next two weeks will determine the makeup of the rotation, and the prospect-types have to show more than ability.
"The tell-tale sign for me is a guy that shows the capability of controlling his environment, when he's on the mound and when he's not on the mound," Weiss said. "Is he in control of what's going on? Can he command a game? Can he command a situation? Is he able to slow the game down in the middle of a tough inning?"
Thomas Harding is a reporter for MLB.com. Read his blog, Hardball in the Rockies, follow him on Twitter @harding_at_mlb, and like his Facebook page, Thomas Harding and Friends at www.Rockies.com. This story was not subject to the approval of Major League Baseball or its clubs.