Francona aims to have roster decisions settled soon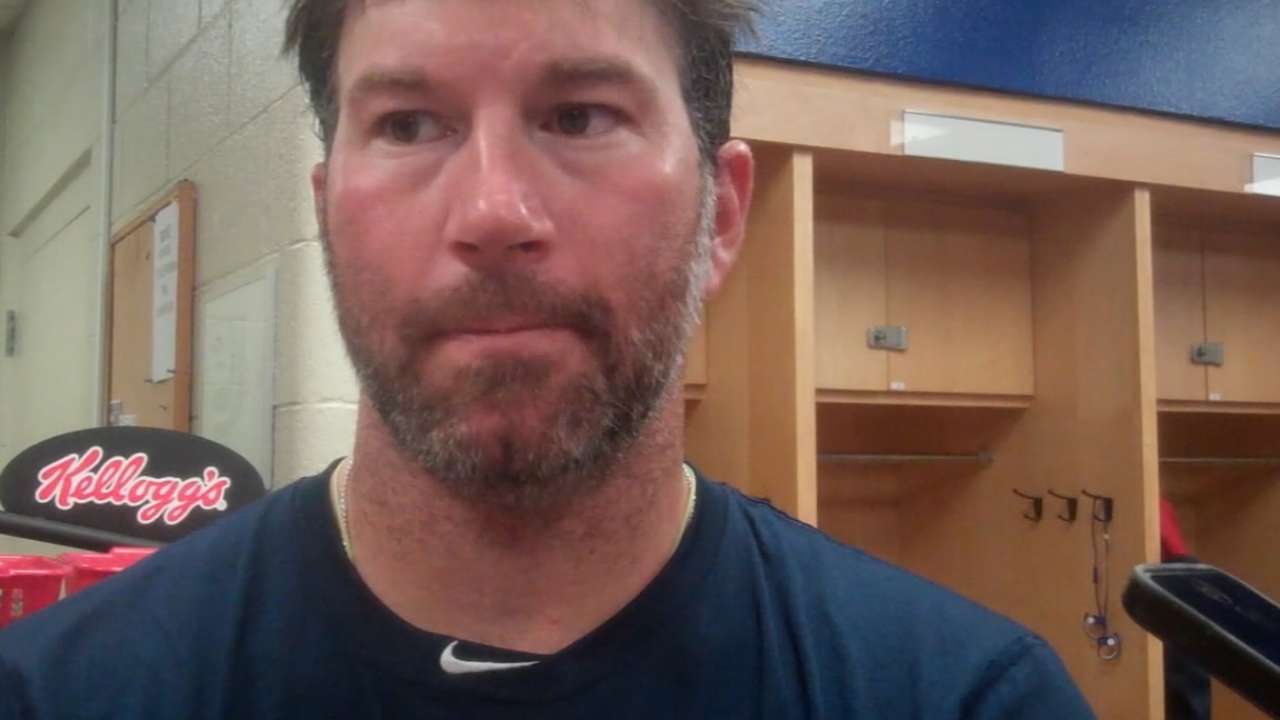 GOODYEAR, Ariz. -- In his previous two springs as the Indians manager, Terry Francona announced his Opening Day roster several days before the end of camp. Francona will likely follow the same approach for this year's round of roster decisions.
"The sooner, the better -- always," Francona said on Monday. "In fact, we just told the guys out there this morning that I know we're getting to that part of Spring Training where they have some anxiety. The guys that are starting to hang around now, you've sent down the younger kids for the most part, and guys are starting to feel it. They see guys -- next week, especially -- packing. The signs go up about Cleveland, [Triple-A] Columbus.
"This is the way they make their living, man. We get it. So we told them that we would try to let them know as quickly as we can."
Francona noted that the coaching staff was scheduled to meet with members of the front office Monday night to go over some of the upcoming decisions. Cleveland has two openings in the rotation, one or two spots up for grabs in the bullpen and a job or two available on the bench.
Here are some more notes from Monday:
• Left-hander Nick Hagadone is among the Indians players quick to credit Ceci Clark, Cleveland's performance coach, for helping with the mental side of the game. Francona said he encourages his players not to hesitate to seek help in that area.
"This is a hurdle in our game," Francona said. "I think sometimes players view getting help as a weakness, and really, when you think about it, we work on our hitting so much and our throwing, or whatever. The mental side of the game may be the most important. It only makes sense to work on it."
• As expected, second baseman Jason Kipnis remained out of the lineup, marking the fifth game in a row he has missed due to a back issue. Francona said Kipnis is doing exercises indoors, but the second baseman has not yet been cleared to resume baseball activities.
• Outfielder David Murphy twisted his right ankle during Friday's game against the Angels and was out of the lineup for the third game in a row. Murphy said he could play if it were the regular season, but Cleveland wants to take a cautious approach, given that it is Spring Training.
• Indians pitching coach Mickey Callaway indicated that righty Shaun Marcum should be back with the team within the next few days. Marcum, who left Arizona to be with his wife for the birth of their third child on Saturday, is tentatively slated for four innings in a Minor League game this Saturday.
• The Indians will play the Angels in a "B" game at 1 p.m. ET on Wednesday in Tempe. Right-hander Trevor Bauer is scheduled to log six innings, followed by pitchers Kyle Crockett (one inning) and Michael Roth (two).
Jordan Bastian is a reporter for MLB.com. Read his blog, Major League Bastian, and follow him on Twitter @MLBastian. This story was not subject to the approval of Major League Baseball or its clubs.