In reserve role, Ruggiano well aware preparation is key
Versatile vet competing for playing time in outfield, excited to be with Mariners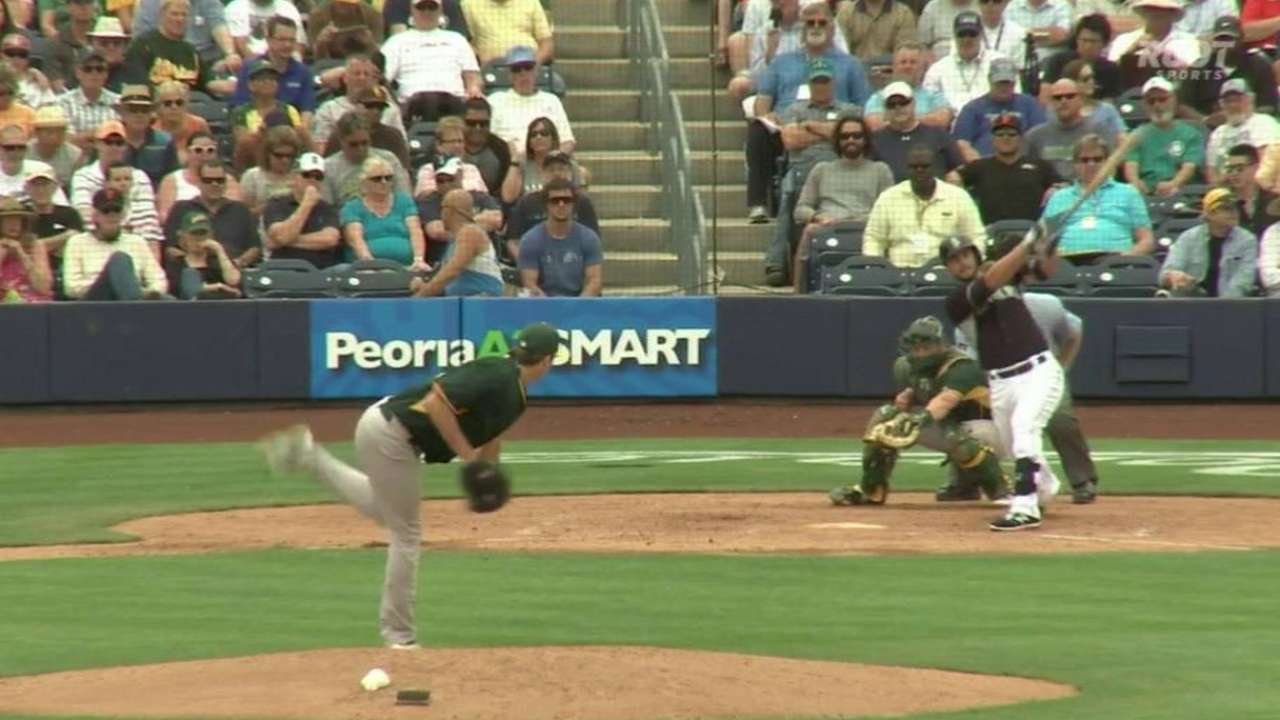 PEORIA, Ariz. -- Justin Ruggiano knows the score. He's not the highest-profile newcomer in the Mariners' clubhouse. He'll need to fight for playing time, likely in a platoon role in right field with Seth Smith or as a backup to center fielder Austin Jackson.
But when called upon, Ruggiano needs to be ready and he's learned to make the most of every opportunity. The 32-year-old Texan hit .281 in 224 at-bats for the Cubs last season, then was acquired by the Mariners to provide another right-handed bat for manager Lloyd McClendon's arsenal.
One of McClendon's biggest pushes has been to add veterans to his bench and Ruggiano fills that bill well. On Monday, he was headed to a Minor League game on one of the back fields to get six or seven extra at-bats, a chance to see more living pitching and work on some situational hitting.
"I like doing that," Ruggiano said. "You can do whatever you want. You can take two strikes and work on your two-strike approach. You're not there trying to win a job, you're just working on things. To me, it's very beneficial. I'd go down there a couple times a week from here on out if I can. Get the ABs, work on some things."
It's the same approach Ruggiano will take during the season. If he's not playing every day, he'll do whatever's needed to stay ready. Of course, he'd love to be a full-time starter, but he understands the situational role and what it means to be thrust into different scenarios on different days.
"You have a little more work to do between starts or pinch-hits or whatever it is you're going to do," he said. "You have a little more maintenance. It may require you standing in on some bullpens to see some live pitching, if you go a couple days without seeing it. In that aspect, yeah, there's a little more work than guys who play every day. But you just get comfortable being uncomfortable. Just be comfortable and let it all hang out."
Ruggiano has hit .318 (7-for-22) with a home run and five RBIs in eight Cactus League games entering Monday. Acquired in a trade for Minor League pitcher Matt Brazis from the Cubs in December, he's fit in quickly since joining his fifth organization in the past 10 years.
"This camp has been one of my favorite to be a part of," he said. "It's laid-back, but the times we're working we work hard, work specific and there's no nonsense. There's not a lot of standing around. It's station to station, get your work done and get out and get ready for the games. That's what we do.
"I've been around a lot of other camps where you do a lot of stuff that's just eyewash, I guess you'd say. This one, not so much. I think that kind of comes with a manager who has played the game a long time."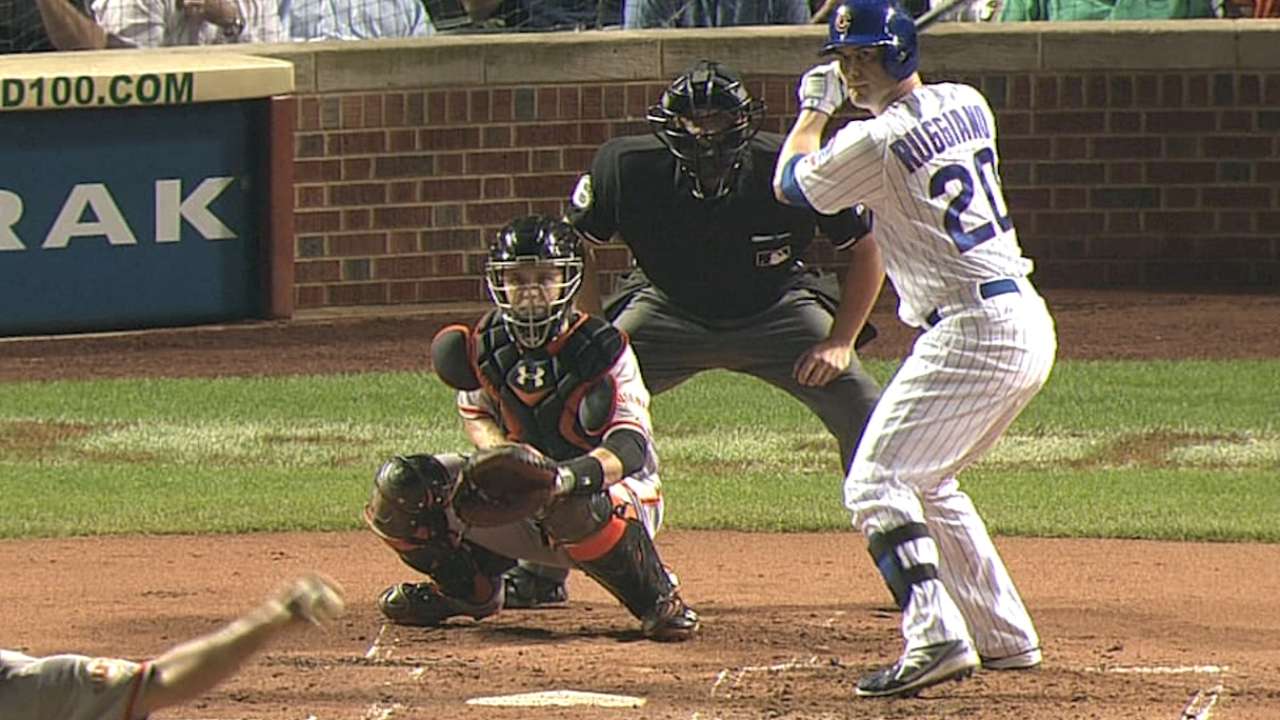 As a former utility player, McClendon appreciates the difficulty of a part-time role and the versatility Ruggiano adds to his outfield mix.
"He plays all three [outfield positions], swings the bat well, runs the bases well," McClendon said. "He's a very good player."
Originally selected by the Dodgers in the 25th round of the 2004 First-Year Player Draft out of Texas A&M, Ruggiano played with the Rays, Marlins and Cubs and owns a .257/.319/.431 career slash line. McClendon sees him as a potential No. 2 hitter when he's in the lineup or a versatile piece on the bench.
Ruggiano is just eager to be part of a club being billed as a contender in the American League West and said he's felt the buzz building.
"You just try to harness that right now," he said. "You don't try to get your mind ahead of the task at hand every day. You just put the work in, enjoy your teammates, get to know your teammates especially right now. If we play the way we're capable of playing, the game will take care of itself."
Greg Johns is a reporter for MLB.com. Follow him on Twitter @GregJohnsMLB as well as his Mariners Musings blog. This story was not subject to the approval of Major League Baseball or its clubs.