MLB.com Columnist
Anthony Castrovince
Betts taking Red Sox Nation by storm
FORT MYERS, Fla. -- Mookie Betts knows his status on the service-time totem pole and the requisite reticence that comes with it. His job here is to prove himself on the field and be reserved and respectful off it, and he seems to have embraced those ideals. He dons no multi-colored mohawk, a la Rusney Castillo, and he draws attention to himself only with his play, not his words. Heck, the kid hasn't tweeted since camp opened. Can't be a coincidence.
But when it came to John Farrell's apparel, Betts simply couldn't help himself. He had to say something.
"Skip," he told Farrell, "you need to update, man."
So the sensational Spring Training output -- probably exceeded in intrigue only by those homers Kris Bryant keeps bashing for the Cubs -- is only one element of Betts' spring story. Away from the field, he's paid particular attention to his boss' wardrobe. He's encouraged trips to a nearby outlet mall and all but written out a shopping list for his skipper. And while Farrell has stopped short of purchasing the bold-colored jeans -- namely, pink or white -- that Betts is pushing, he did recently buy a pair that gravitated away from the traditional blue for a more modern shade.
"I told him he's the manager of the Boston Red Sox," Betts said with a smile, "so he should have the most swag out of everyone."
The 22-year-old Betts has undoubtedly earned himself the Red Sox's starting center-field and leadoff jobs. The oblique injury that sidelined Castillo opened up an opportunity, and Betts has seized it in such a way that the tougher decisions rest elsewhere. Does Boston send Castillo, who recently returned to action, appears to be in fine form and is due to make $11.3 million this year, down to Triple-A? Do the Sox put Shane Victorino on the disabled list to start the season? Do they trade Allen Craig?
Who knows? All we know is that Betts' spot is assured.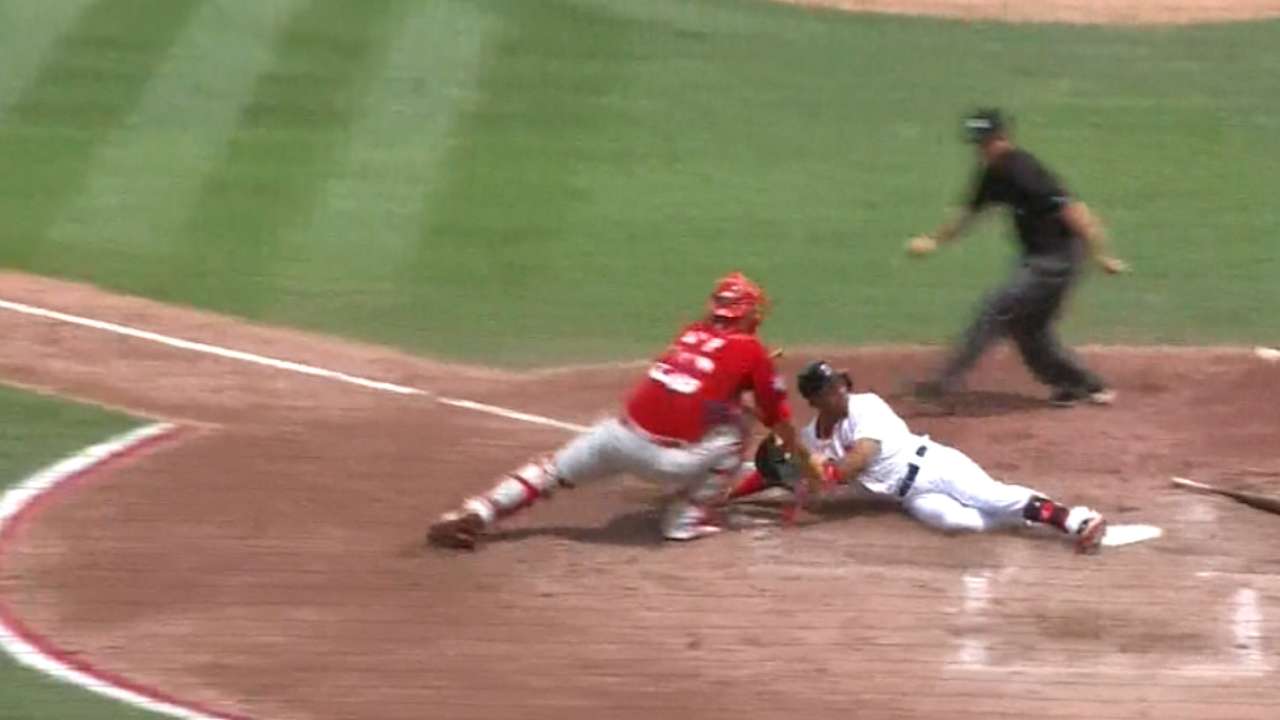 We've got last year's small but meaningful spring sample to know that what Betts is doing down here -- a .471 average with nine extra-base hits -- is not totally a spring creation. While nobody's counting on those numbers stabilizing in the regular season, Betts' approach at the plate is genuine.
"I don't think there's a particular pitch or style of pitcher that he doesn't have a chance against," executive vice president and general manager Ben Cherington said. "He's going to have a competitive at-bat."
Cherington points to a game earlier this spring in which Betts fell behind in the count to Mets ace Matt Harvey, fought his way back to 3-2 and then smacked one high off the fake Green Monster for a double.
That's the kind of thing that's no March mirage.
Defensively, the Red Sox have made a conscious effort to test Betts' ability to read balls sailing over his head, positioning him in shallow center. He's been passing that test, too.
Right now, it seems there's very little Betts can't do. With his speed and on-base ability, he's on the verge of establishing himself as one of the very few true leadoff men in today's climate, and, apropos of nothing, the former Nashville Tennessean boys bowler of the year is probably one of the few big leaguers capable of picking up the 7-10 split, too.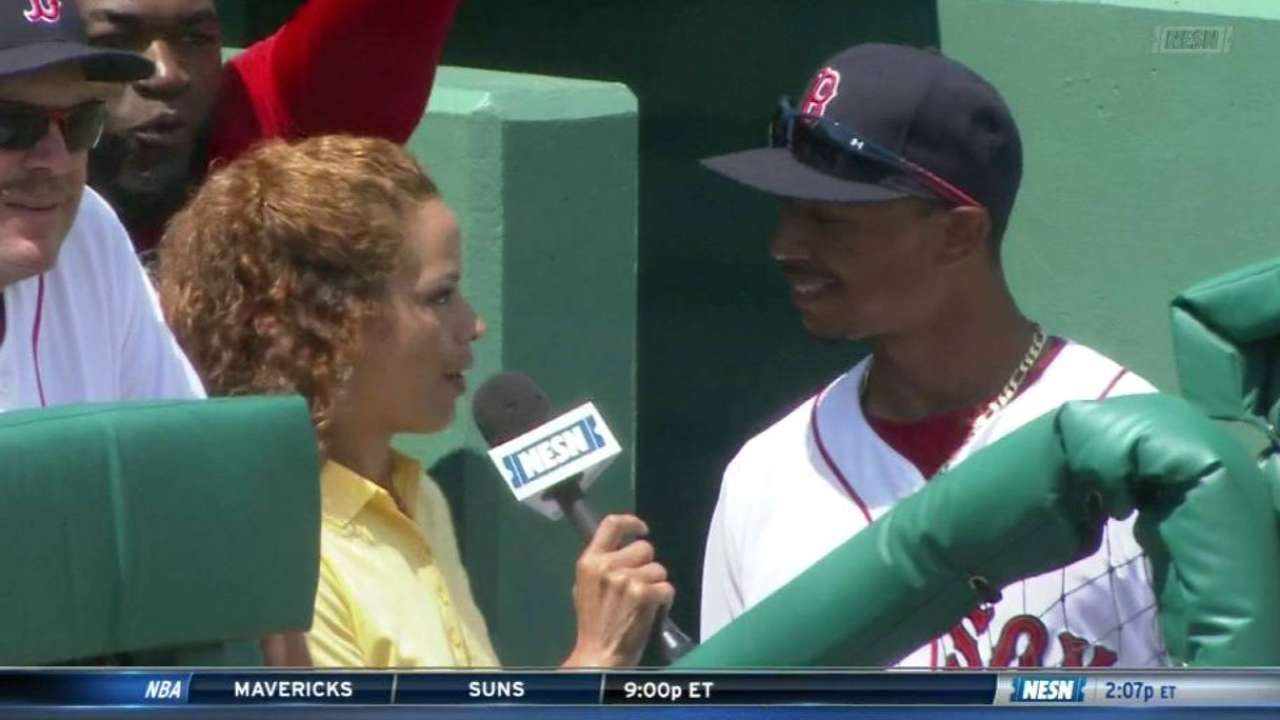 Yeah, it's good to be Mookie Betts.
"It's all right," he said. "It's not all it's cracked up to be. But it's just about going out and being myself. It's been a fun Spring Training, but I'm just getting ready for the season. I'm sure there will be ups and downs along the way."
This is true. Two years ago, we were going gaga over Jackie Bradley Jr.'s JetBlue Park brilliance, and last year there was no small amount of attention paid to Grady Sizemore's seemingly seamless return. These days, Bradley is buried on the outfield depth chart and Sizemore's ongoing comeback bid takes place elsewhere.
Spring Training is weird, in other words.
Again, though, there's nothing about Betts' Minor League performance or his big league break-in that would lead you to believe he can't become a quality Major League player. This spring, he's merely taken that concept to a bit of an absurd level. One day, he motors his way to an inside-the-park home run. The next, he almost single-handedly wins a skills competition that allowed him and a group of teammates to skip a long bus jaunt to Florida's Atlantic coast.
"That was probably the most passion and excitement I've seen from him," Cherington said with a laugh.
"Absolutely," said Betts. "We were really trying to avoid that road trip!"
The Red Sox's crowded outfield could have prompted a Triple-A trip for Betts, because we know -- from the Bryant situation, especially -- how often the business side of things can impact roster construction. Betts would have been an easy target with his remaining Minor League options and the money due Castillo, Victorino and Craig.
You can forget about that now. Betts is more likely to make a shopping trip with Farrell than a visit to Pawtucket.
"He's got some jeans now that he's been wearing that look pretty good," Betts said of his skipper. "So I've just got to get him some shirts and some shoes. He looks out for me, so I've got to look out for him."
The baseball world better look out for Mookie Betts.
Anthony Castrovince is a reporter for MLB.com. Read his columns and follow him on Twitter at @Castrovince. This story was not subject to the approval of Major League Baseball or its clubs.