Royals favor extra bench player over reliever
Seven-man bullpen likely to start season; Yost prefers spare outfielder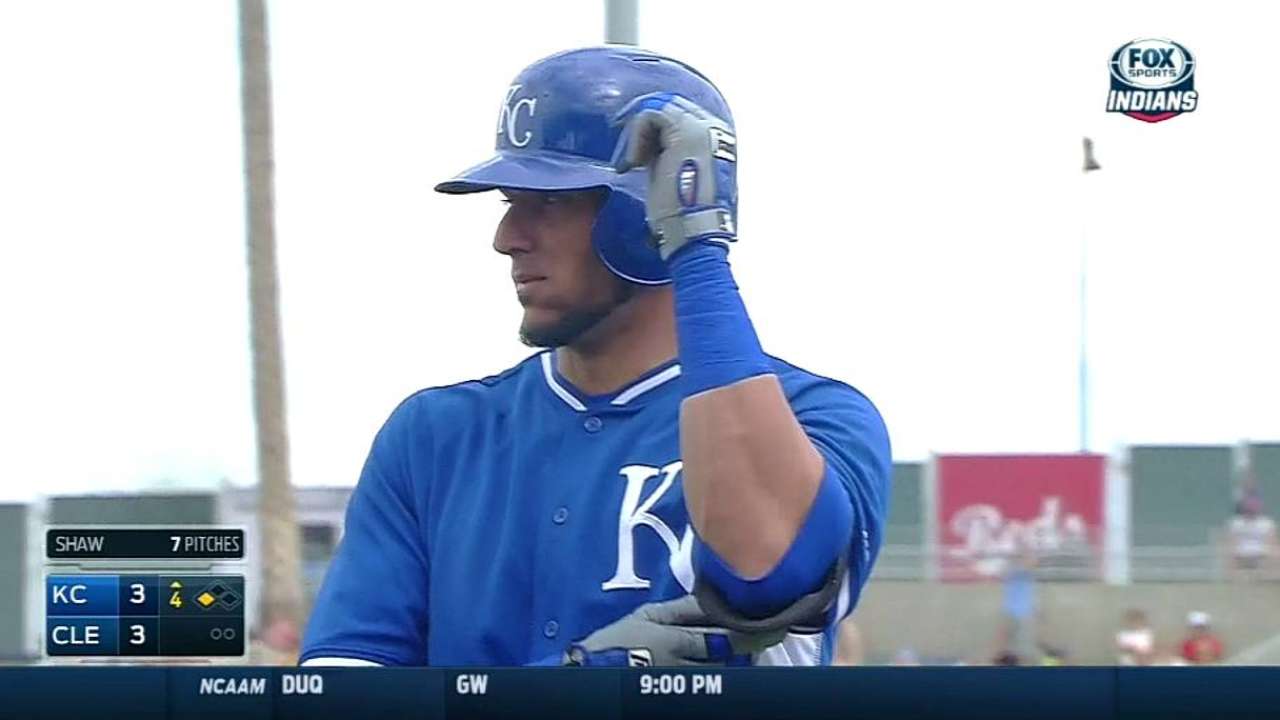 SURPRISE, Ariz. -- With less than two weeks remaining before the Royals break camp, manager Ned Yost perhaps is starting to get a clearer picture of how his 25-man roster will look.
Yost hinted Monday morning that he's now likely leaning toward carrying a seven-man bullpen. The organization has pondered the notion of an eight-man bullpen for much of the spring.
"It's probably seven," Yost said of his bullpen plans. "You ask yourself, 'What wins you more games early? The extra guy on the bench? The baserunner late or defensive replacement, or the extra arm?'
"It hasn't been set. These conversations go day to day. You look at the ability to mix and match offensively versus carrying the extra arm."
With a seven-man bullpen, the Royals would then carry an extra position player on the bench to go with catcher Erik Kratz, infielder Christian Colon and outfielder Jarrod Dyson.
Yost said he would prefer that extra player be an outfielder, which then would likely come down to choosing between Moises Sierra and Paulo Orlando.
Sierra is not on the 40-man roster. Orlando is on the 40-man and does have options remaining.
Most of the Royals' bullpen already is set. Greg Holland, Wade Davis, Kelvin Herrera, Jason Frasor and Chris Young are locks. And left-hander Franklin Morales is a virtual lock -- Yost has indicated Morales has "an inside track."
That leaves one spot open with right-handers Louis Coleman, Luke Hochevar and Ryan Madson competing with left-hander Brian Flynn.
Madson would appear ticketed for Triple-A Omaha as he continues his comeback attempt. Hochevar, one year removed from Tommy John surgery, has looked impressive in spring but has required three days off between outings and likely will start the season on a rehab assignment in Omaha.
That would leave Flynn, who has options, and Coleman, who is out of options, likely competing for the final spot, along with outside candidate Jandel Gustave, the Rule 5 Draft pick.
"Really, everything is still up in the air," Yost said. "There are more conversations coming."
Jeffrey Flanagan is a reporter for MLB.com. Follow him on Twitter at @jflanagankc. This story was not subject to the approval of Major League Baseball or its clubs.