Benoit getting better with age
Experienced closer continues to dominate hitters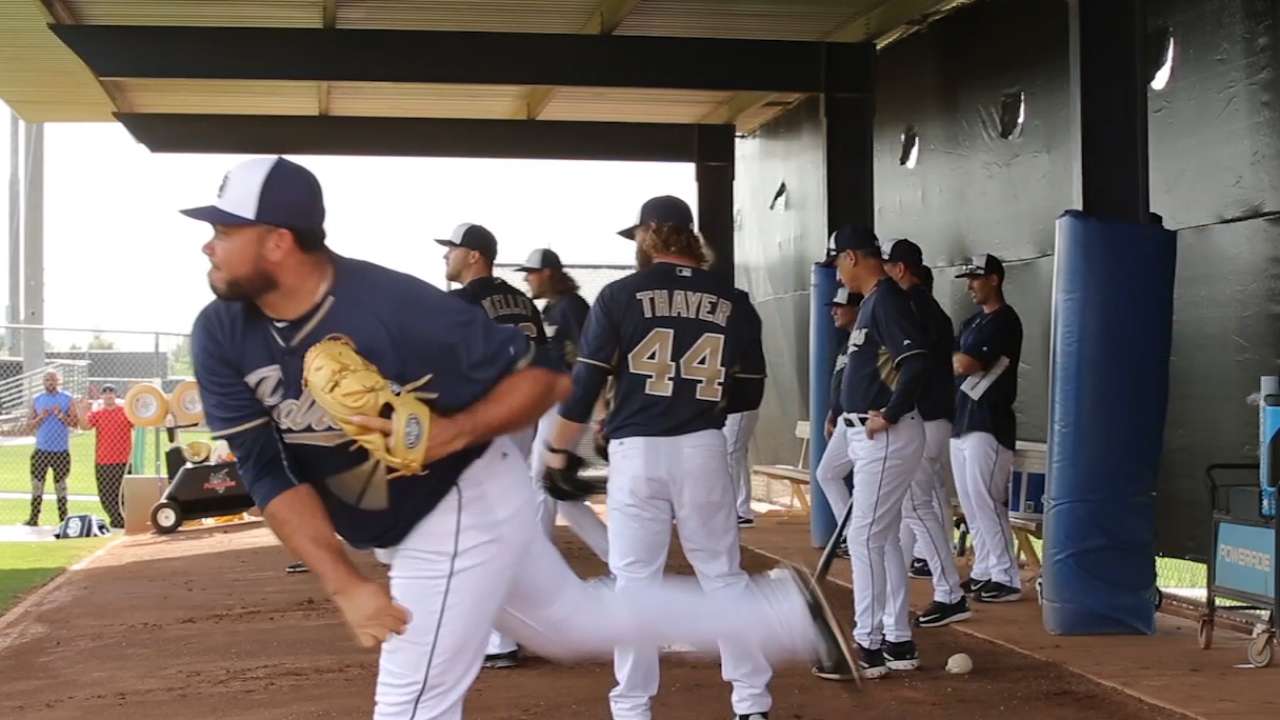 PEORIA, Ariz. -- Come July, Padres closer Joaquin Benoit will turn 38, which might normally have merited cause for concern in terms of regression or at least imminent signs of such.
But Padres pitching coach Darren Balsley, who has presided over bullpens that have included All-Star closers Trevor Hoffman, Heath Bell and Huston Street, doesn't buy the trepidation.
"Age," Balsley said, "doesn't come into play with Joaquin."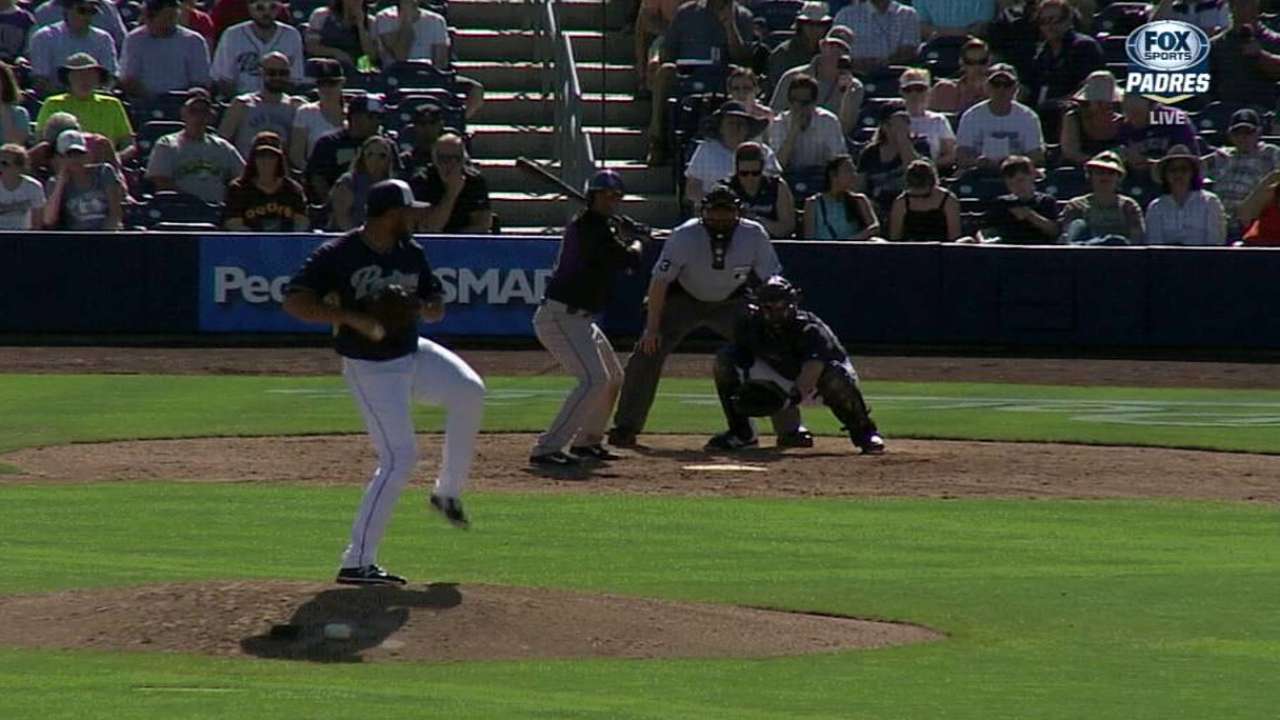 If anything, Benoit appears to be getting better with age, much like many of the bottles of fine wine he keeps near his clubhouse locker.
He has the bottles to prove it. Benoit also has the results to show it.
Benoit's fastball velocity, according to PITCHf/x, was 94.6 mph last season, higher than it has been in any of the previous six seasons. He started the season setting up Street, who was later traded to the Angels. Then, after taking over as closer, Benoit saved 10 of 11 games and had a 0.57 ERA.
"He's got a great arm. He's a big man and he's throwing as well now as he did 10 years ago and maybe even better," Balsley said. "Even when you play catch with him, he throws a very heavy, hard baseball."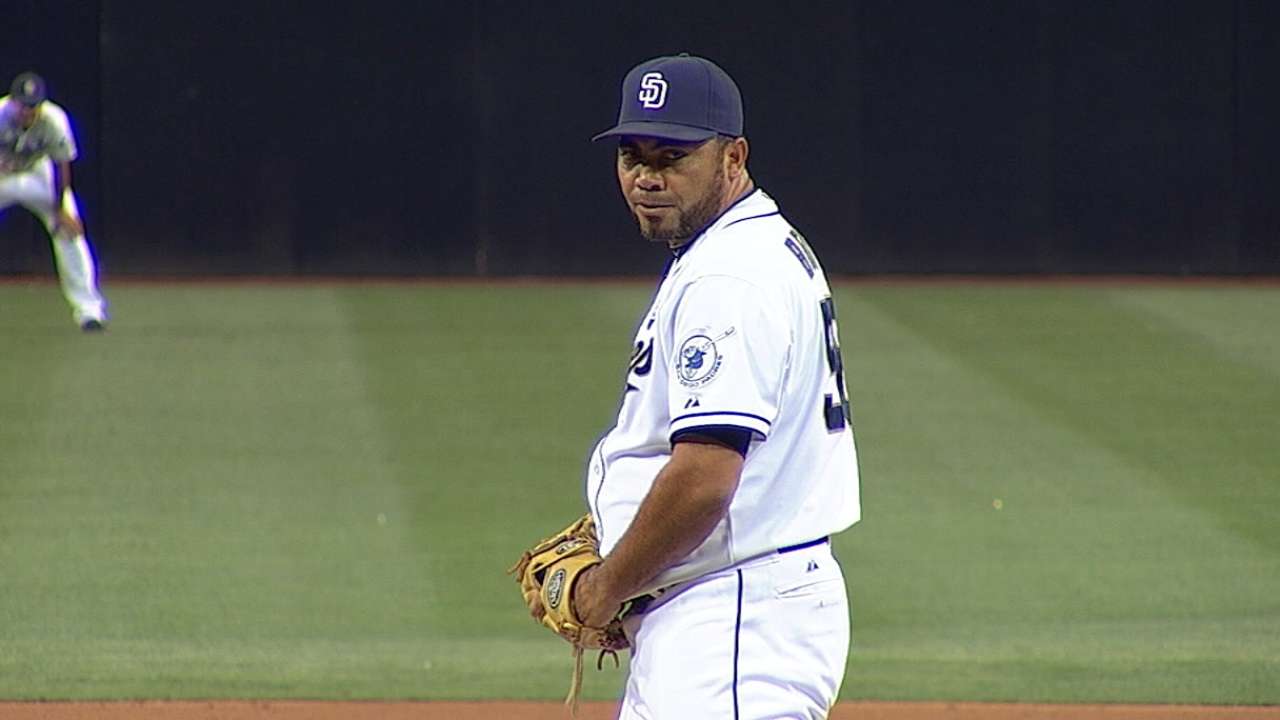 Trying to square up a Benoit fastball or split-finger fastball -- Balsley calls it a split-change -- late in the game has proven to be especially difficult.
"He has two specialty pitches: He has a high heater that jumps on hitters and can beat them up top, and the split-change down low. It's changing eye levels constantly so you can't sit on one pitch with him," Balsley said.
Benoit has something else going for him, said manager Bud Black.
"This guy has passed the test of time as a very experienced capable back-end bullpen reliever, closer, setup guy. It is legit stuff and he has experience," Black said. "There's a certain poise to his game, and he's a clear thinker on the mound. He's really settled in here in San Diego being part of historically a very good bullpen, and he's carried on that tradition."
After opening the spring with four perfect innings, Benoit was tagged for his first run and first hits (two of them) against the White Sox in Monday's 10-4 victory. Other than that, though, he's looked as if he's set to get on with the regular season.
"That's because these guys are swinging and teams are really aggressive," Benoit said. "When I'm on the mound, I expect them to be aggressive because I'm going right at them. But I'm pretty close [to being ready for the regular season]."
Corey Brock is a reporter for MLB.com. Keep track of @FollowThePadres on Twitter. This story was not subject to the approval of Major League Baseball or its clubs.