Porcello grateful for Verlander-Scherzer influence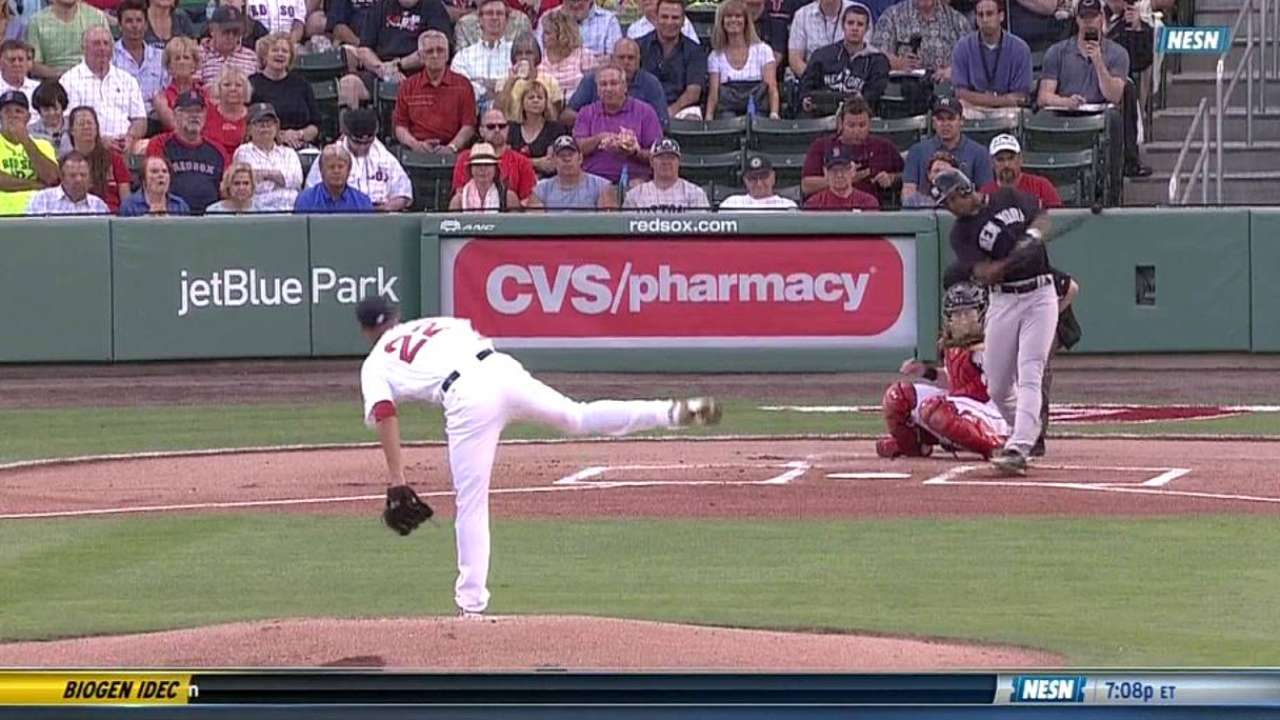 FORT MYERS, Fla. -- For Rick Porcello's entire time with the Tigers, Justin Verlander was always around if he needed some insight, or even if he just wanted to watch one of the best pitchers in baseball go about his daily work. And with the exception of his rookie season in 2009, Porcello had Max Scherzer to lean on as well.
But even if he isn't teammates with those two ace righties anymore, Porcello has brought parts of Verlander and Scherzer with him to the Red Sox.
If you ever notice how competitive Porcello gets on the mound, you should know that some of that was Verlander's influence.
"His competitive nature on the field, and even just on his start days, it's something that rubs off on everybody," said Porcello.
Porcello said that modeling his pitching style after Verlander wasn't quite as feasible.
"He's capable of doing things that a lot of guys aren't capable of doing. In that way, it's tough to learn from him because he's so good," Porcello said.
When it comes to Porcello's ability to get inside an opposing hitter's head and outthink him, he'll credit Scherzer for helping to open up his mind.
"Max is very analytical. The one thing that was a big help for me was when we would be in the dugout and just talking about pitch selection, just having a dialogue, consistently every game," said Porcello. "We'd be watching hitters and just go over how we would attack a guy or what pitch would we throw here, or this guy hits breaking balls well."
The conversations were not only enjoyable and made the games go by faster, but they helped Porcello's evolution as a pitcher.
"We'd go over every guy and it was fun; we'd enjoy doing it," said Porcello. "When you're on the mound now, you remember little details that maybe if you're not watching the game or paying attention, you wouldn't pick up on. That was a really big help, and he was kind of the one that started that dialogue. Then we got into basically a habit, and that's what we would talk about in the dugout."
If there was a common thread Porcello noticed between the two aces, it was their determination and dedication.
"At this level, everyone is competitive. But those guys, they take it to another level with the will and the desire to be great," Porcello said. "Not just good -- but great. That rubs off on you and you carry that into everything that you do."
When you pitch on the same team as Verlander, you realize that not even throwing the ball with a teammate to get loose should be a wasted activity.
"Even playing catch. You pay attention to detail and you make every throw and pitch with a purpose," said Porcello. "I definitely learned that from Justin at a young age. When he plays catch, he's not just out there throwing to get loose. He's working on stuff every time."
This year, Porcello is out of the Verlander-Scherzer shadow for the first time, and he could be on the verge of a breakout type of season.
"We're getting to know more about the person and the teammate that you begin to see," said Red Sox manager John Farrell. "Early on, we got a sense how professional his work is, and how precise his bullpen sessions are, the way he carries it into games. We've had a few team building things where you start to see the personality as well. He's been a very good fit."
In Monday's start against the Cardinals, Porcello allowed six hits and two runs over five innings, walking one and striking out five.
Ian Browne is a reporter for MLB.com. Read his blog, Brownie Points, and follow him on Twitter @IanMBrowne. This story was not subject to the approval of Major League Baseball or its clubs.