Inbox: What will Blue Jays do with Navarro?
Beat reporter Gregor Chisholm answers Toronto fans' questions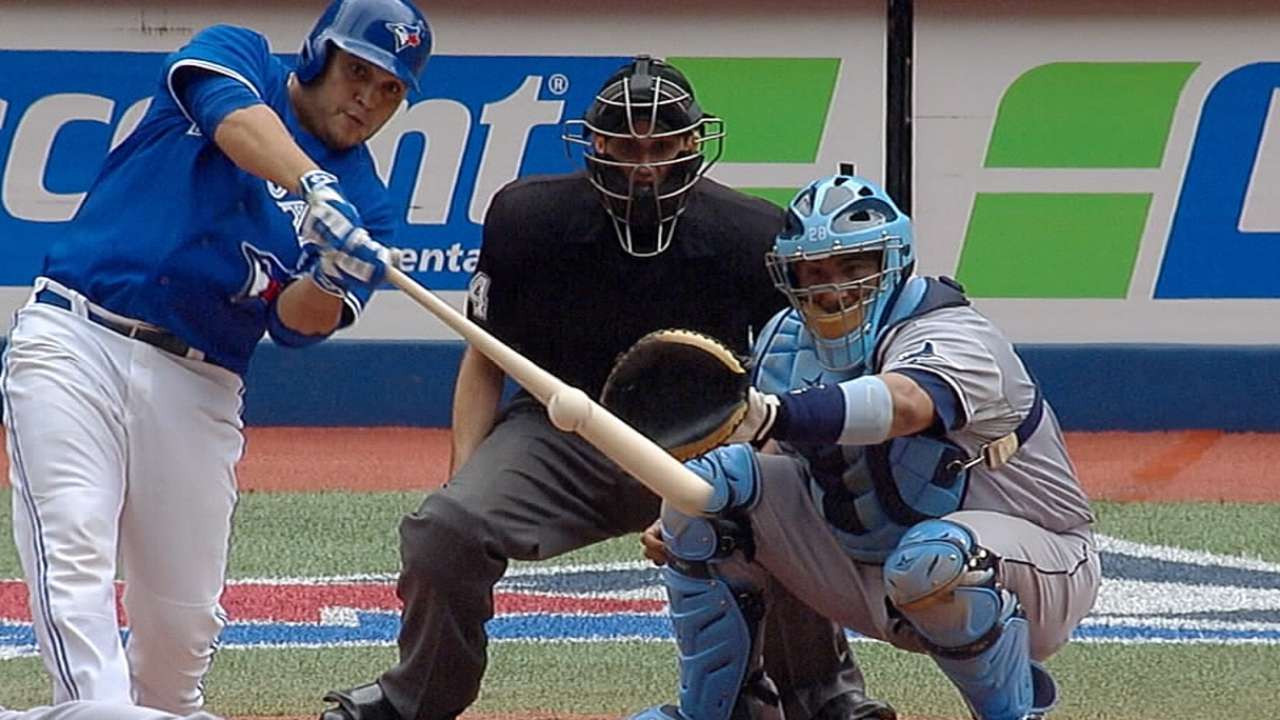 What do you think is the most likely catcher scenario going into the season?
-- Ted A., Guelph, Ontario
The catching situation depends almost entirely on what the Blue Jays end up doing with Dioner Navarro. It's no secret he has been on the block since Toronto signed Russell Martin, but nothing has come of it. Unless something changes soon, he has to be considered part of the 25-man roster that will open the season on April 6.
There were some initial reports that Detroit and Arizona expressed interest in Navarro, but those rumors are now more than a month old. On Monday, D-backs general manager Dave Stewart publicly stated Navarro isn't a fit because of the $5 million he's set to earn this year, while it appears the Tigers' inquiries may have been overblown. As recently as late last week, there was nothing happening on the Navarro trade front.
• Submit a question to the Inbox
All of that could change with one phone call or injury, but for now, it appears that Navarro will be sticking around. The situation is far from ideal, because it would appear that Blue Jays manager John Gibbons is giving strong consideration to using Josh Thole as R.A. Dickey's personal catcher. That would leave the club with three catchers, and while Navarro could be used at designated hitter, a lot of that depends on Edwin Encarnacion's back and his ability to play first base.
An alternative scenario could see Toronto option Thole to the Minors and have Martin catch Dickey. Navarro could then become Mark Buehrle's personal catcher, and it would allow Martin to continue working with the younger core of Drew Hutchison, Aaron Sanchez and Daniel Norris, which is a top priority.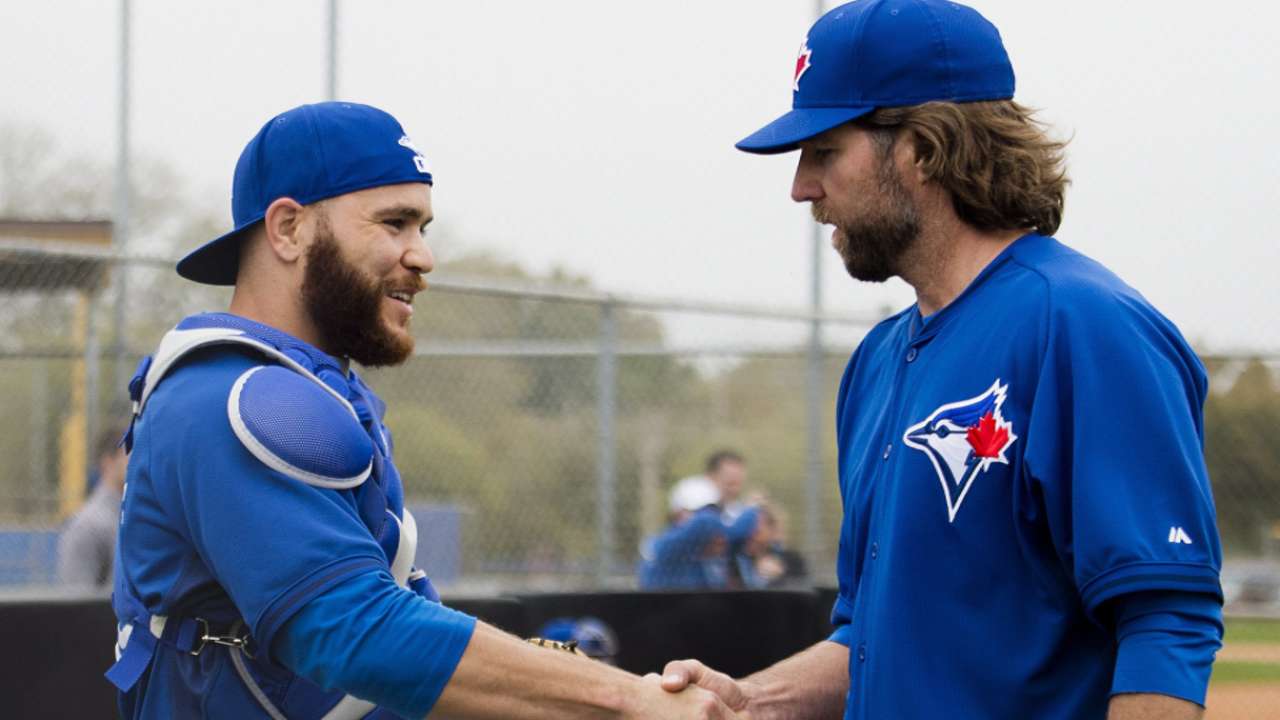 Who will be the starting second baseman?
-- Sean C., Beamsville, Ontario
The situation at second seems to be changing by the day. During the opening weeks of camp, there were strong indications that the Blue Jays were going to use Maicer Izturis and Ramon Santiago. Since then, both players have gone down with injury, and Santiago remains out for a couple of months with a broken collarbone, while Izturis likely won't be ready for Opening Day because of a strained groin.
That leaves the club with two options. Toronto could opt to use rookie Devon Travis as the everyday starter at second, with Ryan Goins as the primary backup. Another scenario would see Goins as the starter, with veteran Steve Tolleson -- who is out of options and cannot be sent to the Minors without clearing waivers -- as the utility infielder and starter vs. left-handed pitching.
Initial thoughts were that the Goins/Tolleson platoon would be the choice, but Travis' late surge in camp could be changing those opinions. He's looked relatively decent in the field, and he has excelled with the bat. The 24-year-old is hitting .368 with three walks and six extra-base hits in 15 games, and he has been playing so well, that it might be hard to keep him off the roster. If I had a vote, Travis would be the choice at second, with Goins as the backup, because of his ability to play both middle-infield spots.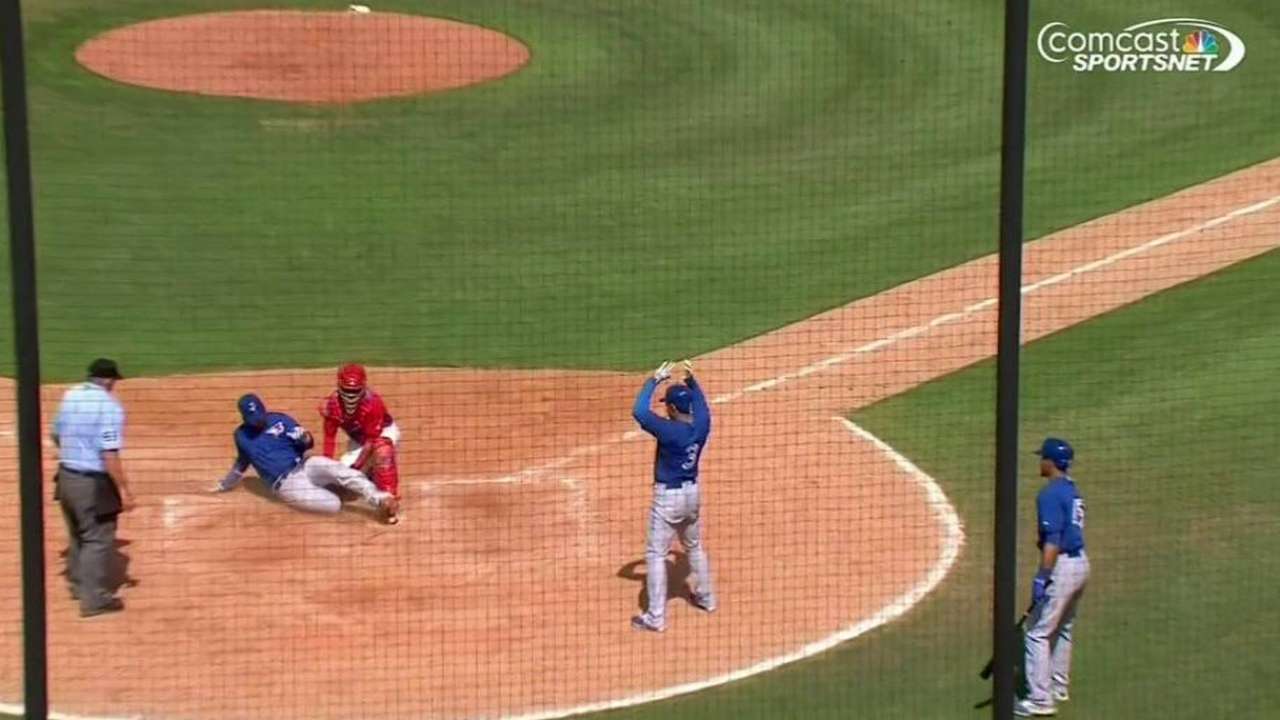 It's exciting that the Blue Jays are going to feature Sanchez and Norris in the rotation, but what are the innings limitations going to look like?
-- Shane S., Portland, Ore.
An innings limit would have been a big topic of conversation a couple of years ago, but in this particular case, I don't think it's going to be an issue for either pitcher. I fully expect the Blue Jays to handle both of these starters the same way Hutchison was treated in 2014.
Hutchison pitched 184 2/3 innings last season, despite having a limited workload in each of the previous two years because of Tommy John surgery. In 2013, Hutchison tossed a combined 57 innings between the Minors and the Arizona Fall League. The year before, he threw 75 1/3 combined innings between the Minors and Majors. Hutchison's career high was 149 1/3 innings, but he reached that total just once prior to last year, and it occurred all the way back in 2011.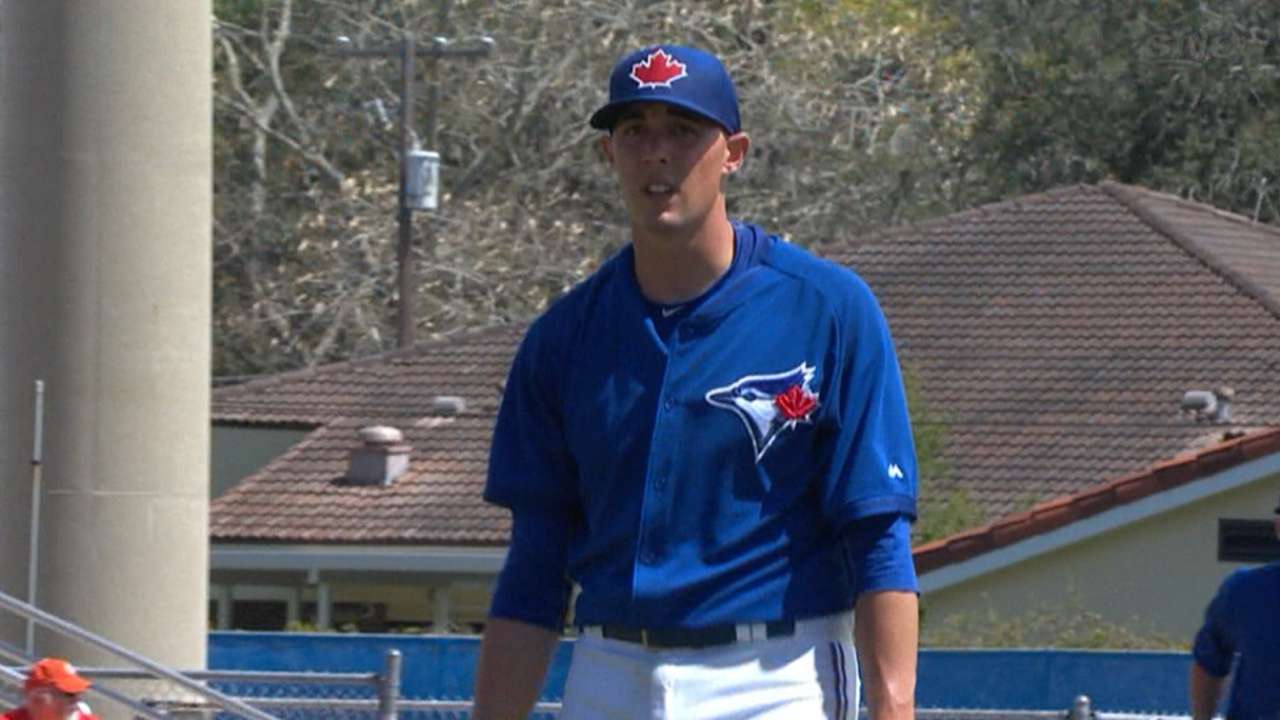 If anything, Toronto's No. 3 prospect Norris and top prospect Sanchez enter the year better suited to have their innings increased. Norris threw 137 innings last season, while Sanchez recorded 133 1/3 innings, and those numbers should dramatically increase in 2015. A likely scenario would see the Blue Jays using off-days to give each pitcher an extra day of rest, possibly reconfiguring the rotation at the All-Star break for the same reason, perhaps even skipping a start at some point. But a shutdown seems unlikely, unless it's based on performance rather than a specific number.
Toronto is in a win-now mode, and if the team is contending, there's simply no way the Blue Jays would shut down either pitcher if the results are there.
How does a decision placing Miguel Castro and Roberto Osuna into the bullpen affect their innings limits and development, should the Blue Jays choose to move them back into the rotation one day?
-- Alan P., Sarnia, Ontario
As mentioned above, innings limits likely won't apply to Sanchez and Norris, but the same certainly can't be said about Castro and Osuna. Both pitchers are so inexperienced as professionals that it would be reckless to throw either out there for a high number of innings.
At this point, it seems like a foregone conclusion that Castro will make the team as a reliever. He threw 80 1/3 innings in the Minors last year, and that number is unlikely to increase in the bullpen, so he shouldn't have much to worry about. The problem is that if he has back-to-back years around the 80-innings mark, then a full-time transition to a starter in 2016 would be next to impossible. It's a process that would likely take a couple of years.
That might seem problematic, but there are a lot of people inside the organization and around baseball who believe Castro's best long-term fit is as a reliever. He has an overpowering fastball and a devastating changeup, but his slider remains a work in progress. His arsenal seems to work best as a max-effort guy, as opposed to someone who has to conserve energy to get deep into games. Castro could very well be a future closer in the making, so I don't think increasing his innings is a huge concern, especially on a team that wants to win now.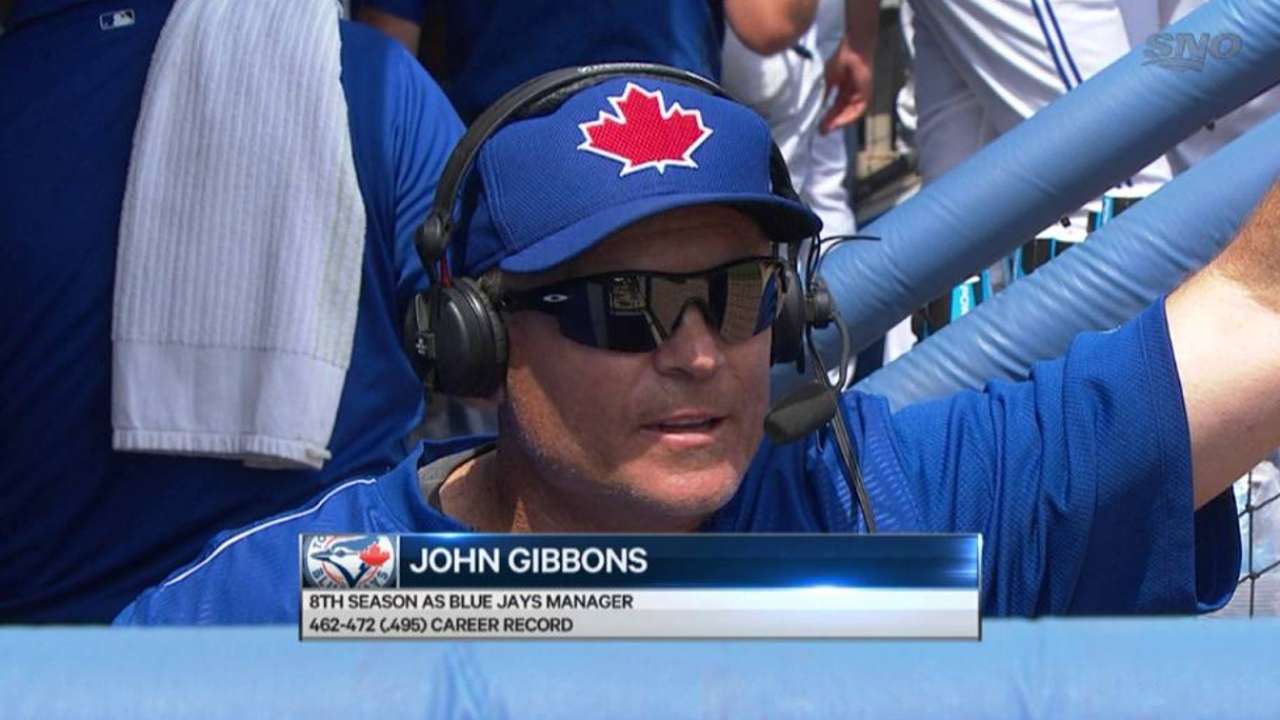 Osuna is a different story, because he is viewed as a potential cornerstone of the rotation. He is making a strong case for the bullpen, but I still expect him to start the year in the Minors, so he can build up some innings as a starter. Osuna recorded approximately 35 innings last year following Tommy John surgery, and in each of the previous two seasons, he was slightly north of 40 innings.
The 20-year-old needs consistent work, and a smart move might be using him for short starts in the Minors early in the year before transitioning him to the bullpen later on, just like the Blue Jays did last year with Sanchez.
We haven't heard a lot lately on Ricky Romero and Johan Santana. What are potential timelines if they stay healthy?
-- Tyler T., Grenfell, Saskatchewan
There really isn't a lot to report on either pitcher. Romero is taking things slow after last year's knee surgeries, and he has been limited to throwing bullpen sessions. Even when he does return to game situations, he's going to need a long run of success before he's considered a viable option for the big league roster.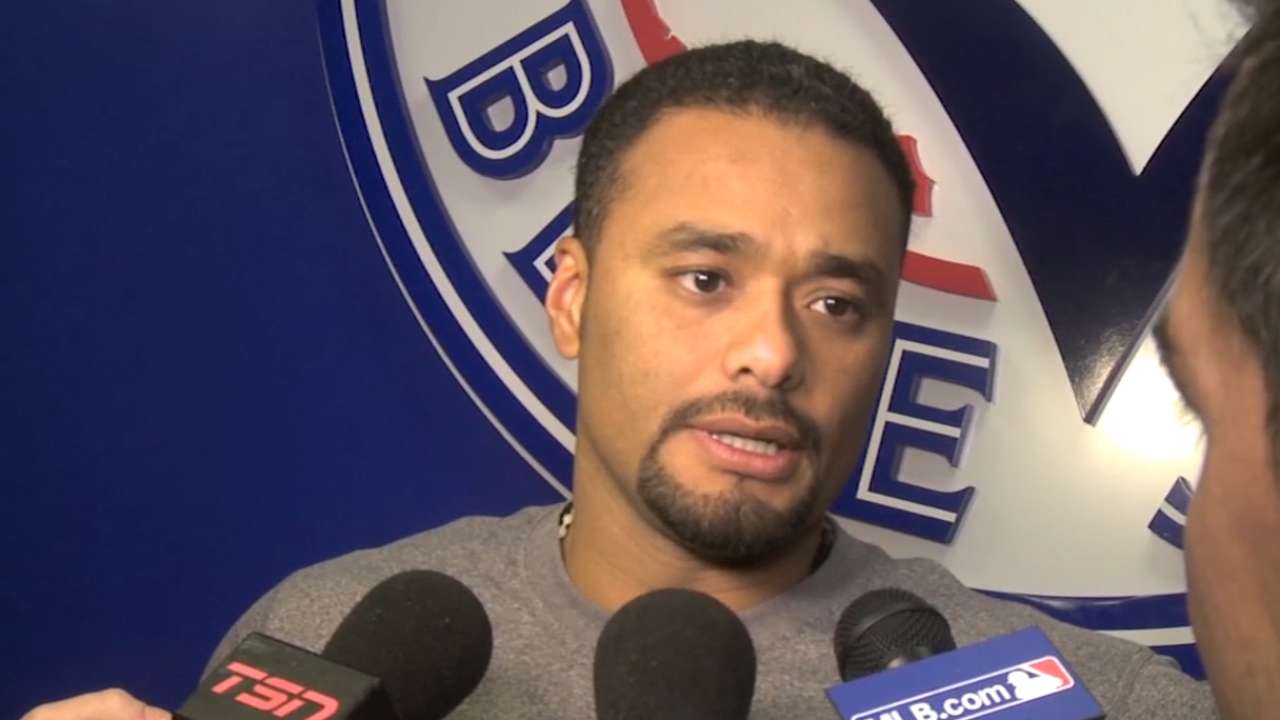 In a lot of ways, Santana faces a similar situation. The left-hander resumed throwing in late February, and he is currently going through shoulder strengthening exercises, but he's not close to being ready. Even once he gets clearance to pitch in games, which hasn't happened yet, Santana will need weeks to prepare. It's hard to envision a scenario where he'd be ready before the middle of May, even if there aren't any setbacks.
Gregor Chisholm is a reporter for MLB.com. Read his blog, North of the Border, and follow him on Twitter @gregorMLB. This story was not subject to the approval of Major League Baseball or its clubs.