Abreu provides first insight into defection from Cuba
Speaks briefly of trip to Haiti in magazine article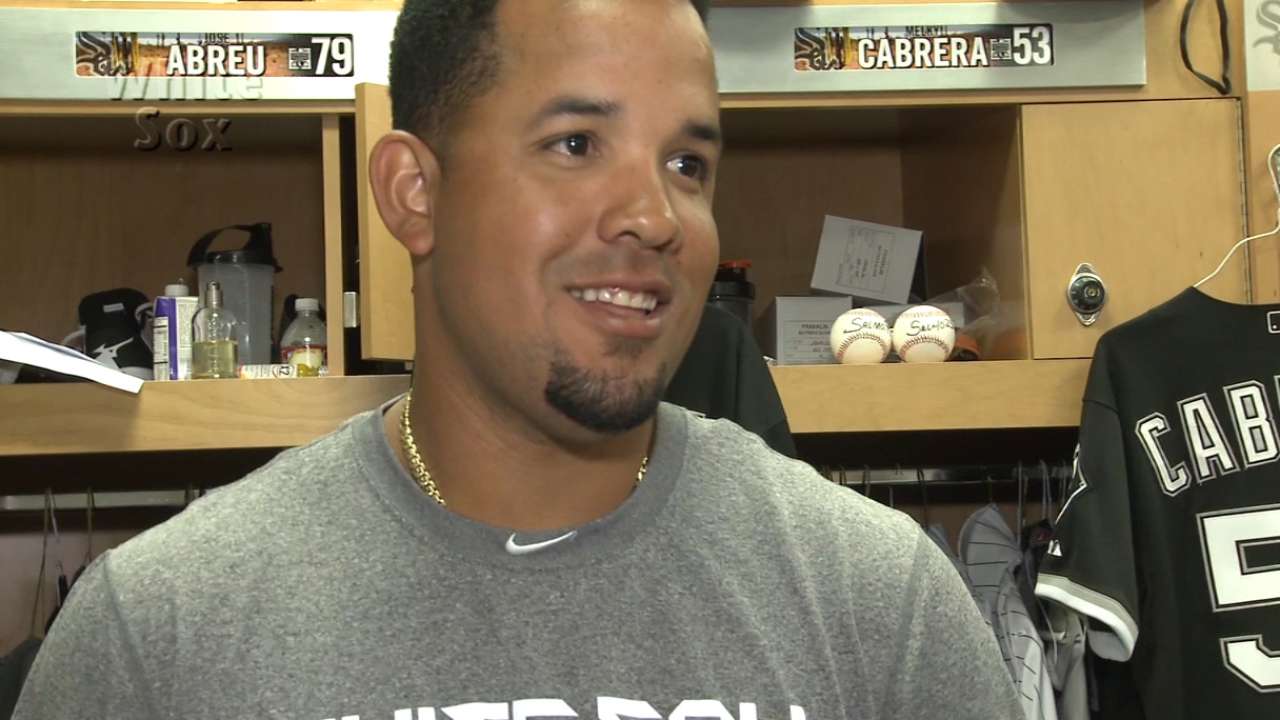 PEORIA, Ariz. -- For the first time since joining the White Sox, Jose Abreu, the reigning American League Rookie of the Year and Most Valuable Player candidate, has talked about his departure from Cuba.
Abreu sat down with a reporter form Chicago Magazine in January to discuss his 12-hour journey that included his fiancée, Yusmary, his parents, Daisy Correa and Jose, and his sister and her husband from Cuba to Haiti on a tiny boat in August 2013. He told the reporter that the trip was dangerous, but "God gave us the chance to reach our destination."
The White Sox first baseman chose not to elaborate on the story when questioned by reporters Monday at Camelback Ranch.
"I agreed to the interview. I don't know what they have written," Abreu said through interpreter and White Sox Spanish language broadcaster Billy Russo. "But I don't feel very comfortable talking about my journey from Cuba to the United States. It's very sensitive and I don't want to remember that."
#focus pic.twitter.com/XVfJUFnnTJ

- Chicago White Sox (@whitesox) March 23, 2015
Adrian Nieto, a close friend and teammate of Abreu, who had his own harrowing trip from Cuba with his family, explained in the Chicago Magazine article that "Jose was scared for his life in that little boat," but that he was determined that everyone would make it. The article talked about Abreu's development as a player in Cuba, his decision to come to the United States and how much he missed his young son, Dariel.
"It's dangerous to leave Cuba, and no parent wants to put their child in danger," Abreu said in the article. "So I decided to take the risk without him."
There didn't seem to be much of an assimilation process for Abreu as a Major League player, setting a White Sox single-season rookie record for homers with 36. He also topped the Majors with a .581 slugging percentage. As White Sox television play-by-play announcer Ken "Hawk" Harrelson recently pointed out in an interview with MLB.com, Abreu also became a leader during his first season.
Life is definitely more comfortable for Abreu presently. He better understands the process to get through a 162-game schedule and is excited with the White Sox chance, at least on paper, to reach the postseason. During the offseason, Abreu told MLB.com that he was preparing for a season longer than 162 games because he wants to play in the playoffs in Chicago.
There's no doubt that Abreu's comfort level has increased with his parents in the United States and able to see their son in action, something they weren't able to do until last year's All-Star Game in Minneapolis.
"My family is everything," said Abreu, who live in the suburbs of Miami. "To be able to get them here is awesome for me. It makes everything easier for me around the team and around my life because I have their support. It's completely different because my family is here."
Scott Merkin is a reporter for MLB.com. Read his blog, Merk's Works, and follow him on Twitter @scottmerkin. This story was not subject to the approval of Major League Baseball or its clubs.