Holliday OK after hit by pitch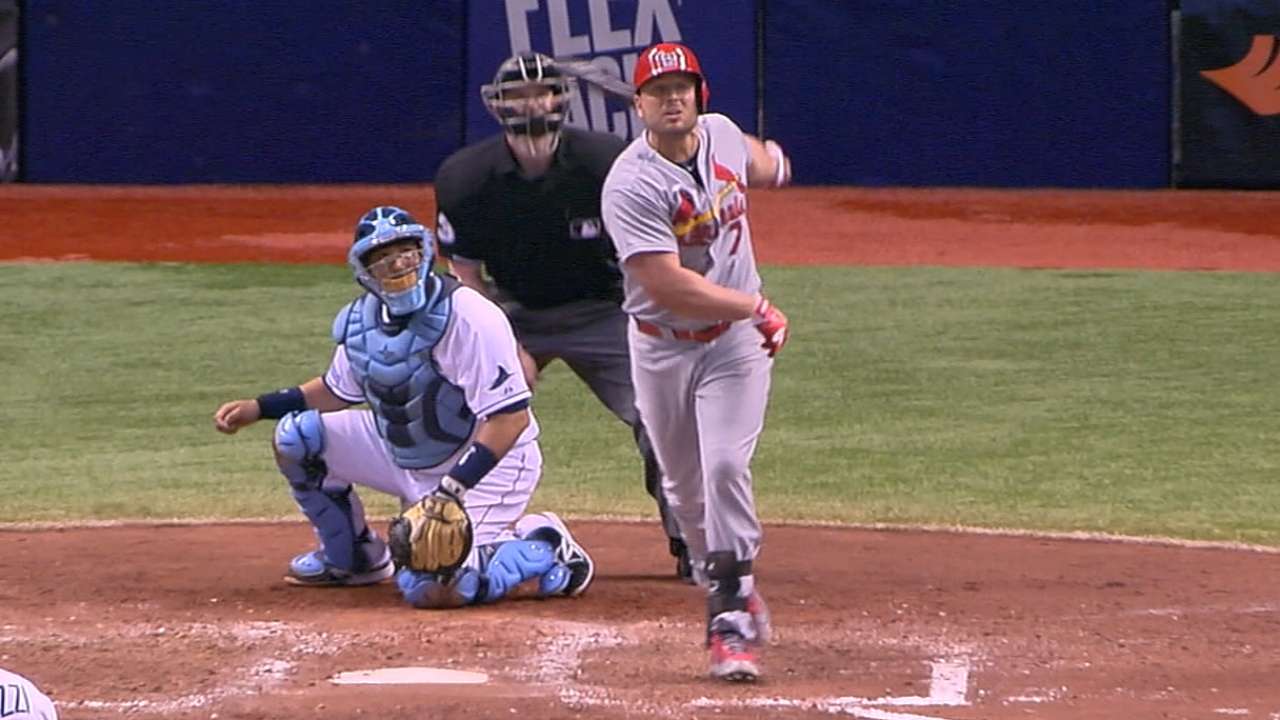 FORT MYERS, Fla. -- Cardinals outfielder Matt Holliday left Monday's game against the Red Sox in the fifth inning after being hit by a pitch, but the move had more to do with the wet conditions at JetBlue Park than any injury.
Holliday took a Rick Porcello fastball off his left side and went down to first before pinch-runner Jacob Wilson replaced him. Matt Carpenter also left for a pinch-runner after his RBI double put the Cardinals ahead, 2-0, two batters earlier. Rain had begun to fall and the game went into a 55-minute delay before the bottom of the fifth and never resumed.
"He probably would have run," manager Mike Matheny said. "But once the conditions started getting bad, as soon as it starts raining, I'm usually going to try to get the guys out."
Holliday finished his day 0-for-2 with a strikeout but is still hitting .381 this spring, since Monday's game was rained out before it became official.
Other notes from Cardinals camp
• Since the game was called early, right-hander Matt Belisle and lefty Sam Freeman had to get their work in at JetBlue Park's indoor batting cages.
• Though it won't count in the official stats, Jason Heyward picked up his first extra-base hit of the spring, ripping a double deep to right-center in the first inning off Porcello.
• The Cardinals have a rare day off from Grapefruit League play on Tuesday, and Matheny plans to let his players enjoy it. The only item on the agenda is a simulated game for left-hander Jaime Garcia, who will throw against Minor Leaguers as he continues his bid for the fifth-starter job.
• After the game, St. Louis optioned infielder Aledmys Diaz and catcher Cody Stanley to Triple-A Memphis, while re-assigning outfielder Rafael Ortega and catcher Travis Tartamella to Minor League camp. That leaves 38 players in big league camp, including six non-roster invitees.
Andrew Simon is a reporter for MLB.com. Follow him on Twitter @AndrewSimonMLB. This story was not subject to the approval of Major League Baseball or its clubs.