Cards hope to add left field to Reynolds' repertoire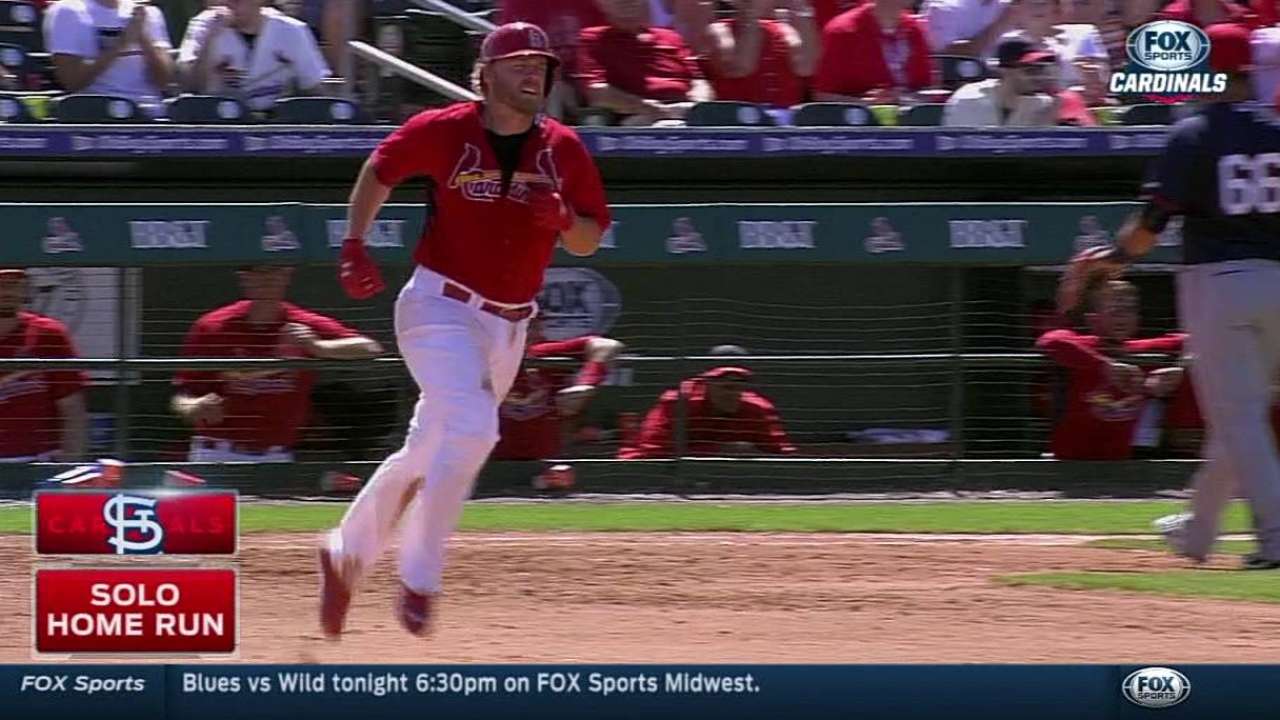 FORT MYERS, Fla. -- The Cardinals signed Mark Reynolds as a free agent this offseason with an eye on his powerful right-handed bat, which has produced seven straight 20-homer seasons. The question is how to get that bat in the lineup.
Increased versatility couldn't hurt, so Reynolds found himself in left field for Monday's game against the Red Sox, his first outfield start of the spring. If Reynolds can add left field to his repertoire, it might score him some additional at-bats on a team that already has a regular first baseman (Matt Adams) and third baseman (Matt Carpenter) and rarely has use for a designated hitter.
"He's done some things, as far as run production goes, that not many people have done," manager Mike Matheny said. "So obviously we view that as a weapon and we have to figure out how to maximize it and just keep our eyes and mind open to what that could possibly look like and not have it figured out ahead of time."
Reynolds did not get much of a chance to show what he can do. In 4 1/2 innings before rain interrupted the proceedings, he got no chances to record a putout and only saw one ball hit in his direction, a Pablo Sandoval double.
Matheny said the team's focus this spring has been getting Reynolds work at third base, especially on the side, and at first. He also has been getting some outfield work and had appeared in one game in right, where he has logged 15 career innings, all in right. That includes 12 innings for the Brewers last season.
"I think anything can happen during the season, so it's just best to be prepared and have guys ready to go wherever we need them," Matheny said. "Versatility's always a strength for any club."
Matheny has been impressed with the eight-year veteran's willingness to play anywhere on the field. Though Reynolds won't have a regular starting job coming out of Spring Training, the manager views his role as open to expansion.
That likely will depend heavily on what Reynolds does at the plate, coming off a season in which he hit .196/287/.394 with 22 home runs and 122 strikeouts for the Brewers. But some extra defensive value could help his cause.
"You never want a player like Mark Reynolds thinking he's destined to be a role player, a bench guy," Matheny said. "That wasn't our intention when we went into this, and we'll continue to try to figure out how to get him as much playing time as possible. It's something I know he wants to work to prove and show, that, 'You guys need to find a way to get me in there.'"
Andrew Simon is a reporter for MLB.com. Follow him on Twitter @AndrewSimonMLB. This story was not subject to the approval of Major League Baseball or its clubs.