Wheels turning in Maddon's head over roster
Cubs manager not revealing ideas, but has zeroed in on pinch-hitting, defense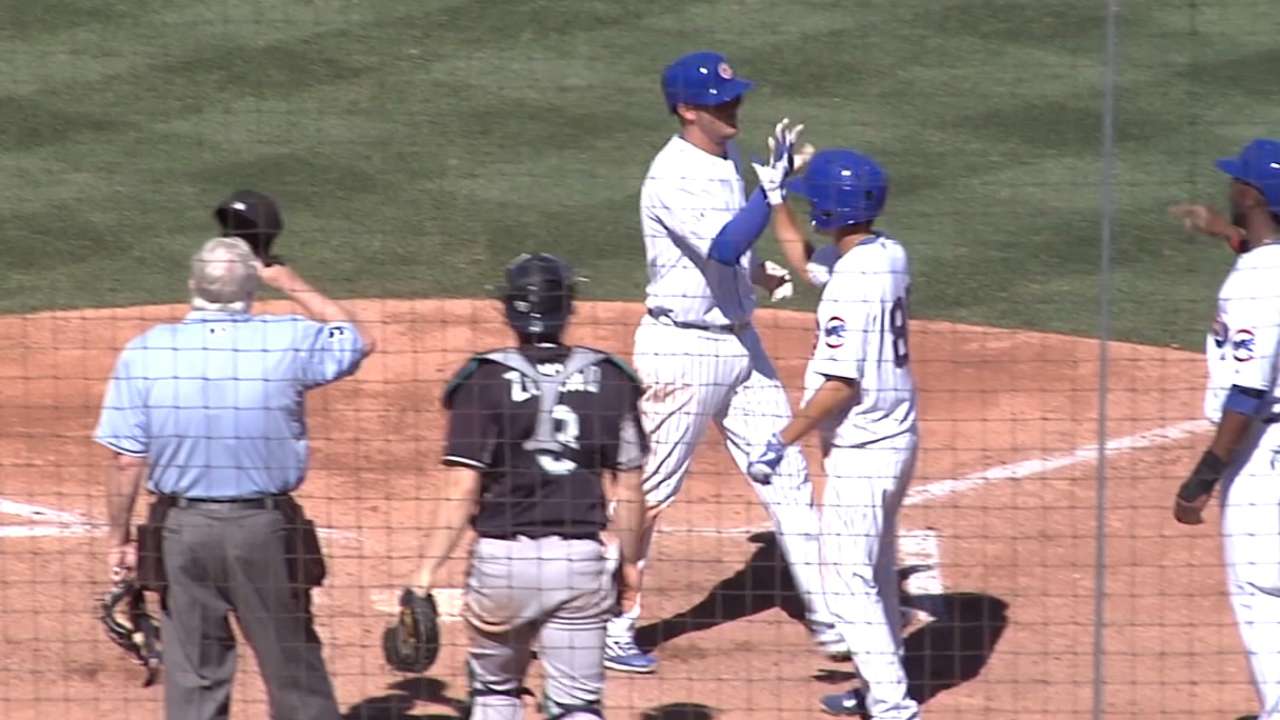 MESA, Ariz. -- There's less than two weeks to go before the Cubs open the season, and although Joe Maddon is still learning his players, he has discovered one thing: All the power makes him feel as if he's still managing an American League team.
Arizona has been "Colorado South" and not Wrigley Field in April, when the wind blows in. The Cubs rank second in the Majors with 29 home runs this spring.
"I know we have power," Maddon said, "but a lot of the home runs -- and I'm not trying to denigrate anybody -- but a lot of the power will be mitigated by playing at sea level or Lake Michigan level."
During the Rays' three-game series last August in Chicago, the wind blew in from center field all three days, and they hit one home run.
"It's one of the biggest ballparks I've ever seen in my life," Maddon said.
On Sunday, the Cubs manager said he had an "epiphany" about the makeup of the final roster, and that it did not come after Kris Bryant's first or second home run on Saturday. The Bryant issue will be debated until the Cubs make an announcement -- and it will most likely continue after it's made. Maddon has met with the baseball operations people -- aka, the "brainiacs" -- to go over his ideas.
"I normally believe these things answer themselves," Maddon said. "You talk about the game being cruel with injuries sometimes, and some questions are answered based on injury. Other times, let the guys keep playing and keep letting those answers come to you. Nothing has been finalized yet. I had a thought, and am just floating it a bit."
Maddon wouldn't reveal details, but one concern, he said, is how many guys he'll have to pinch-hit for, because that will influence the makeup of the bench. Unless there is an injury or last-minute trade, the Cubs will open with catchers Miguel Montero, David Ross and Welington Castillo. Castillo, the Cubs' starter the last two seasons, is batting .375, while Montero is drawing raves from the pitchers. The Cubs can afford to carry the trio, because they have versatile players like Tommy La Stella and Arismendy Alcantara, whom Maddon has compared to Ben Zobrist.
Any players who want to sway Maddon should play good defense. He loves it when the team plays "ZD," which means "zero defects." Javier Baez is a perfect example. The young infielder has struck out 13 times in 37 at-bats, but he is impressing with his play in the field.
"He's always going to strike out," Maddon said. "It's not even about strikeouts, it's about organizing his strike zone a little better. ... If he could somehow get to be a better decision-maker and then test that forceful swing he's got in the strike zone, let's see what happens there."
Carrie Muskat is a reporter for MLB.com. She writes a blog, Muskat Ramblings, and you can follow her on Twitter @CarrieMuskat. This story was not subject to the approval of Major League Baseball or its clubs.