MLB Network to debut new morning show on Opening Day
'MLB Central' to air from state-of-the-art Studio 21, named for Clemente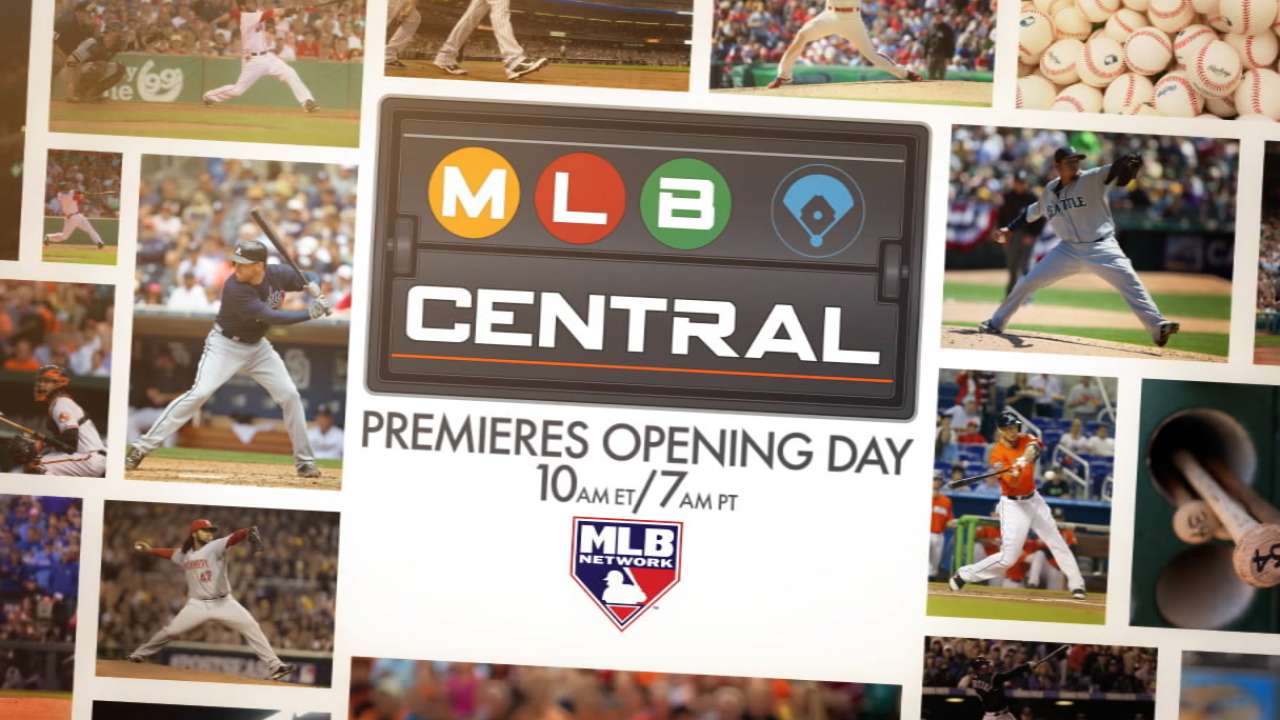 MLB Network today announced that it will debut its first-ever regular-season morning show, "MLB Central," on Opening Day, April 6, at 10 a.m. ET. Hosted by Matt Vasgersian, Mark DeRosa and Lauren Shehadi, it will be the first program to originate from MLB Network's new, state-of-the-art Studio 21, named in honor of Hall of Famer and humanitarian Roberto Clemente.
With fans looking for baseball content around the clock, "MLB Central" will offer an entertaining and informed take on the game every weekday morning, with updates and context on the latest news, extensive on-field highlights, and long-form conversation with guests, celebrities and insiders from around baseball. The live show will prominently feature the perspectives of the hosts, from Vasgersian's irreverent style and his experience as an announcer at every level in the game, to DeRosa's unique outlook as a former teammate of more than 200 current Major Leaguers, to Shehadi's personality and interview style displayed during her three years of hosting MLB Network's "The Rundown" and the offseason morning show "Hot Stove."
Each show will begin with an opening that includes 20 Major Leaguers and three club mascots, followed by "The Wake-Up Call," a fresh look at the day's top highlights and news stories. DeRosa will offer his opinion of the latest on-field performances in a segment called "The D-Train," and the show's analysts will give their daily takes on the hottest players and best moves in the world of fantasy baseball.
On Opening Day, the show will give viewers their first look at the brand-new, 8,000-square-foot Studio 21 and air vintage on-field footage of Clemente. Recurring features will include interviews with MLB players, managers and others, and a segment inspired by the MLB Network trivia show "Baseball IQ." Viewers will be able to interact with Vasgersian, DeRosa and Shehadi via MLB Network's Twitter feed and Facebook page using #MLBCentral.
"The launch of 'MLB Central' is a natural continuation of the way we've built out our live programming schedule since MLB Network's debut in 2009, and we're excited to debut our first regular-season morning show in our newest studio space," said Rob McGlarry, president of MLB Network. "MLB Network has a tradition of celebrating legendary players of the game, starting with Studio 3 and Studio 42, named in tribute to Babe Ruth and Jackie Robinson. As we take the next step in our history, it is with tremendous respect that we call our latest facility Studio 21, in honor of Hall of Famer and humanitarian Roberto Clemente."
Studio 21 will be home to three daily studio shows: "MLB Central," "MLB Now" and "Quick Pitch." The new space will innovate the way MLB Network studio programming is presented, using at least five multicamera studio positions and cutting-edge technology adaptable to any show, story or club, from hanging video displays to augmented reality graphic components.
Studio 21 combines elements of a traditional ballpark with the latest in modern TV technology. The walls of the studio resemble the exterior of a ballpark, including a 1,800-square-foot courtyard, six-foot-tall entrance gates and a brick pattern on the floor. Given its namesake, the studio design pays tribute to Clemente with a seven-foot bronze medallion bearing Clemente's uniform No. 21 and a 15-foot-wide Studio 21 sign in the Pittsburgh Pirates' signature block lettering at the entrance. Photos of Clemente are featured throughout the space, and his is one of five framed jerseys on display, along with those of fellow Hall of Famers Hank Aaron, Lou Gehrig, Tony Gwynn and Kirby Puckett. The walls of the studio are lined with nearly 1,400-square-foot high-resolution LED displays, and in the studio's premiere feature, 14 back-to-back 55-inch monitors are suspended from the ceiling to be rotated, raised and lowered in synchronized timing as well, according to specific show content and direction.