Rays play small ball behind Archer's solid start
Potential Opening Day starter strikes out four over 4 2/3 innings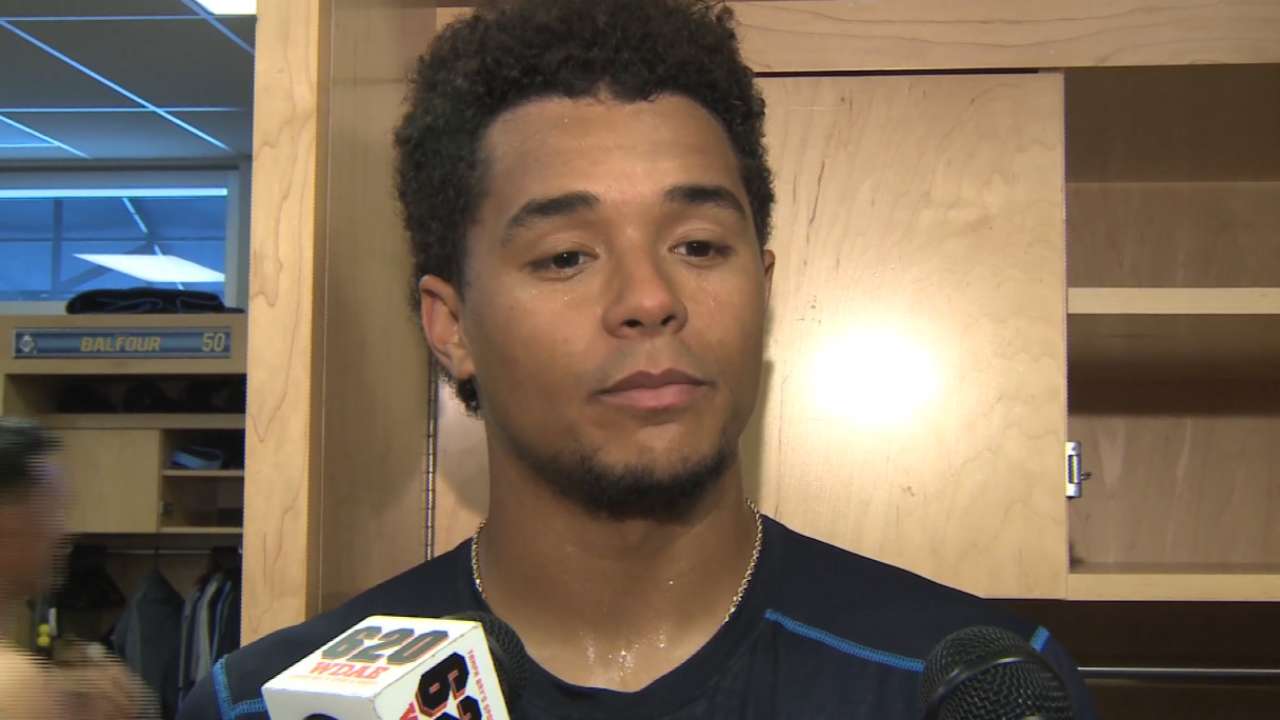 PORT CHARLOTTE, Fla. -- With potential Opening Day starter Chris Archer on the hill for the fourth time this spring, the Rays' small-ball approach wasn't enough to combat the Pirates' power attack in Pittsburgh's 7-6 victory on Monday afternoon at Charlotte Sports Park.
Francisco Cervelli, Gorkys Hernandez and Pedro Florimon each homered for the Bucs, with Florimon's eighth-inning solo shot tying the game. Wilkin Castillo hit a single to left to drive in the Pirates' decisive run in the ninth.
Archer logged four scoreless frames before the Pirates' offense began to click against the Rays' righty in top of the fifth. Hernandez singled to lead off the inning, then Neil Walker reached on a fielding error by first baseman Juan Francisco. Hernandez scored when Starling Marte grounded out to third.
Archer retired Corey Hart on a groundout before calling it a day after 4 2/3 innings. He allowed one earned run on three hits and four walks, while striking out four.
Cervelli's two-run homer in the fifth had given the Bucs the lead, which the Rays took back in the bottom half of the frame.
David DeJesus hit an RBI triple against Pittsburgh starter A.J. Burnett to begin the scoring in the fifth, after which Tampa Bay scored three straight runs vs. the Bucs' bullpen on a hit-by-pitch, a walk and another hit batsmen with the bases loaded.
The Rays got busy early against Burnett, as DeJesus walked to lead off the first, moved to second when Logan Forsythe doubled to center and scored when Asdrubal Cabrera grounded out to second. James Loney singled to left to drive home Forsythe and give Tampa Bay a 2-0 lead.
Burnett allowed five runs on three hits in 4 2/3 frames, striking out five batters and walking three.
Up next: The Rays will be off on Tuesday save for rotation hopeful Nathan Karns, who will pitch in a Minor League game. The team returns to action Wednesday afternoon, when Matt Andriese will start against the Twins in a 1:05 p.m. ET contest. Also slated for action on Wednesday are Jeff Beliveau, Steve Geltz, Brandon Gomes and C.J. Riefenhauser.
Bill Chastain is a reporter for MLB.com. This story was not subject to the approval of Major League Baseball or its clubs.