As precaution, Yelich sits with blister on hand
Outfielder, who just signed 7-year extension, says he will play on Tuesday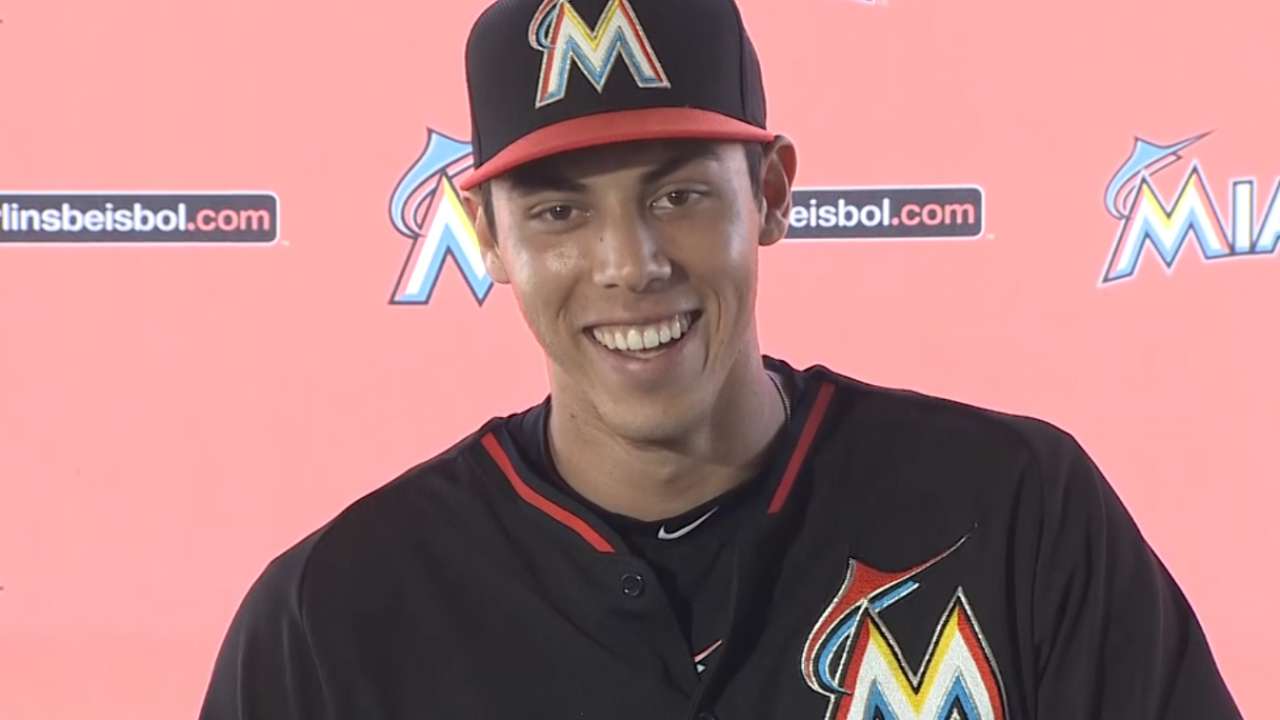 JUPITER, Fla. -- As a precaution, the Marlins gave left fielder Christian Yelich a couple of days off to rest a small blister on his right palm. The irritated hand kept the 23-year-old out of the lineup on Sunday and Monday.
The timing of the blister coincides with Yelich signing his seven-year, $49.57 million extension. The irritation was the result of the daily rigors of swinging the bat, not signing his big contract.
Yelich and the Marlins insisted the blister is no big deal, and the outfielder said he will play Tuesday against the Red Sox.
"If it would have been the regular season, I think he'd figure out a way to play through it," manager Mike Redmond said.
Yelich last played on Saturday against the Nationals at Space Coast Stadium in Viera, Fla.
"You build up that callus on your hand," Redmond said. "His just got a little irritated. He's fine. Other than that, we're good."
Two weeks from the April 6 season opener against the Braves at Marlins Park, Miami is at the point of Spring Training where it is running out the regulars more frequently. Ideally, the club would like to have Yelich mixed in with the rest of the lineup.
Yelich is enjoying a solid spring, batting .321 (9-for-28) with a .424 on-base percentage.
With Yelich off on Monday, Ichiro Suzuki started in left field against the Mets at Roger Dean Stadium.
"Yeli had a pad in there," Redmond said. "He was trying to play through it. It just made sense to take a couple of days off."
• Relievers Steve Cishek, Bryan Morris, Mike Dunn and A.J. Ramos pitched in a Minor League game on the back field at Roger Dean Stadium on Monday. It was a chance to give them some work while not facing a National League East rival.
• Jarrod Saltalamacchia started behind the plate for the second straight day. The club is building up its regular catcher to be ready to go on consecutive days. Jeff Mathis, the backup catcher, saw game action in a Minor League contest.
Joe Frisaro is a reporter for MLB.com. He writes a blog, called The Fish Pond. Follow him on Twitter @JoeFrisaro. This story was not subject to the approval of Major League Baseball or its clubs.