MLB.com Columnist
Jim Callis
MLB Pipeline checks in from Giants camp
Shortstop Arroyo impresses; righty Beede discusses transition to professional level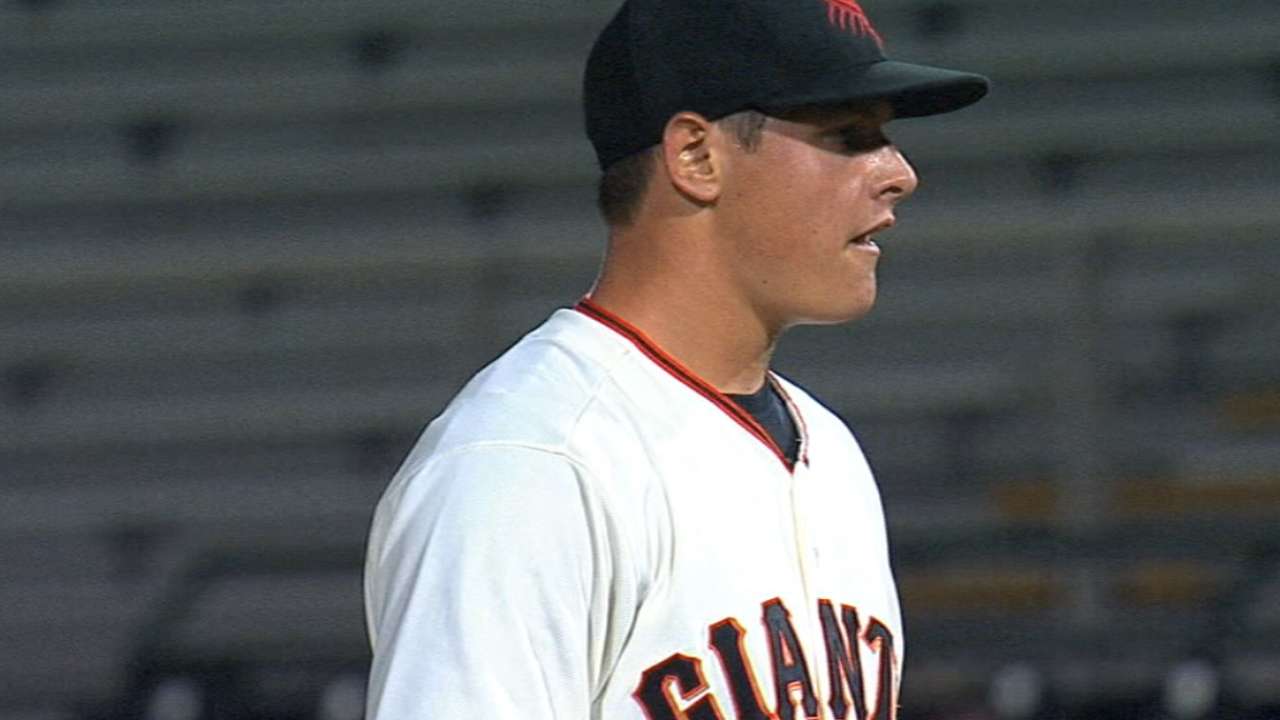 Every Spring Training, prospects get a chance to show what they can do as they prepare for the season ahead. Some are competing for jobs in big league camp, others are prepping for the season as they vie for spots at Minor League affiliates up and down a team's system. MLBPipeline.com will be visiting all 30 camps this spring. Today, we check in on the San Francisco Giants.
SCOTTSDALE, Ariz. -- The organization that brought you Madison Bumgarner, Matt Cain and Tim Lincecum -- not to mention three World Series championships in the last five seasons -- has more pitching on the way.
Steven Okert, Hunter Strickland and Cody Hall could impact the Giants' bullpen in 2015. Kyle Crick, Keury Mella and Tyler Beede could bolster the rotation in the season or two after that.
MLB Pipeline Spring Training Reports
As has been true for much of general manager Brian Sabean's 18-year tenure, San Francisco's farm system stands out more for its arms than its bats. Twelve of the first 16 prospects on MLBPipeline.com's Giants Top 30 list are pitchers. That reflects the ability of assistant GM for scouting and international operations John Barr and his staff to find arms, and pitching savant Dick Tidrow and the development staff's ability to refine them.
Giants director of player development Shane Turner says the focus on pitching is by design.
"We've won with a lot of different players, but when we get to the playoffs, we've won with pitching and defense," Turner said. "I don't think that will ever change. It's worked for us."
Camp standouts
Though he's just 19, shortstop Christian Arroyo didn't look out of place in big league camp. A 2013 first-round Draft pick who won the Rookie-level Arizona League MVP Award in his pro debut and finished second in the short-season Northwest League batting race (.333) last summer, Arroyo delivered four hits in eight at-bats and fit in well with the veterans.
"Arroyo has done a real nice job," Turner said. "He's really got a simple swing and a nice approach for a young kid. His body has gotten stronger. He's got a chance to move pretty quick."
John Riley, who was also selected in the 2013 First-Year Player Draft, has performed well on the Minor League side after moving from catcher to first base. Though his offensive potential earned him a $450,000 bonus as a 31st-rounder, he has hit just .192/.301/.305 in two seasons in the AZL.
"Riley was one of our top two hitters in instructional league and he has looked good here," Turner said. "He shows power from right-center to the left side. We'll take a look at his bat, then decide whether he'll play catcher or first base. The bat is the thing that got him drafted."
Breakout candidates
Two right-handers who had late starts to their pro careers and have barely pitched above low Class A could take off in 2015. Mella didn't sign out of the Dominican Republic until he was 18 in 2011, two years after he became eligible, but he demonstrates the best combination of stuff and pitchability among Giants prospects.
"We obviously love his arm and so do a lot of people, because he gets asked about in trades a lot," Turner said. "He can throw in the mid-90s, and his breaking ball is hard and late. His changeup is a little firm and straight and times, but a lot of times the changeup comes later."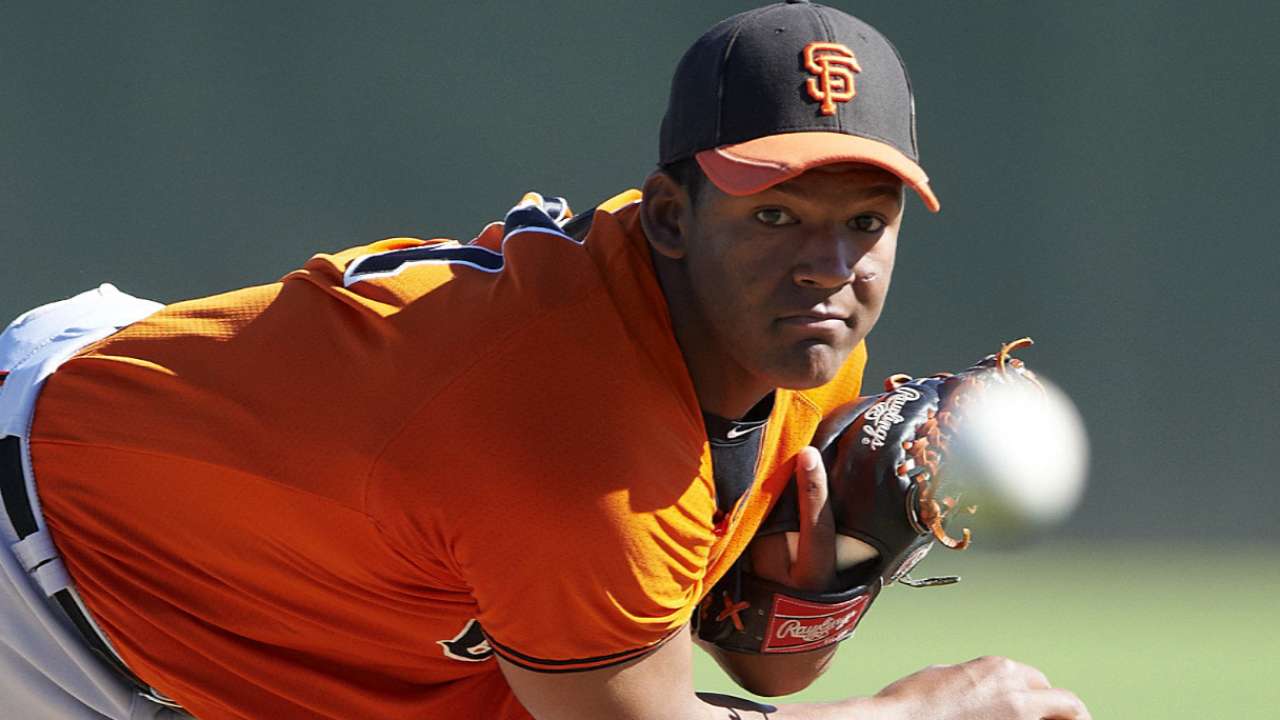 Ray Black blew out his elbow in high school, had knee problems at Pittsburgh and then tore the labrum in his shoulder, delaying his pro debut until three years after San Francisco drafted him in the seventh round in 2011. He was worth the wait, striking out 71 in 35 1/3 Class A innings last year while sitting at 100 mph with his fastball.
"We're teaching him to pitch, not just throw," Turner said. "We don't have to see high velocity on every pitch. Let's see some location. In my 20 years here, he's the hardest thrower we've had. His breaking ball is hard, too, with straight tilt down and at times 90 mph."
Three questions with Tyler Beede
One of just 18 players taken in the first round of the First-Year Player Draft twice, Beede turned down the Blue Jays as the 21st overall pick in 2011 before signing for $2,613,200 as the No. 14 choice last year. In between, he was a Golden Spikes Award finalist as a Vanderbilt sophomore and a College World Series champion as a junior.
MLBPipeline.com: Did you ever second-guess your decision to pick Vanderbilt over the Blue Jays?
Beede: At no point did I ever think back to that decision. It was easy to focus on Vanderbilt. I had my hands full with academics and focusing on the team winning the national championship. It couldn't have worked out any better. I couldn't be any happier with the way it worked out.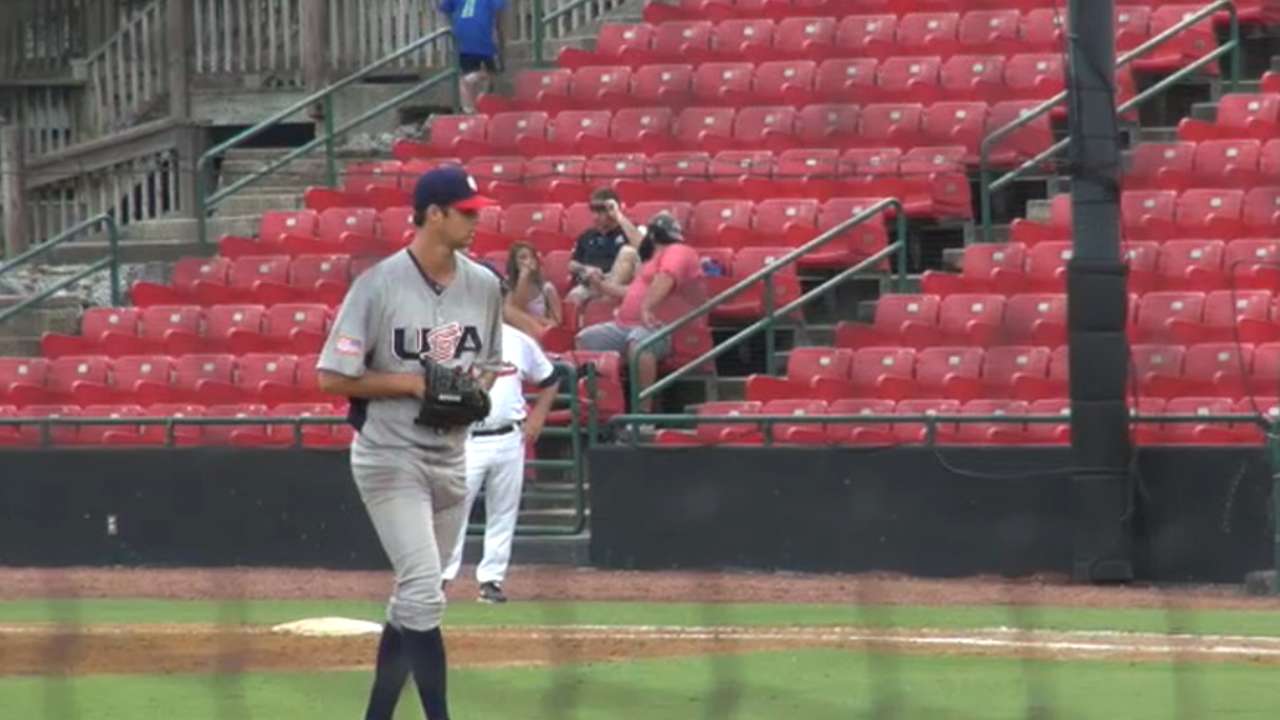 MLBPipeline.com: For a pitcher, does it get any better than getting drafted by the Giants, considering their track record of developing pitchers? How much have you learned so far?
Beede: The Giants are a great organization and it has been a great transition to pro ball. I've learned a lot about my mechanics, sequencing my pitches, breaking down hitters and reading their swings. I've learned about controlling my effort on the mound and throwing with more focus.
MLBPipeline.com: What are you working on the most at this point?
Beede: I've been working on my curveball and being able to throw it for strikes. Just simple things, like keeping everything straight toward the catcher, starting pitching the right way from taking the ball out of my glove. I learned a cutter in instructional league. I'm trying to get my offspeed pitches a little more refined.
Jim Callis is a reporter for MLB.com and writes a blog, Callis' Corner. Follow @jimcallisMLB on Twitter. This story was not subject to the approval of Major League Baseball or its clubs.