MLB.com Columnist
Bernie Pleskoff
Pederson is ready to write his LA story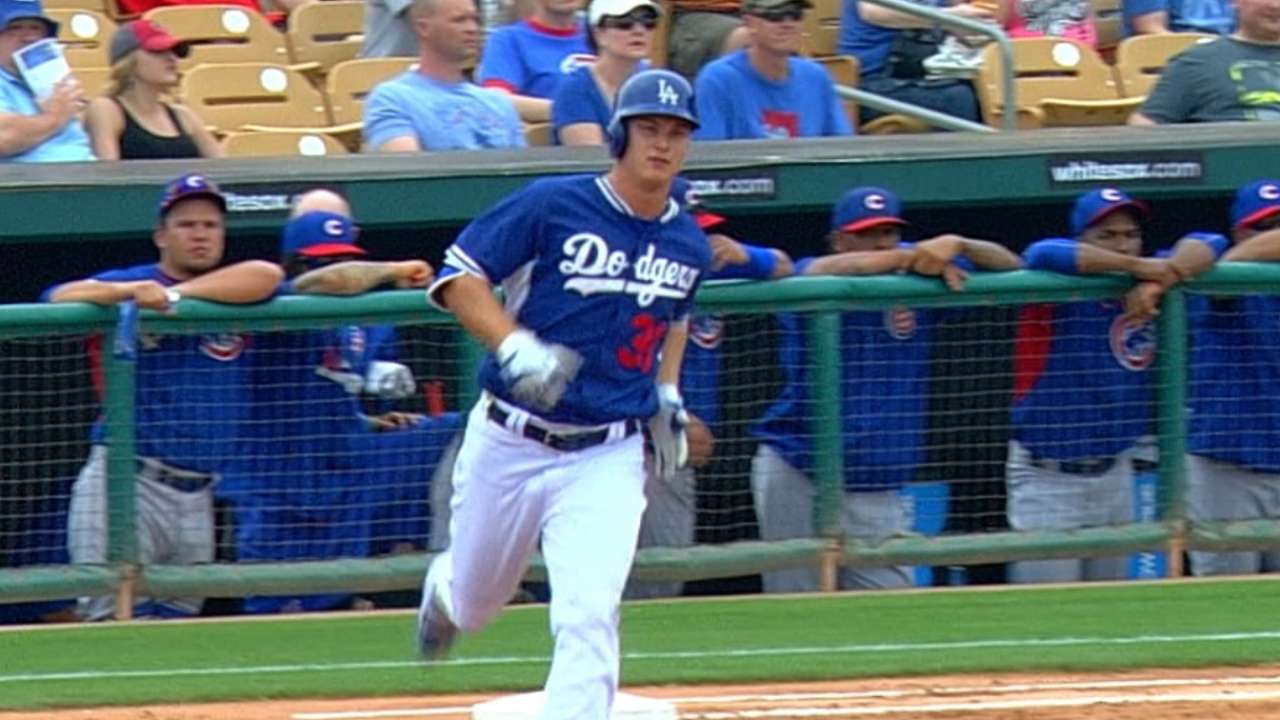 The Los Angeles Dodgers will have a new look this coming season. Dee Gordon, Hanley Ramirez and Matt Kemp are among the high-profile players who have found new homes. With the transition comes opportunity, and outfielder Joc Pederson could be among the beneficiaries.
Pederson is a highly regarded center fielder with an outstanding balance of tools. He can hit for average and has power. He can play very good defense with a strong and accurate arm. And he has the speed and agility to steal bases and cover ground in the outfield. He is a complete player.
Pederson starred at Palo Alto (Calif.) High School, hitting .466 his senior year with a .577 on base percentage. He also stole 20 bases in 22 attempts. The Dodgers liked his tools and selected him in the 11th round of the 2010 First-Year Player Draft. He hasn't stopped hitting and playing good defense since.
Still only 22 years old, the left-handed-hitting Pederson has played parts of five seasons in the Dodgers' Minor League system, making steady improvement as he quickly climbed the ladder. Age has never been a factor for Pederson, who has hit well almost everywhere he's played.
Last year at Triple-A Albuquerque, Pederson hit .303 with 33 home runs and 78 RBIs. He stole 30 bases while playing 121 games and making 553 plate appearances. As if the thunder in his bat was not enough, he also walked 100 times. In fact, Pederson is the first player to hit 30 homers and steal 30 bases in the Pacific Coast League since 1934. The only hiccup to his season was his 149 strikeouts. Yes, Albuquerque is an outstanding hitter's park and the league is friendly to offense, but Pederson's year was remarkable. His solid season earned him a September callup to the big league club.
Pederson profiles as a prototypical center fielder. He has a knack for getting on base, advancing and scoring. His hands are very quick through the ball, allowing him to use the entire field as he goes with pitches where they are thrown. A patient hitter, Pederson knows the strike zone well and isn't afraid to take a walk. His eye-hand coordination and quick pitch recognition work to his advantage. There has been some concern about his high strikeout rate, but like most young hitters, it takes a bit of time to adjust to increasingly better pitching. But he is very capable of making the necessary adjustments to increase his contact rate.
This spring, Pederson has knocked loudly on the big league door. Through 16 Cactus League games, he is hitting .436 with three homers, four doubles and eight RBIs in 39 at-bats. He has at least a share of the club lead in runs, hits, doubles, home runs and RBIs.
One of Pederson's strengths is his ability to use a balanced approach at the plate. His hands are steady with little advance movement in his set-up approach. With his feet fairly close together, he makes the most of the lower part of his body to gain strength in his level swing.
Defensively, Peterson sees the ball well off the bat. He wastes little time tracking the trajectory of the ball and closing quickly. His instincts are above average and he has the agility and quick first step to turn sure gap hits into outs. His arm is strong and accurate. I have seen rare instances when he loses a bit of focus bobbling the ball retrieving base hits in front of him, but those times are few and far between.
Pederson could be a fixture in center field at Dodger Stadium for years to come. He is ranked No. 3 on the Dodgers Top 30 Prospect list. His steady approach and ability to make the most of his tools translate to consistency and a competitive approach to his game.
Between Pederson, 20-year-old shortstop Corey Seager and 18-year-old left-hander Julio Urias, the Dodgers figure to have a young group of core players who should effectively carry them to the future.
Bernie Pleskoff has served as a professional scout for the Houston Astros and Seattle Mariners. Follow @BerniePleskoff on Twitter. This story was not subject to the approval of Major League Baseball or its clubs.