Maddon tries out pitcher in eighth-spot of lineup
Cubs manager believes tweak makes sense with some of club's hurlers
MESA, Ariz. -- Cubs manager Joe Maddon has quizzed the club's "brainiac" department regarding the pros and cons of having the pitcher bat eighth, and during Sunday's 6-1 loss to the Padres, he tested it with Jason Hammel. It won't be the last time.
"Our lineup should be relatively thick up and down," Maddon said of the potential for offensive output. "Whoever is hitting in front of the pitcher will be at a disadvantage. If there's one of those last two guys in the lineup who you like a lot in regards to maybe getting on base and being a pretty good hitter, it would be advantageous to us and to him to hit him ninth."
If the pitcher is expected to go deep in a game, like Jon Lester, he will likely bat ninth. Maddon asked the Cubs' baseball operations people to analyze the options and present the percentages.
"I really try to take in all the information possible," Maddon said. "I do believe we have some guys who make it make sense."
Maddon had pitcher Travis Wood pinch-hit for Hammel in the fifth.
• The Cubs' coaching staff had a different look on Sunday. Maddon and his coaches were wearing athletic shorts more common at a football practice rather than a baseball field. And each coach had a whistle on a lanyard around their neck.
The intent was a "tribute to coach," Maddon said, allowing his staff to pick their own coach. The manager went a step further, too.
"I'm OK with [being called] 'Coach' today over 'Skip,'" Maddon said.
"That's Joe and that's his quirkiness," Hammel said. "You never know what you're going to get with him. I think that's what keeps it so light here and a lot of fun."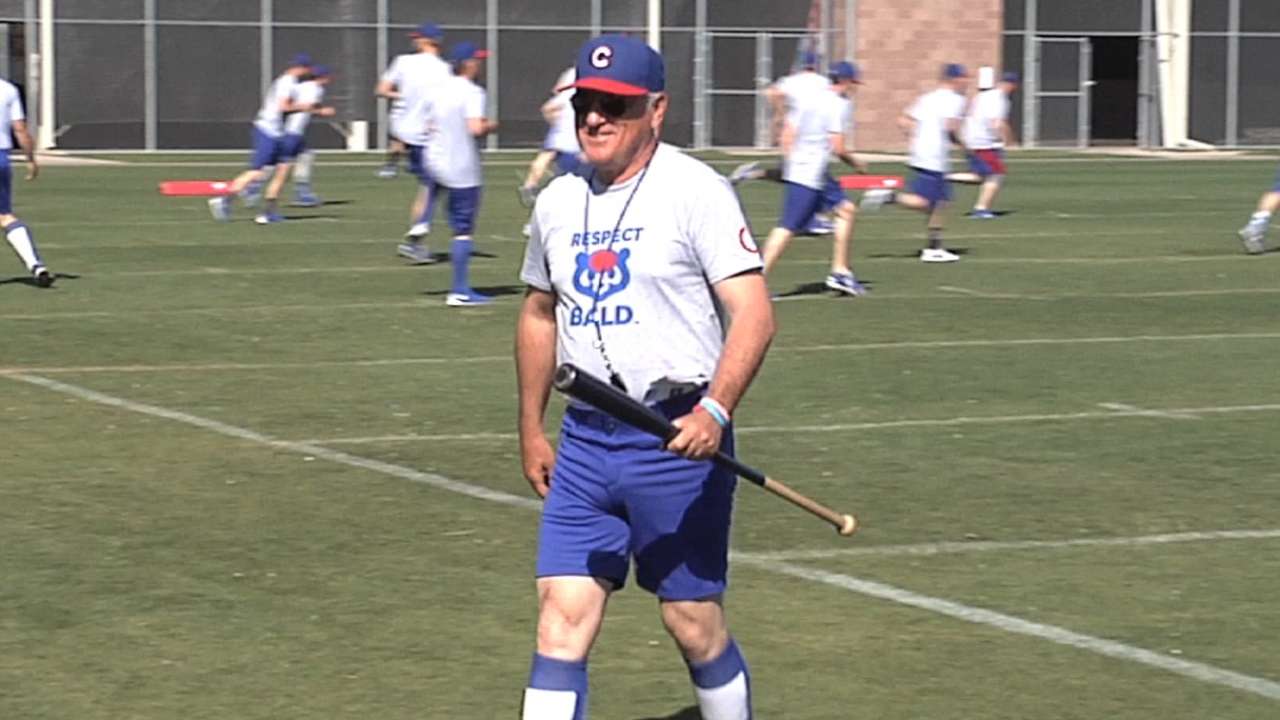 • Jake Arrieta will stay on schedule and pitch in a Minor League game Monday, which is an off-day for the rest of the Cubs. Kyle Hendricks is scheduled to start in a "B" game on Tuesday against the Athletics at Hohokam Park in Mesa.
Carrie Muskat is a reporter for MLB.com. She writes a blog, Muskat Ramblings, and you can follow her on Twitter @CarrieMuskat. This story was not subject to the approval of Major League Baseball or its clubs.