Finding fault in start a stretch for Shields
Padres right-hander holds Cubs hitless over five innings in fourth spring outing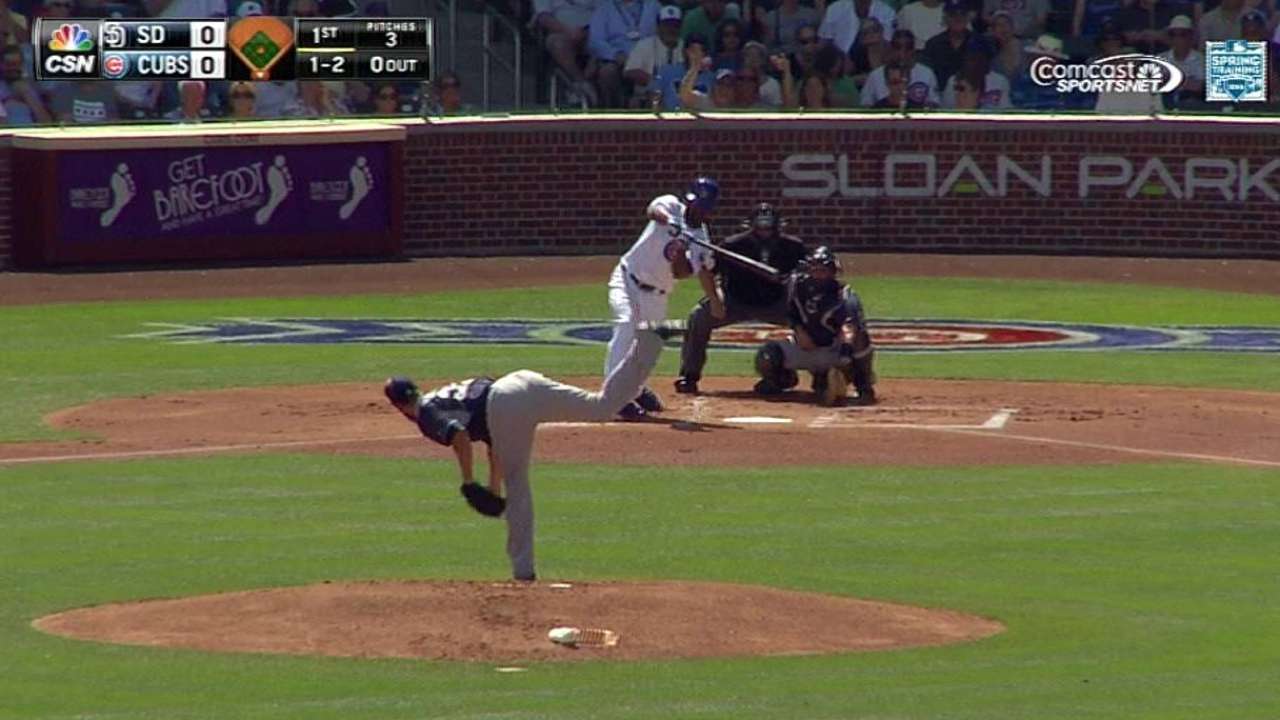 MESA, Ariz. -- Tossing five no-hit innings on a sun-kissed afternoon Sunday against the Cubs left Padres starting pitcher James Shields feeling almost entirely satisfied with his fourth appearance of the spring.
His lone regret, if you could call it that?
"I think I need to do a better job out of the stretch," Shields said.
That's tough to do, of course, when baserunners are pretty scarce, as was the case during the Padres' 6-1 victory at Sloan Park, as Shields appeared on top of his game.
Shields struck out six, walked two and needed just 68 pitches to get his 15 outs.
"James had all his pitches working," said Padres manager Bud Black. "He was locked in today. From a pitching coach's perspective, from a manager's perspective, we're happy with where he is."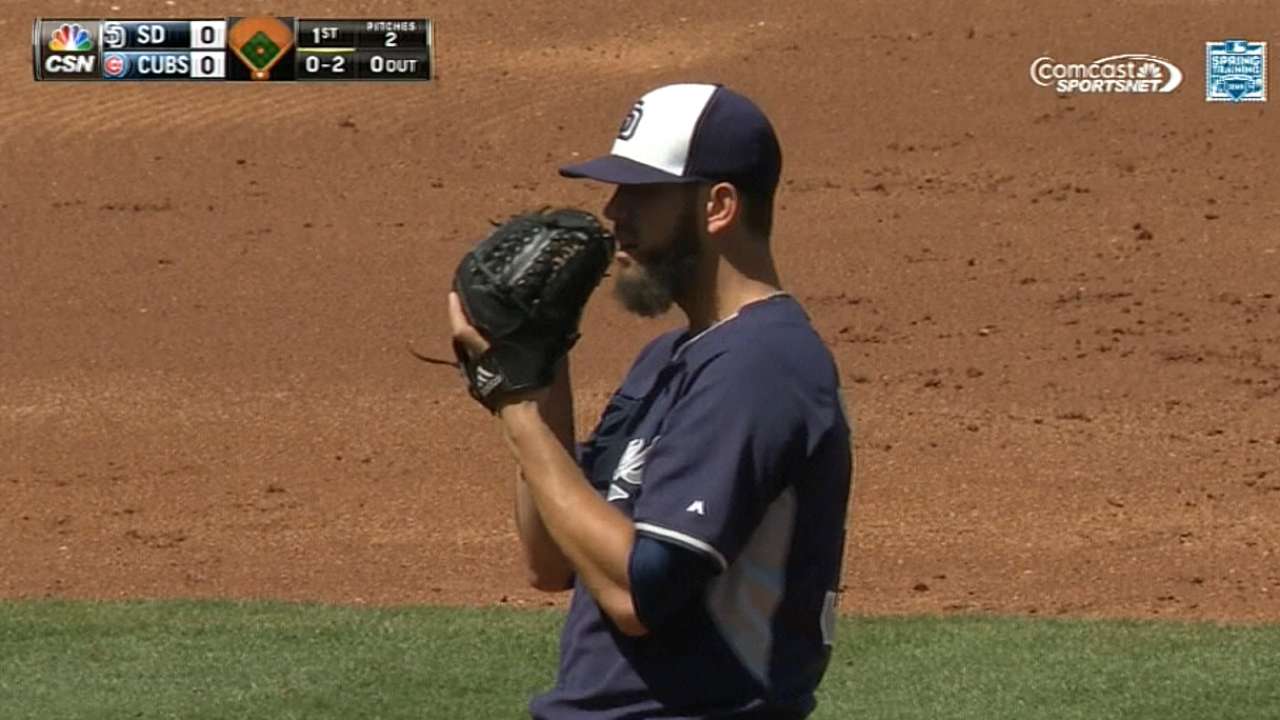 Shields, who in February signed the largest contract in club history (four years, $75 million), lowered his spring ERA to 2.25.
"I was pleased with the outcome," he said. "Overall, it was a good day."
The Padres haven't named an Opening Day starter for April 6 against the Dodgers, although the logical choice appears to be Shields, who mixed in a few curveballs on Sunday with great success.
"I threw a lot more curveballs today," he said. "[I'm] just working on some stuff, finding a release point for it. Overall, it was pretty much a full game today. I'm pleased with it today. It's always good to have a good outcome like that."
Shields would have liked to have worked more from the stretch, but the simple fact was he didn't have many baserunners. He walked two with two outs in the second inning, but Cubs pitcher Jason Hammel lined out to third baseman Yangervis Solarte to end the inning.
"When I was in the stretch, which I struggled with the game before, I need to clean that up in this next outing," Shields said. "It might be a thing where I go into the stretch at the beginning of the inning [the next time out]. We'll see how it goes."
Shields had a single off Hammel, a former teammate with the Rays, and nearly a second hit, but he was robbed by Cubs second baseman Arismendy Alcantara of an RBI single in the fifth inning. In his last start, Shields had a hit off another former teammate, Matt Garza of the Brewers.
"I guess it's always nice to get hits off your former teammates," he said, smiling.
All in all, Shields looked and sounded like he's close to being ready for the regular season.
"I've got a few kinks to work out in these next couple of outings and bullpen sessions, but overall I feel really good," he said. "Health-wise, I feel great."
Corey Brock is a reporter for MLB.com. Keep track of @FollowThePadres on Twitter. This story was not subject to the approval of Major League Baseball or its clubs.