Angels, Trout working on two-strike approach this spring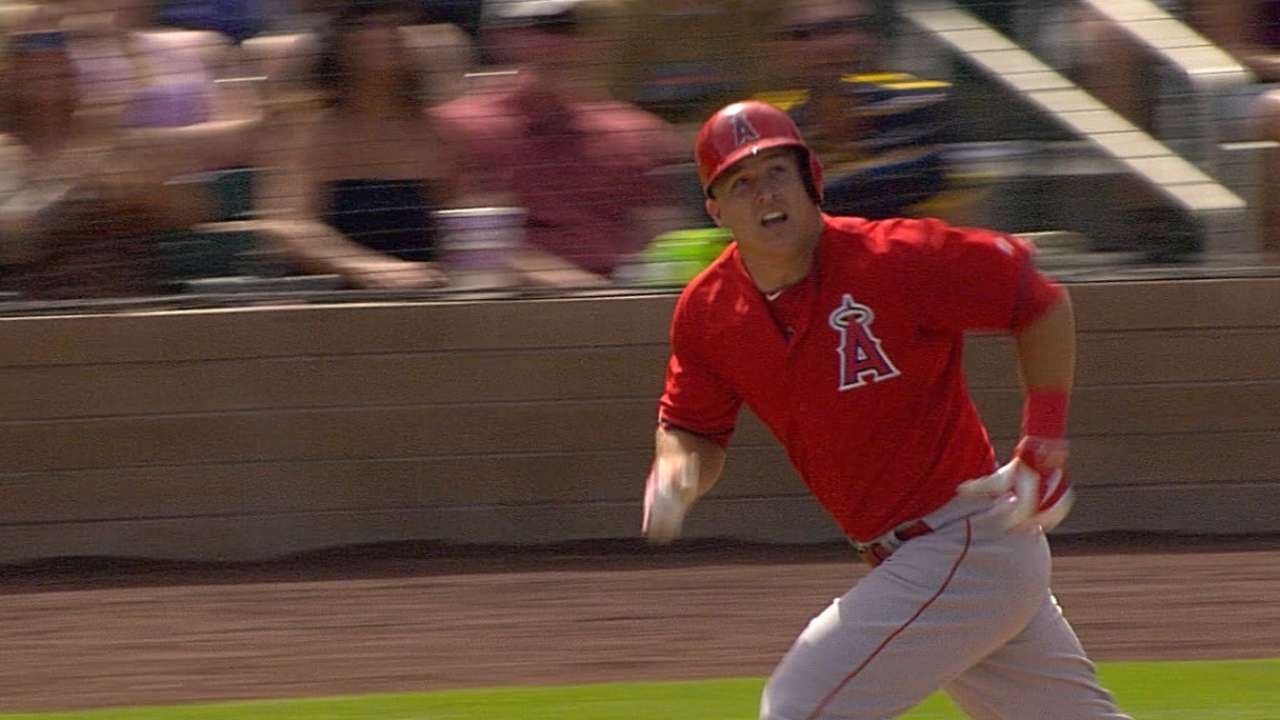 SCOTTSDALE, Ariz. -- Angels hitting coach Don Baylor recalls one particular night in Anaheim last season. It was Sept. 17. The Mariners were in town, and Mike Trout struck out four times. It was Trout's third time getting fitted for that dreaded "Golden Sombrero" in 2014, a year that saw him unanimously win the American League's Most Valuable Player Award but also strike out more times than any MVP in history.
It's not the strikeouts that made Baylor recall that game, though -- it's how Trout reacted to them.
"He was embarrassed," Baylor said. "He was embarrassed. So, I know he'll change that."
Baylor and the rest of the Angels' hitting coaches are emphasizing a two-strike approach in Spring Training, using the breaking-ball machine to get hitters thinking about shortening up, putting the ball in play and driving pitches to the middle of the field in those situations. That emphasis, Angels manager Mike Scioscia stressed, caters to a lineup that may lean more toward situational hitting and has nothing to do with Trout.
Trout, Scioscia said, already has his own two-strike swing.
"You'll see Mike choke up," Scioscia added. "You'll see Mike slot his hands a little bit earlier in his stance so he's shorter to the ball. I think Mike's fine."
And therein lies the dilemma in all this; the delicate balance with a player this good. There's the thought that Trout doesn't need to change a thing, and that any attempts to alter his approach may mess with the success of who many consider to be the game's best all-around player. Then there's that sense of wonder, because Trout's speed could lead to a lot of extra hits if he could just put the ball in play more frequently.
Baylor wonders what it'd be like if Trout cut his strikeouts down from last year's total of 184 to something in the vicinity of 80.
"Boy, I tell you what," Baylor said, "if he did 80, he'd lead the league in hitting, as a right-handed hitter."
Trout averaged 138 strikeouts from 2012-13, but while there's a sense that he'll always strike out a fair amount of times, there's also the belief that his swing is too compact and his approach is too sound to lead the AL in punchouts.
"He thought it was probably embarrassing for him to strike out that many times," Baylor said. "I just think it was one of those things. They started to mount."
The high fastballs got to him and frequent deep counts played a factor, sure, but Trout believes he needs to think differently with two strikes.
"You have to have some kind of approach," Trout said. "You just can't go out there and keep the same approach."
He knew that, but he frequently went away from it.
"It's tough," Trout said. "You try to tell yourself to do one swing, and then the adrenaline, the excitement and the anxiousness changes your swing."
So Trout has bought into Baylor's two-strike-approach drill this spring, regardless of whether it was intended for him in the first place. He wants to focus on shortening his swing and staying up the middle, but he's also conscious of what Albert Pujols told him.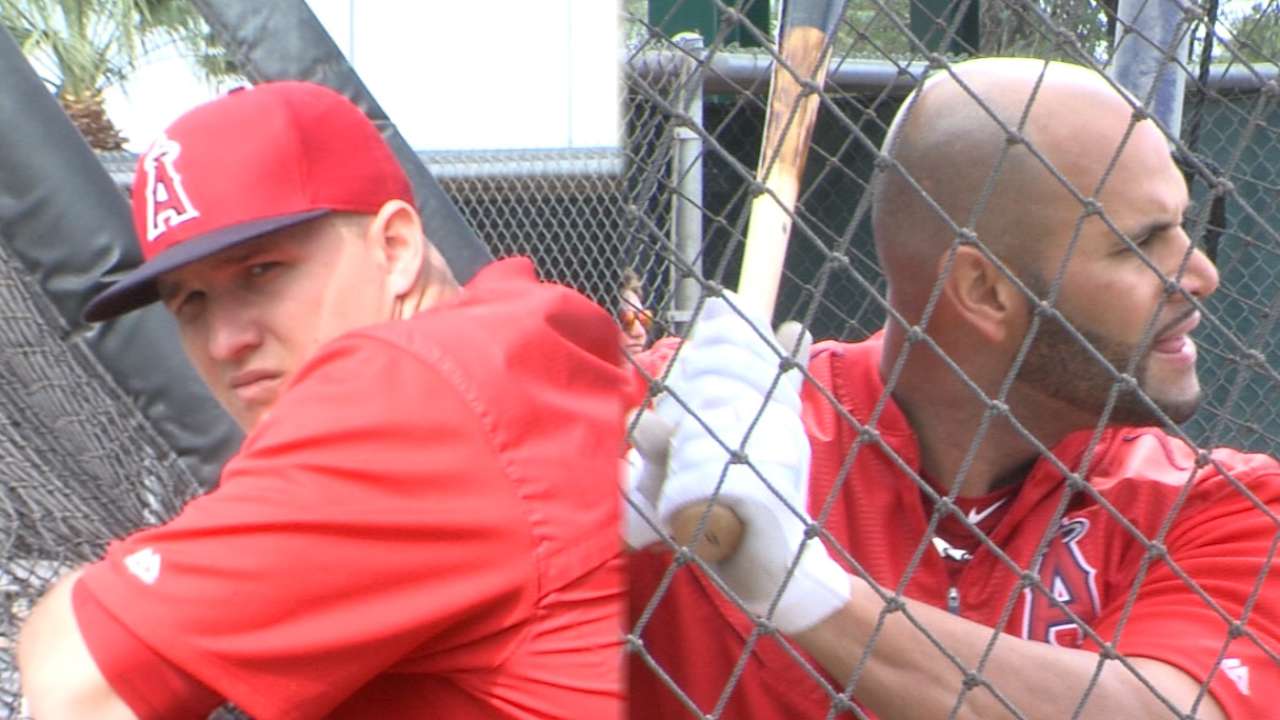 "He said, 'You can't really look into it too much and get a negative mind about striking out,'" Trout recalled. "You can't be afraid."
Trout has shown that much, as evidenced by all the first pitches he takes and the 410 two-strike counts he hit in last year (second most in the Majors).
Baylor doesn't believe much maintenance is required for Trout to cut down his strikeouts.
"There's guys that I'd watch over the years, you can see that they're making a change in their swing," Baylor said. "With him, it should be more of a mental thing. 'I'm hitting this ball back through the middle,' without the catcher knowing that he's in a two-strike swing, because sometimes they might change up on you a little bit. Just the mental approach -- 'Cut down on my swing; I'm not going to take it like I take my first swing.'"
Alden Gonzalez is a reporter for MLB.com. Read his blog, Gonzo and "The Show", and follow him on Twitter @Alden_Gonzalez. This story was not subject to the approval of Major League Baseball or its clubs.