Olson, Wendle reassigned to Minor League camp
Latest A's roster moves leave 42 players in big league camp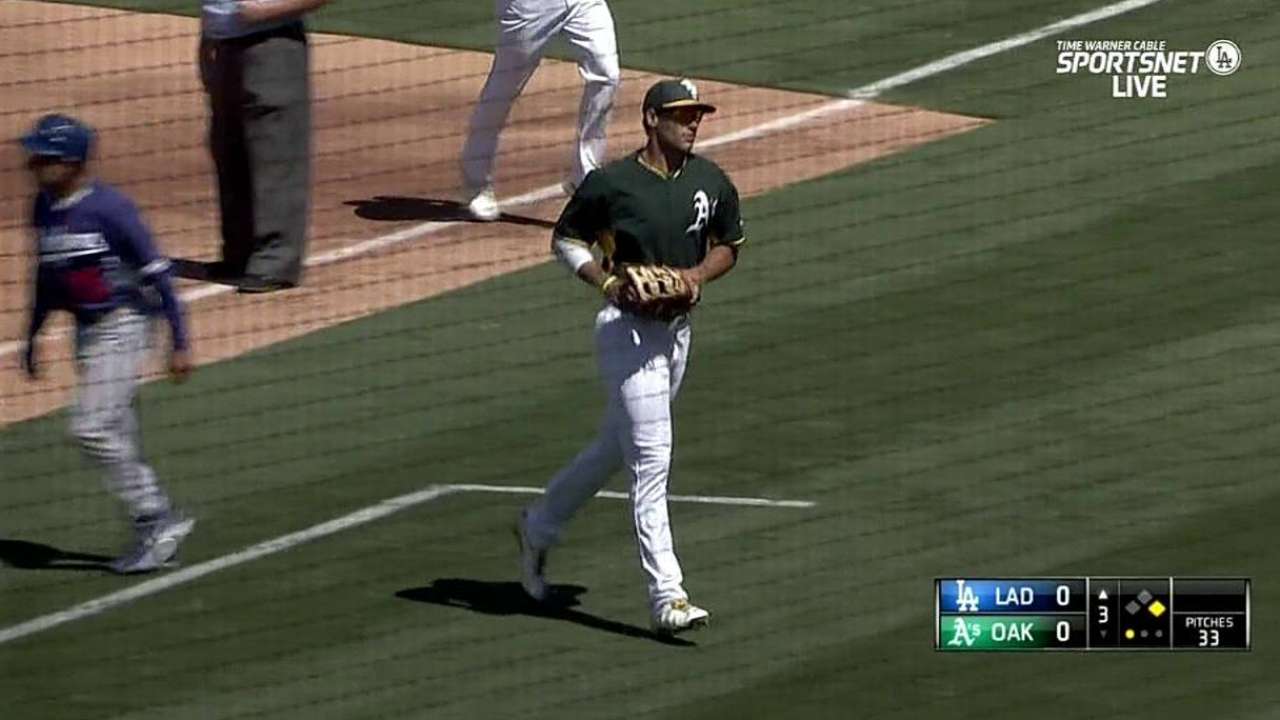 GOODYEAR, Ariz. -- A's infield prospects Matt Olson and Joey Wendle were among seven players reassigned to Minor League camp following Sunday's game.
Right-handers Fernando Rodriguez and Kevin Whelan, lefties Brad Mills and Ryan Verdugo, and catcher Carson Blair were also sent out, leaving 42 players in camp.
Olson, the club's top prospect, started at DH against the Reds on Sunday, going hitless in four at-bats to depart big league camp with a .195 average. Half of his eight hits were of the extra-base variety, though, as he tallied three doubles and a home run, and he also routinely showcased his power potential in batting practice, leaving many excited for his future.
Wendle, meanwhile, hit .286 in 35 at-bats and flashed a slick glove at second base, proving his worth on both sides of the ball and impressing along the way.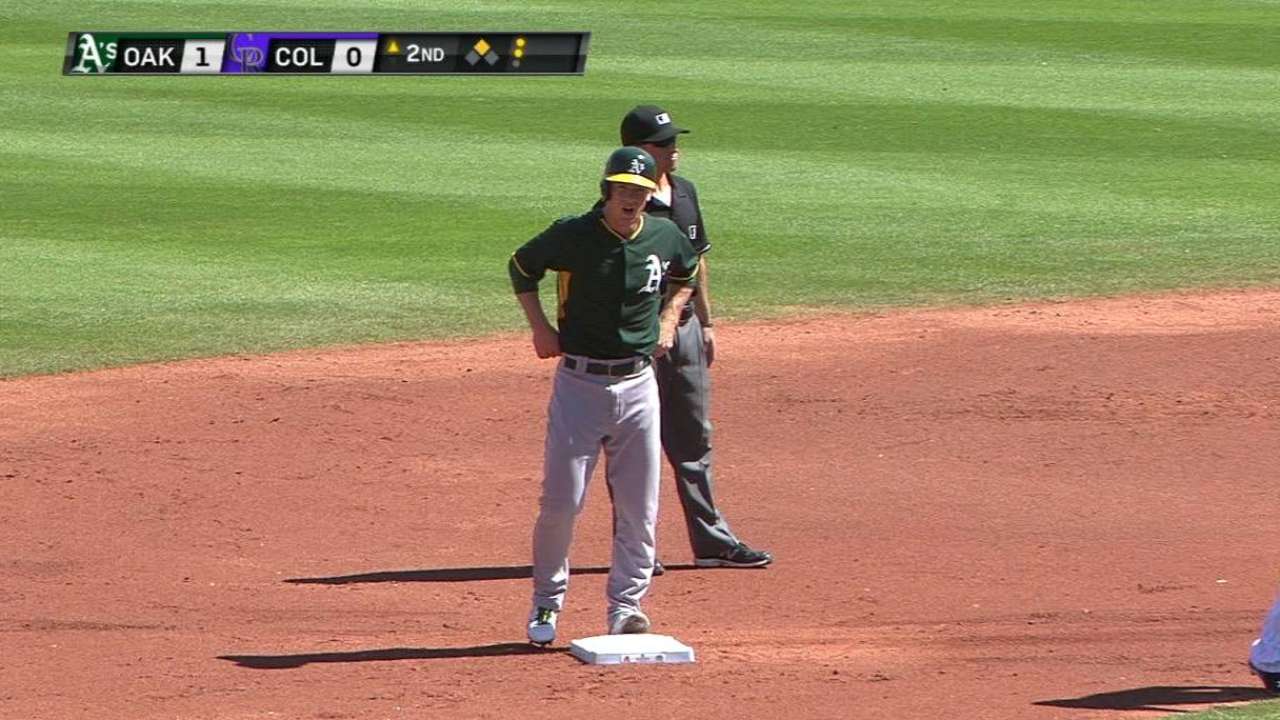 Rodriguez pitched well this spring but is not on the club's 40-man roster, though it's likely he could be added at some point this season should his performance carry over into the regular season at Triple-A Nashville. The right-hander didn't allow a run in his first five Cactus League games before he surrendered the walk-off hit in Sunday's affair.
Here are more A's notes from Sunday:
• A's manager Bob Melvin doesn't want to get ahead of himself, but he said Sunday the goal is to get outfielder Josh Reddick back in a game sometime next weekend at the earliest.
Reddick, nursing a right-oblique strain, is just now easing into hitting again. He was slated to engage in increased tee work Sunday and, barring any setbacks, will progress to live batting practice this week.
The timeline could allow Reddick to collect enough at-bats to be deemed Opening Day ready. But the depth-heavy A's won't hasten the process.
"He will say he only needs X-amount of at-bats, but we need to make sure that he's doing well and, each and every day, is not feeling what could be a significant issue if he reinjures it," Melvin said. "We're being slow with him for a reason. There are 162 games, but there's always that big star on Opening Day. But we're not going to rush him."
• Outfielder Sam Fuld, who took a ball to his left jaw Friday, will be held out of games through at least Monday, as he waits on protective gear for his jaw. The A's have the piece on order and will not allow Fuld to continue playing without it.
• Right-hander Jarrod Parker, rehabbing from Tommy John surgery, is scheduled to throw to hitters again Monday. He's on tap for a pair of 20-pitch innings against Minor Leaguers.
• Lefty Sean Nolin (groin), who threw a bullpen Sunday, is expected to remain in Arizona for extended Spring Training when the regular season begins in order to build up innings.
Jane Lee is a reporter for MLB.com. This story was not subject to the approval of Major League Baseball or its clubs.