Wright ready to step into any situation for Sox
Farrell confident that 30-year-old knuckleballer can pitch quality innings
FORT MYERS, Fla. -- The Red Sox have five established starting pitchers slotted into their rotation. But when a need arises at some point this season for an injury or another reason, knuckleballer Steven Wright is positioning himself to be the next man up.
Joe Kelly was scratched from Sunday's start early in the week so he could take some extra time to recover from a right biceps injury. Wright got the call, and threw four scoreless innings against the Phillies, allowing two hits and two walks while striking out two.
"He continues to get outs," said Red Sox manager John Farrell. "There was a little bit of a stretch where he lost his release point for about seven or eight pitches, but I thought he threw a number of real quality knuckleballs today. And it's not hard to envision him pitching quality innings for us at some point this year."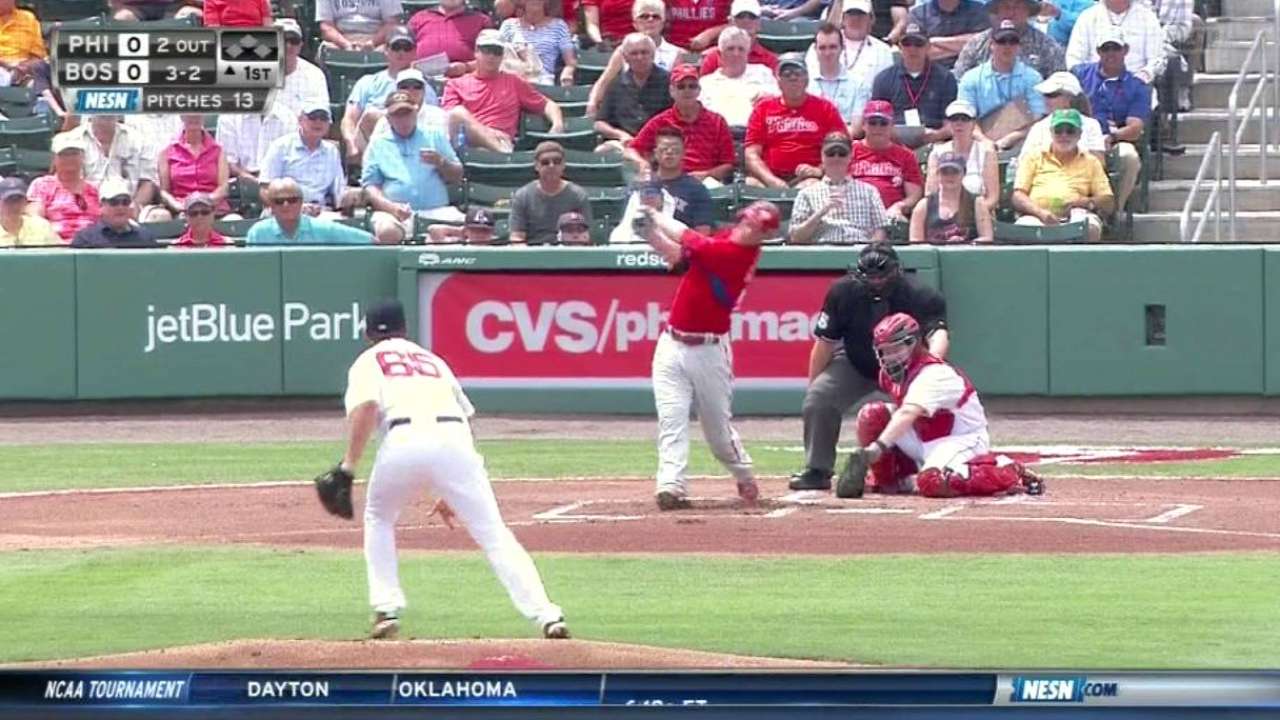 The 30-year-old Wright is a classic knuckleballer, in that he's a late bloomer after taking up the pitch a few years ago.
Former Red Sox knuckleballer Tim Wakefield, a 200-game winner in the Majors, is among Wright's biggest fans. Wakefield was in camp for an extended period earlier in camp, and he continued to work with Wright.
"It definitely gives me a lot of confidence, especially someone who was successful for 19 years, just to have him speak that highly of me makes me feel really good about what I'm doing and the direction we're going with it," said Wright. "In the end, I've still got to go out there and do it. It's nice to have him backing me and it's nice to have him at my fingertips for a lot of information, because he's helped me out a lot."
Farrell said that the Red Sox will continue to stretch Wright out as a starter. But the knuckleballer isn't real particular about his role.
"My goal is just to go out there and throw strikes," said Wright. "As far as starting, relieving, honestly it doesn't matter to me. My goal is to be ready whenever they call. If it's a start, I'm ready. If it's out of the 'pen, I'm ready. For me, I just try to make sure every day I come to the park, I come ready to pitch."
Ian Browne is a reporter for MLB.com. Read his blog, Brownie Points, and follow him on Twitter @IanMBrowne. This story was not subject to the approval of Major League Baseball or its clubs.