Spring growth: Miller exhibiting talent, elite potential
After rocky debut, Braves starter has been stingy for three straight outings, including Sunday's 5 IP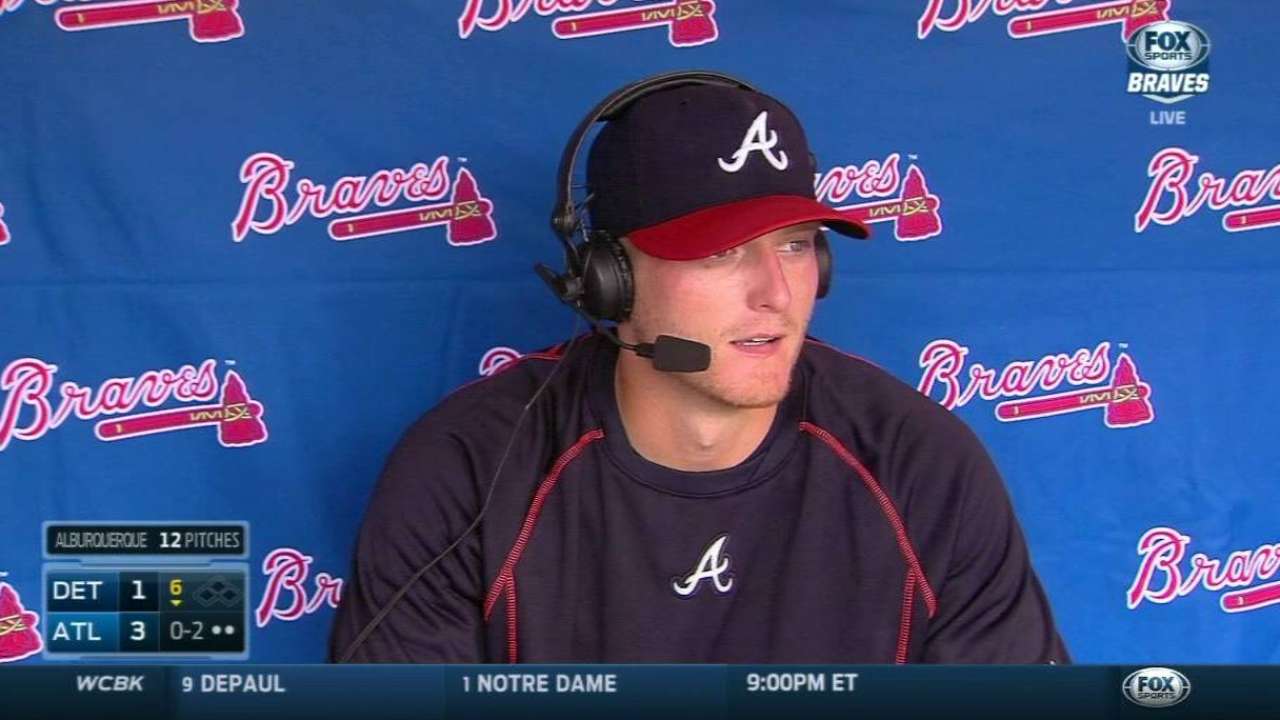 LAKE BUENA VISTA, Fla. -- Shelby Miller took another step Sunday toward making his inauspicious Braves debut from two weeks ago even more of a distant memory.
The right-hander limited the Tigers to just one run over a spring-high five innings, while notching four strikeouts and issuing just one walk in Atlanta's 5-3 win. Miller has now limited the opposition to two combined runs over 12 innings in his three outings since allowing four runs in just one-third of an inning in his rocky spring debut.
"I feel good. This is definitely the strongest I've felt in a while," said Miller, who added an extra 15 pounds in his workouts this offseason. "You just feel more poised, and you become more of a pitcher than a thrower, and you just figure things out quicker the more time you get in the game."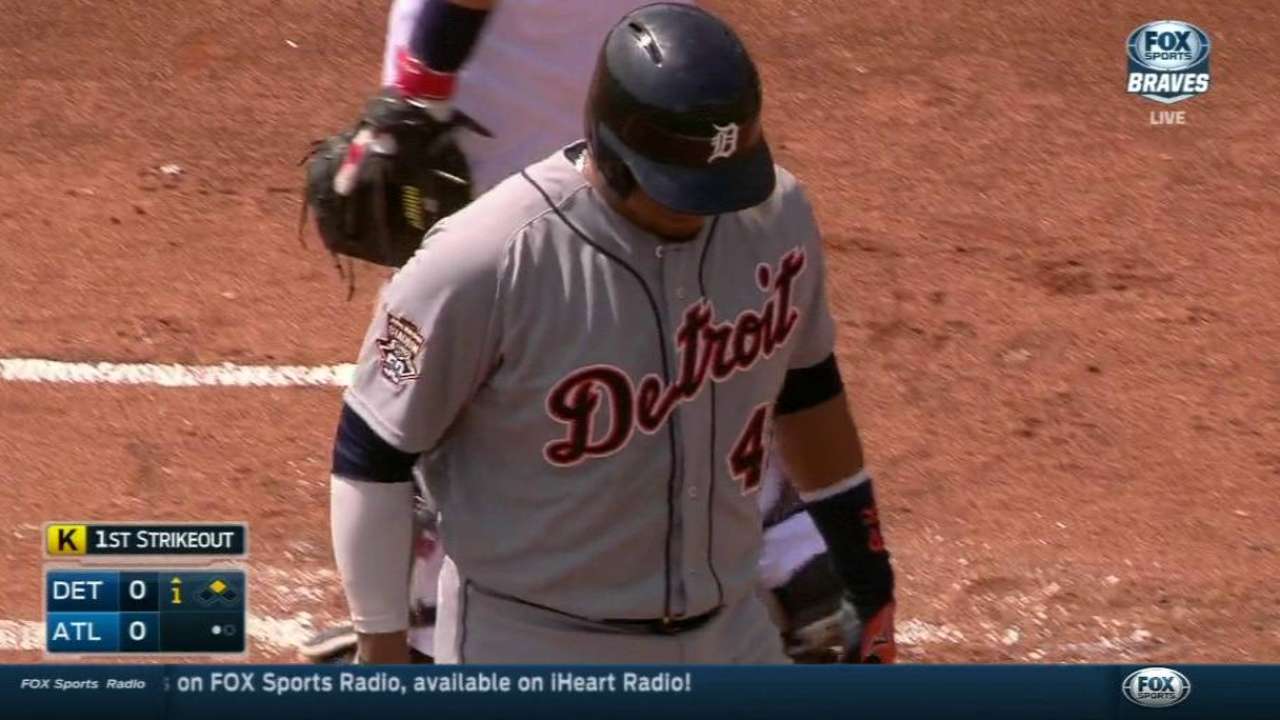 Miller also credited the work of all of the Braves' catchers for helping him find his groove this spring, particularly veteran A.J. Pierzynski. Miller and Pierzynski both spent last season with the Cardinals, with whom Pierzynski caught six of Miller's 31 starts.
"I really enjoy throwing to him," Miller said. "I think he calls a great game, and he's a guy that, if you're not making pitches, he'll come out and fix it for you and get on your butt a little bit. That's what you want in someone who's been around the game. He knows what you're doing wrong when you're yanking pitches or your mechanics are a little off -- and he's a guy who can come out and correct it quick."
Manager Fredi Gonzalez also noted the duo's chemistry following Sunday's game and said he would consider trying to pair Pierzynski's spot starts with Miller's outings, when possible.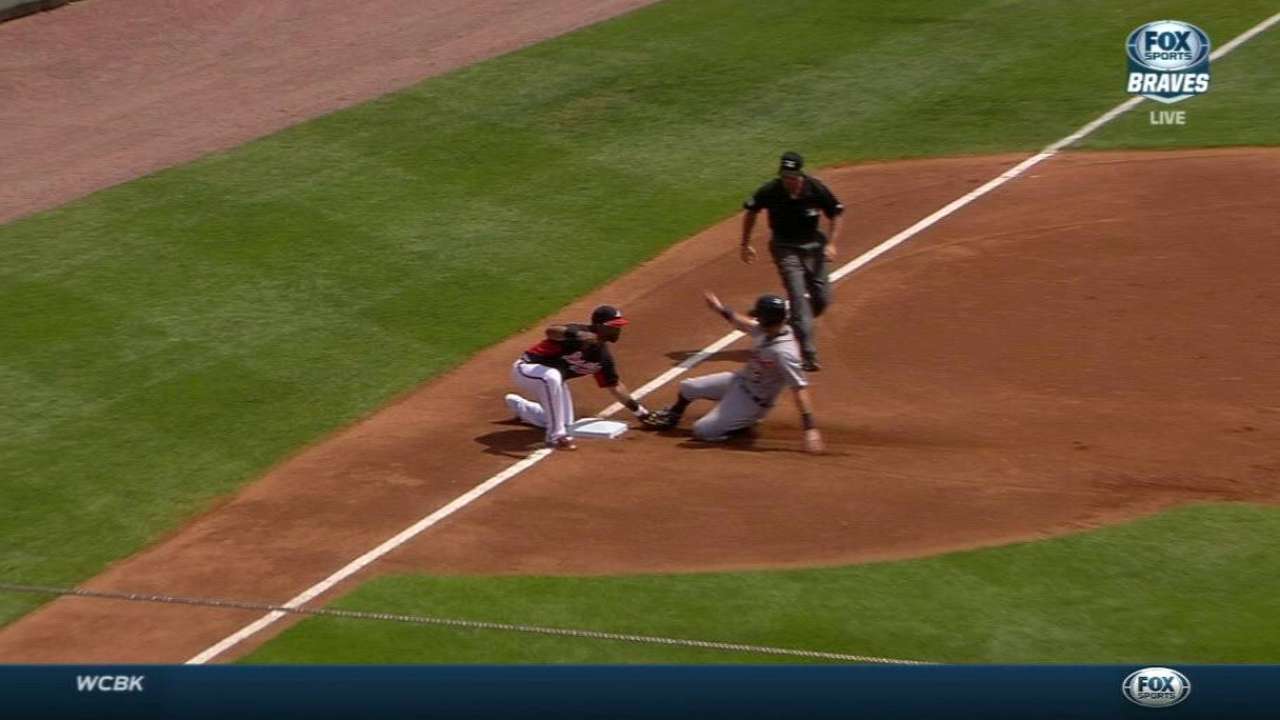 "You know what? I'm open to that, but we'll see," Gonzalez said. "It's tough sometimes when you match up Pierzynski and Miller then all of a sudden they have to go up against someone like [Clayton] Kershaw, lefty against lefty, it's not fair. But it could be a possibility."
While those decisions figure to be made down the road, Gonzalez's focus right now is simply on Miller's progression, regardless of who's behind the plate. Following Miller's strong outing on Sunday, Gonzalez said he looks like the promising young pitcher he's seen in past years -- the one who's already logged five postseason appearances at the age of 24.
If Miller's latest tuneup is any indication, Gonzalez will be thankful to have Miller -- a pitcher who's gone 3-1 with a 1.82 ERA in four career starts against the Braves -- pitching for him instead of against him this year.
"He pitched really, really well. He's progressing well," Gonzalez said. "He made some nice pitches down in the strike zone early in the game, and it's nice to see that. I feel really good about it. This is the Shelby Miller that we've seen pitch in a lot of postseason games as a young kid. I thought he did a real nice job today."
Paul Casella is a reporter for MLB.com. This story was not subject to the approval of Major League Baseball or its clubs.