Tout Wars Fantasy Draft: How MLB.com experts fared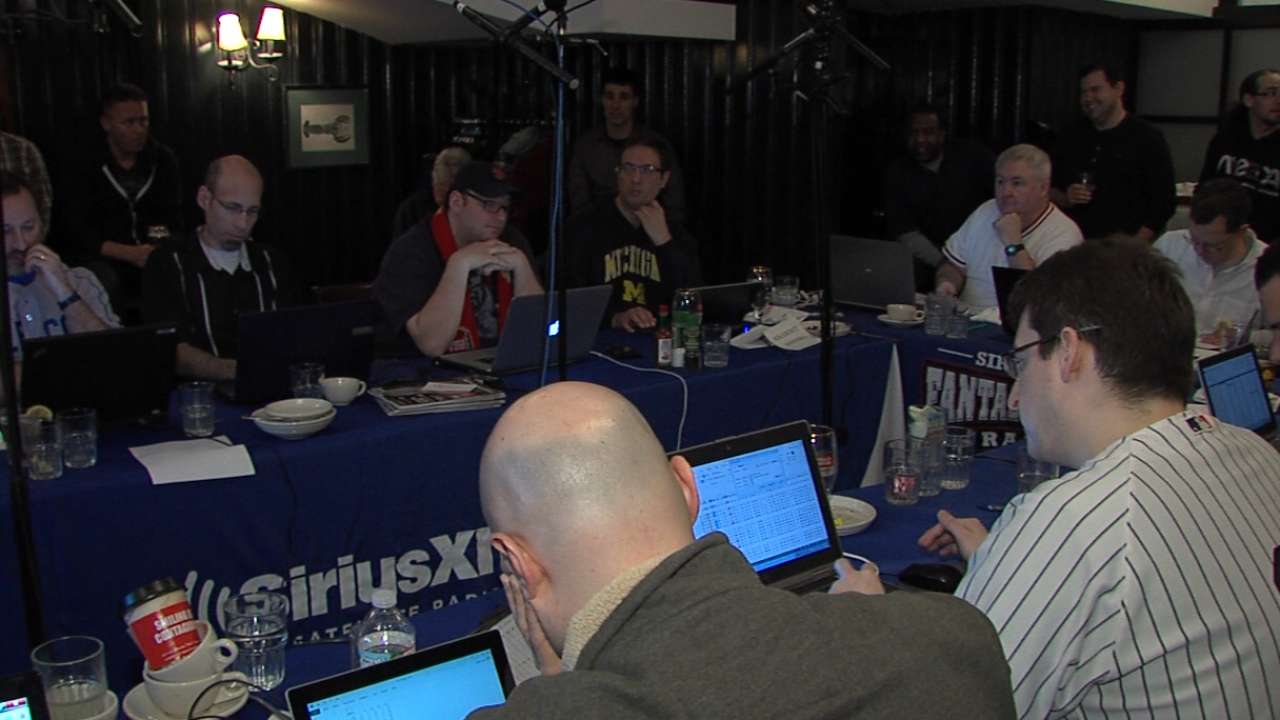 The premier minds in the fantasy baseball industry convened on Saturday afternoon for the annual Tout Wars mixed-league auction.
The 15-team expert league, regarded by many as the best in the world, was again represented heavily by the MLB.com's Fantasy411 team.
MLB.com's senior fantasy writer Fred Zinkie (@FredZinkieMLB), a two-time Tout Wars champion, joined MLB.com VP of Stats Cory Schwartz (@schwartzstops) -- a Tout winner in 2012 -- and fantasy writer Zach Steinhorn (@zachMLB), who finished third last season.
#ToutWars mixed auction is LIVE. Follow @MLB gurus @FredZinkieMLB, @schwartzstops + @ZachMLB: http://t.co/1Bod7J3mbA pic.twitter.com/azB0bKj2ZU

— Fantasy 411 (@fantasy411) March 21, 2015
Tout Wars hosts six formats, with the mixed-league auction, a mixed-league snake draft and AL- and NL-only auctions returning in 2015.
Joining them this season: "ToutX," an experimental league that also held its draft on Saturday.
"Each year, we will try a different set of rules," Tout Wars founder Ron Shandler said.
Saturday's mixed-league auction, in which each owner constructed a 23-man roster with a $260 budget, was replete with great values and interesting takeaways for those seeking an edge in their personal fantasy leagues.
Below, find the complete teams of MLB.com's three participants and their thoughts on the day.
Go here for a full look at the Tout Wars' auction board.
For a one-stop-draft-info shop, download MLB.com's complete fantasy cheat sheet.
And for comprehensive coverage of the entire player universe up until Opening Night on April 5, rely on MLB.com's Player Preview.
Zinkie's favorite picks: I thought the catcher values I got were pretty good for a deep two-catcher league. I got [Evan] Gattis for $15 and [Brian] McCann for $15, and I think those are both pretty good values considering you're going 30 catchers deep in this format. I was pretty happy to get [Albert] Pujols. Guys like Pujols and [Robinson] Cano, we get used to them after a while and their consistency and we go for the hot, young, flashy kind of guy. But Pujols for 20 bucks, he should be pretty good for 25-30 homers, close to 100 RBIs.
My favorite picks: Rendon (26), McCann and Gattis (15 each), Pujols (20), T. Ross (14), Choo (18), Granderson (3).

— Fred Zinkie (@FredZinkieMLB) March 22, 2015
Team Zinkie:
C: Evan Gattis, $15
C: Brian McCann, $15
1B: Lucas Duda, $13
2B: Anthony Rendon, $26
3B: Chase Headley, $9
SS: Jose Ramirez, $8
Corner Infielder: Albert Pujols, $20
Middle infielder: Brian Dozier, $22
OF: Billy Hamilton, $16
OF: Shin-Soo Choo, $18
OF: Curtis Granderson, $3
Utility: David Ortiz, $19
Pitcher: Jeff Samardzija, $17
P: Tyson Ross, $14
P: Mike Fiers, $8
P: Hector Rondon, $10
P: Addison Reed, $7
P: Drew Hutchison, $4
P: Wade Davis, $2
P: Jason Hammel, $3
P: R.A. Dickey, $1
Reserve: Wei-Yin Chen
Reserve: Jake Peavy
Reserve: Dan Haren
Reserve: David Freese
Reserve: Domonic Brown
Reserve: Kris Medlen
Schwartz's favorite picks: I had to pay top dollar to get Edwin Encarnacion and Yasiel Puig, but they are two of my favorite players and fit my goal of getting plenty of power with strong on-base percentages. Jayson Werth and Masahiro Tanaka were both great buys as well, as both offer value far beyond the injury-discounted prices I paid for them.
OF: Puig 31, Calhoun 18, Betts 16, Werth 13, Pollock 9. Loaded up here & love the results. Could be elite w/ health (Werth) & PT (Betts)

— Cory Schwartz (@schwartzstops) March 22, 2015
Team Schwartz:
C: Derek Norris, $11
C: Robinson Chirinos, $1
1B: Edwin Encarnacion, $35
2B: Scooter Gennett, $1
3B: Josh Donaldson, $32
SS: Jed Lowrie, $4
Corner Infielder: Chris Carter, $20
Middle infielder: Chris Owings, $1
OF: Mookie Betts, $18
OF: Yasiel Puig, $31
OF: Kole Calhoun, $18
Utility: Jayson Werth, $13
Pitcher: Masahiro Tanaka, $10
P: Hyun-Jin Ryu, $6
P: Henderson Alvarez, $4
P: Mark Melancon, $18
P: Kenley Jansen, $14
P: Jered Weaver, $5
P: Brandon McCarthy, $6
P: LaTroy Hawkins, $1
P: Rick Porcello, $1
Reserve: A.J. Pollock, $9
Reserve: Yonder Alonso, $1
Reserve: Mike Minor
Reserve: Edward Mujica
Reserve: Shane Victorino
Reserve: Josh Johnson
Reserve: Brandon Crawford
Reserve: Melvin Upton Jr.
Steinhorn's favorite picks: Derek Holland for $2. I'm the type of owner who places emphasis on hitting while looking for starting pitching bargains, and Holland was one of the pitchers that I targeted all through the winter. This is a guy who struck out [189] batters only two years ago, so to get him for $2 to fill out the back end of my rotation, I'm pretty happy about that. Brandon Moss is another player who I had on my radar as a bargain power source. He put up strong home run numbers over the past two years while playing half of his games in an extreme pitchers' park, so getting out of Oakland should only be a good thing.
Team Steinhorn:
C: Wilson Ramos, $10
C: Carlos Ruiz, $1
1B: Anthony Rizzo, $40
2B: Kolten Wong, $17
3B: Kyle Seager, $22
SS: Elvis Andrus, $15
Corner Infielder: Brandon Moss, $17
Middle infielder: Neil Walker, $10
OF: Justin Upton, $27
OF: Oswaldo Arcia, $7
OF: Michael Saunders, $3
Utility: Kendrys Morales, $3
Pitcher: Cole Hamels, $20
P: Lance Lynn, $9
P: Chris Archer, $10
P: David Robertson, $20
P: Glen Perkins, $12
P: Ian Kennedy, $8
P: Derek Holland, $2
P: Sergio Romo, $1
P: Josh Collmenter, $1
Reserve: Denard Span, $4
Reserve: Josh Reddick, $1
Reserve: Mike Leake
Reserve: Francisco Lindor
Reserve: Colby Rasmus
Reserve: Dustin Ackley
Reserve: Mike Moustakas
Reserve: Bartolo Colon
Zachary Finkelstein is a fantasy editor for MLB.com. This story was not subject to the approval of Major League Baseball or its clubs.