Betts adds to incredible spring with inside-the-park HR
Leadoff man goes 2-for-2 vs. Phillies, raises Grapefruit League average to .471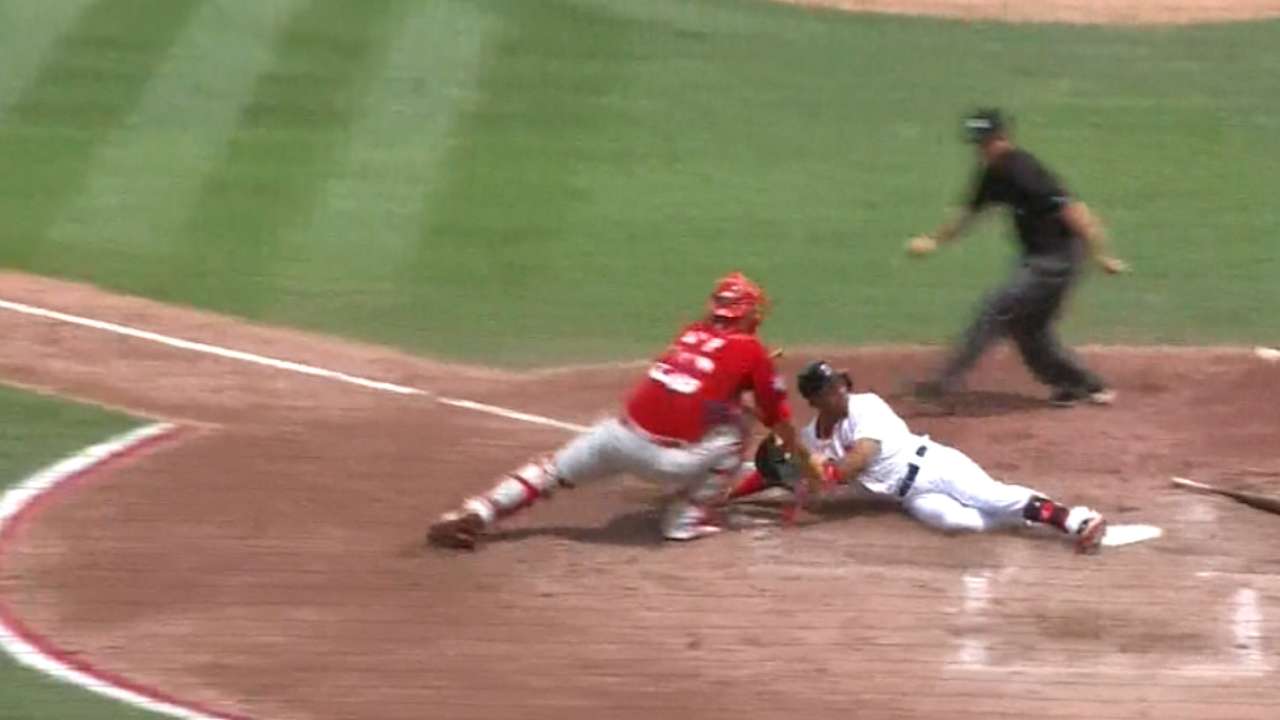 FORT MYERS, Fla. -- Mookie Betts saw the flight of the ball and the path center fielder Odubel Herrera was taking as he ran after it. Betts was thinking double off the bat.
Perhaps Betts hasn't been following his own Spring Training close enough. Everything he touches turns to gold. And this inside-the-park home run in the third inning in Sunday's 7-6 win over the Phillies was no different.
Herrera struggled to find the ball after it bounced over his head. Betts? He just kept running for 360 feet for what he believes was his first inside-the-park homer since high school.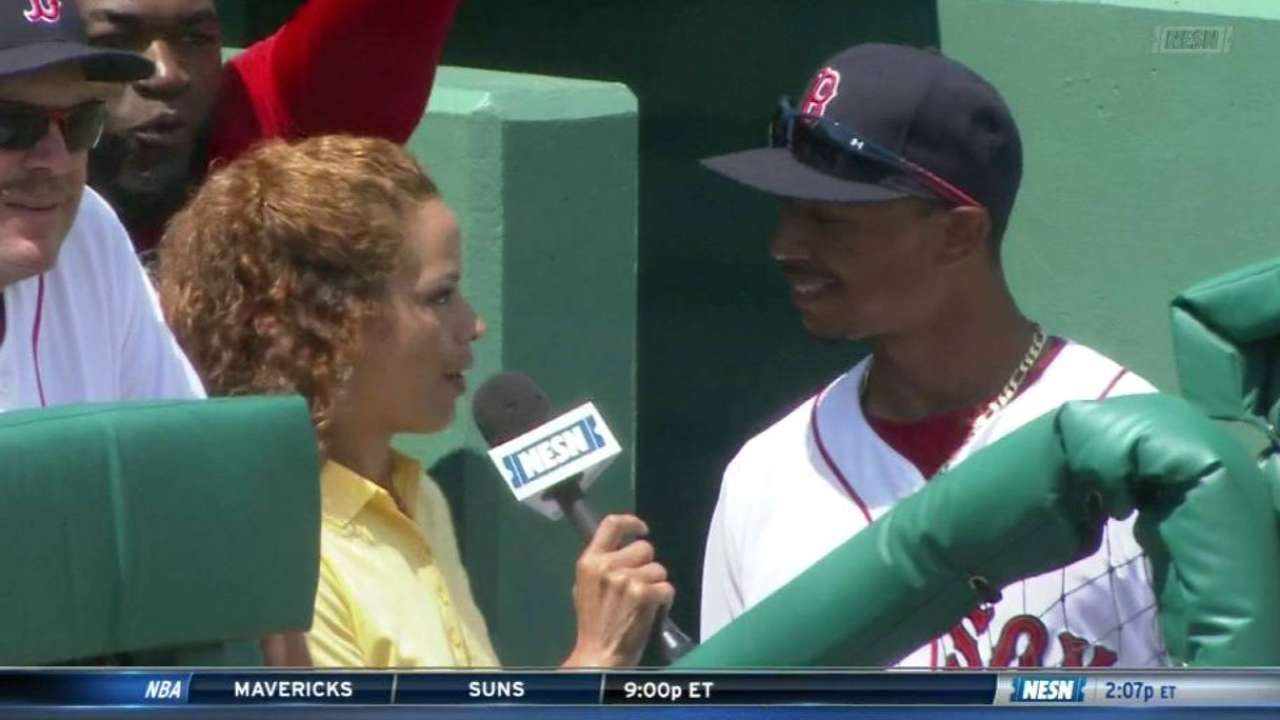 "I just thought it was going to be a double and then as I was getting close to second, and I figured I might as well try and go three, and then as I was going three, [third-base coach Brian Butterfield] got the great decision to send me in," said Betts. "I just kind of went with the flow."
Going with the flow has led to a .471 average thus far in Spring Training for Betts, who is on track to be the leadoff man and starting center fielder for the Red Sox when they open their season in Philadelphia on April 6.
Yet Betts won't let up. He came to camp thinking he had to earn his roster spot, and his mindset hasn't changed.
"Absolutely. Nothing's given to me," said Betts. "You've got a bunch of great guys here and they've got to take care of what they've got to take care of, and I have to take care of what I have to take care of. Until we get on the plane, that will be the final judgment."
Betts has become a daily highlight show for the Red Sox.
"He's obviously driving the ball consistently," said Red Sox manager John Farrell. "He gives you a threat even as the game begins. He's an exciting player. He's equipped to hit different types of pitches from both right-handers and left-handers. He's a talented young player."
Phillies starter Jerome Williams was stunned at the pitch Betts hit for what wound up as a homer.
"I saw it go over [Herrera's] head, and the first thing that came out of my mouth was, 'How did you hit that?' Because it was so down, and then it hit the fence and then it bounced over him," said Williams. "Once he was spinning in circles, I was looking at Mookie like, 'I ain't even trying to back up home plate.'"
As Betts was approaching third base, it looked like he was about to pull up. But Butterfield got his attention just in time, and Betts kicked it back in gear for the closing finish.
The throw to the plate hit Betts as he slid in safely.
"When Mookie is 30 feet from third base, in relation to where the ball was, Butter waved him in and he had to take off again," said Farrell. "But he has that kind of second gear. We're getting to know not only his baserunning intelligence, but also the ability to change gears and get back into full stride. He is an exciting tools player."
Ian Browne is a reporter for MLB.com. Read his blog, Brownie Points, and follow him on Twitter @IanMBrowne. This story was not subject to the approval of Major League Baseball or its clubs.