Yankees encouraged by CC's increased velocity
Girardi not concerned with spring results, says lefty has 'lot of life' in arm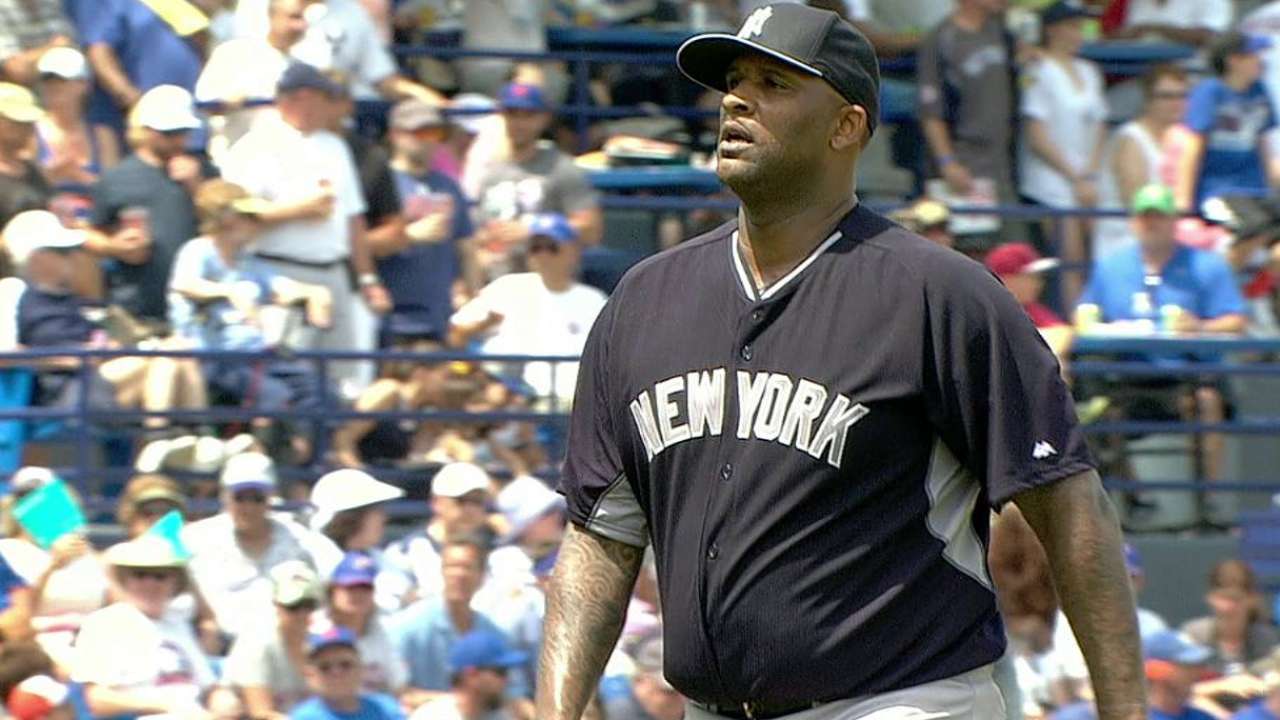 PORT ST.LUCIE, Fla. -- Yankees lefty CC Sabathia felt encouraged after his second Grapefruit League start. Sure, he was not happy he gave up three home runs -- one an inside-the-parker -- in 2 2/3 innings, but he is not worried about the results during the spring.
"I said to [Yankees pitching coach] Larry [Rothschild] I felt a lot better than I did last spring and I didn't give up any runs," Sabathia said. "So I'd rather get my [butt] kicked and feel like I did today then give up no runs and feel like I did last year."
Sabathia allowed four runs on five hits with four strikeouts, and although he did not have his best command, he left the outing feeling encouraged. He had not seen a radar gun, yet he could consider some of the Mets' swings to tell he had some life in his fastball. His fastball velocity has been back in the low to mid 90s after hovering in the upper 80s for most of last season.
"We notice that and we're encouraged about it," Yankees manager Joe Girardi said before the game. "Whenever you have more velocity, a lot of times there's a bigger discrepancy between your fastball and your changeup. Your slider is going to be sharper because there's more arm speed. It makes a difference."
"He looked sharp, crisp," Mets third baseman David Wright said. "Stuff-wise, he looked like the CC I remember when he was excellent."
Although Sabathia has only completed two outings, he is not worried about being behind for the start of the season.
"For him it's just just getting back to the consistency and getting him some work," Girardi said. "He feels great, there's a lot of life to his arm, so I'm still encouraged. I don't worry about the numbers, I'm not going to because I think he needs to pitch; he's not pitched a lot in the last 20 months or whatever. So we've got to get him out there."
Jamal Collier is a reporter for MLB.com. Follow him on Twitter at @jamalcollier. This story was not subject to the approval of Major League Baseball or its clubs.