Hughes frustrated with rare bout of wildness
Right-hander had first multi-walk outing of the spring vs. Marlins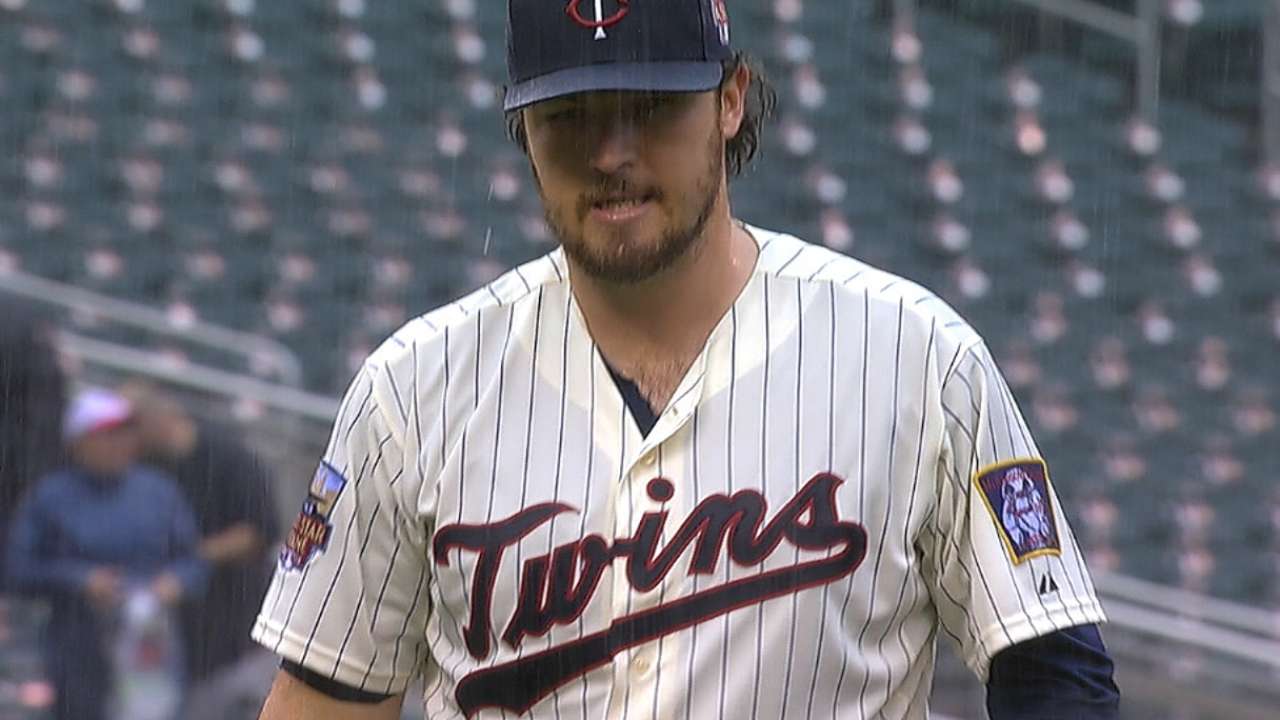 JUPITER, Fla. -- Phil Hughes doesn't issue many walks, but when he does, the Twins right-hander doesn't hide his displeasure.
Hughes, who is slated to be the Twins' Opening Day starter, gave up two walks Sunday -- his first multi-walks outing this spring -- in the Twins' 5-3 win against the Marlins at Roger Dean Stadium. Each time, Hughes showed some frustration on the mound.
"It bothers me still," Hughes said of the walks, something he did very little of last season when he set an MLB record for highest strikeout-to-walk ratio at 11.63. "Not to say I'm going to be able to avoid it all together. I'm very competitive out there, and any time something doesn't go your way, it's going to make you mad even though you know it's part of Spring Training. After a few months off, you're not going to be able to go out there and be in midseason form, but it's still something you don't want to see."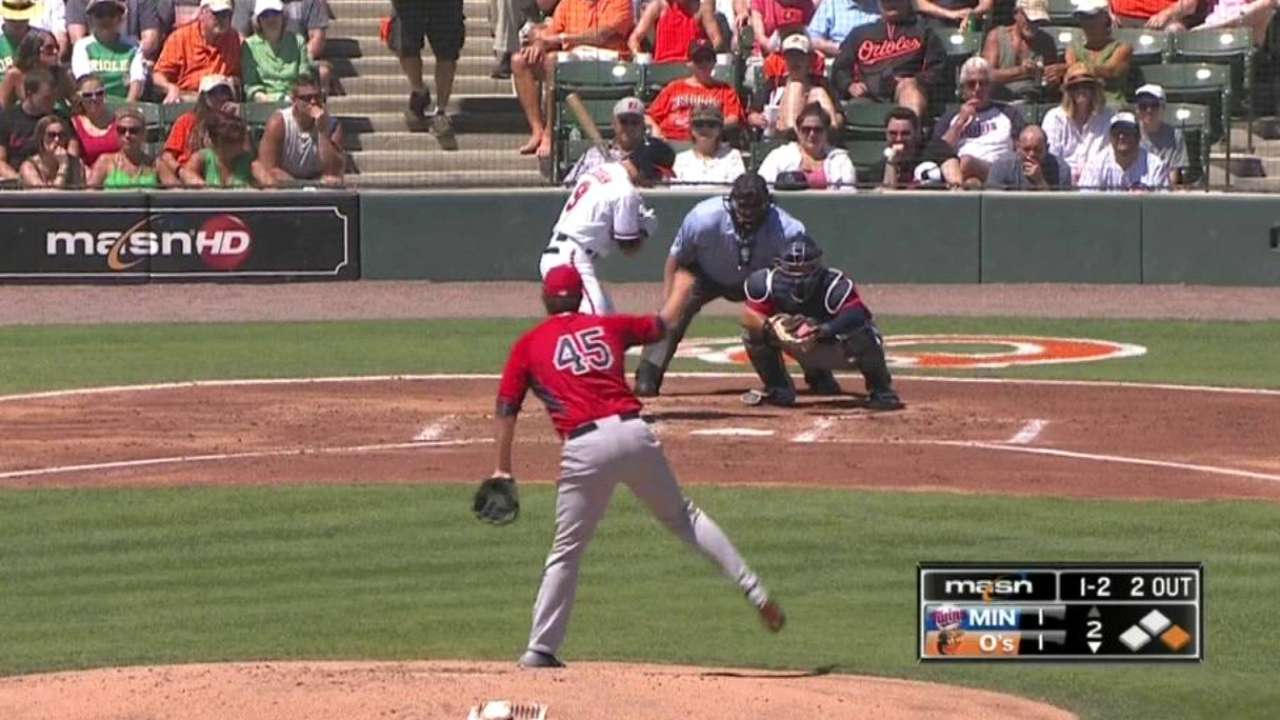 Hughes exited the game with two outs in the bottom of the fifth inning. He allowed three runs on six hits and registered four strikeouts. He struck out three of the last six batters he faced, including Marlins slugger Giancarlo Stanton, who whiffed on a 3-2 cutter on Hughes' 74th and final pitch of his outing.
"We had a good battle there, and you could tell maybe he was hunting a fastball on 3-2, so I went with a front-door cutter, hoping to just freeze him," Hughes said of his matchup against Stanton. "But he swung at it, thinking it was a four-seamer coming into him. It ended up working out. If he's looking cutter right there, he probably hits it over that building [Marlins clubhouse beyond left field.]"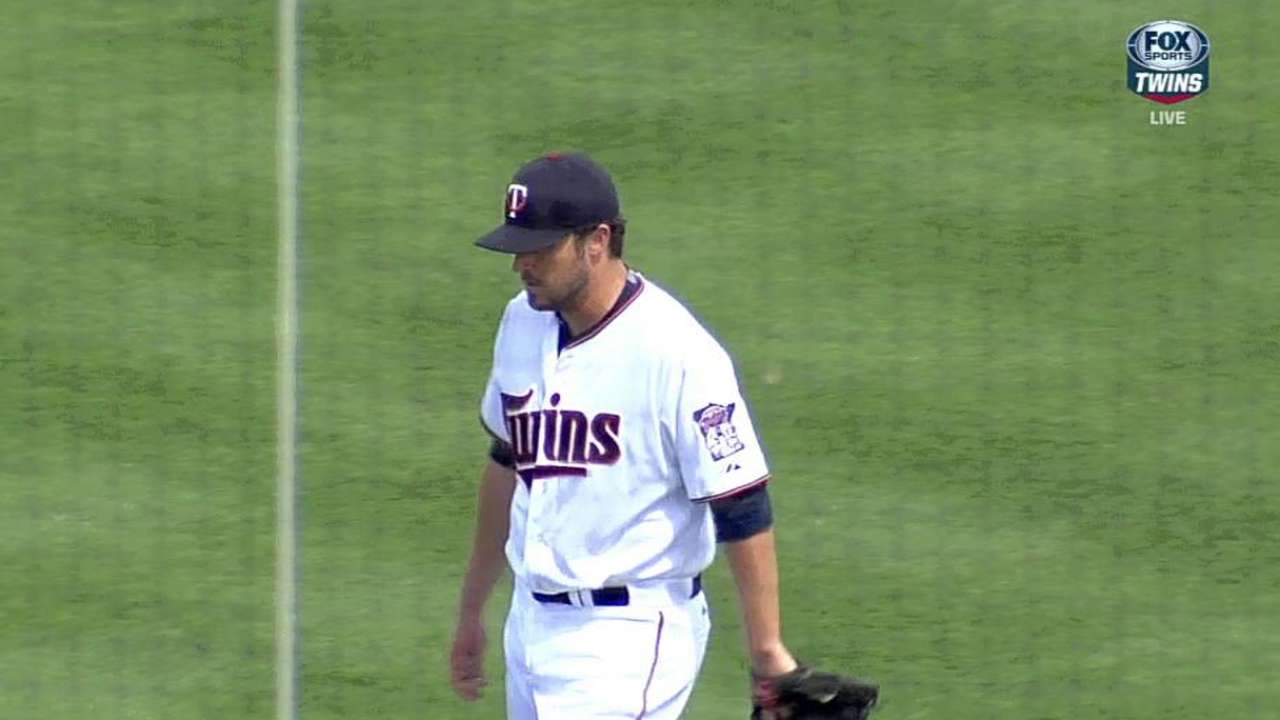 The Marlins scored all three of their runs in the third inning when Hughes gave up four consecutive hits before getting out of the inning on a double-play grounder by Ichiro Suzuki. His ERA this spring is 6.35, but neither he nor Twins manager Paul Molitor seem concerned.
"Phil had to work today, and that's probably a good point," Molitor said. "He's getting his work in, and I think he's building up arm strength and he's using his pitches. It wasn't a real clean line for him today. You could see some frustration at times, but he kept grinding. I don't have any concerns about him as far as how he's coming along this spring. His last batter he had a real good sequence to get his last out."
Hughes said that his primary goal over the final two weeks of Spring Training is to build up his arm strength and he doesn't care about velocity right now.
"The positive from today is that I felt like I got better as things wore on, so that was something good to take out of it," Hughes said. "Obviously getting up to 75 pitches without having to do any of that in the bullpen is also a nice thing, so you get that 100 percent game situation effort. I'm feeling a little better and commanding the ball a little better. Couple of positives to go along with a couple of negatives, kind of the story of the spring so far."
Worth noting
Center field dilemma: It's still unclear who will be the Twins' starting center fielder, but Molitor said he has not considered possibly moving Danny Santana back to that position, nor would he declare that Santana will be the Opening Day shortstop.
General manager Terry Ryan also weighed in on the battle for the center field job.
"I don't think anybody's really separated themselves from the pack," Ryan said. "We've got time to sort it out."
Asked about the possibility of a platoon system in center field, Ryan said that could be an option, but he would prefer someone emerge and grab the job outright.
Good day for top of order: The Twins had 11 hits on Sunday, and the top third of the order accounted for nine of them. Santana was 4-for-5 from the leadoff spot, raising his spring batting average to .394. Center fielder Jordan Schafer went 3-for-5 with two RBIs, and Trevor Plouffe, who started at third and moved to first in the bottom of the sixth, collected two hits, a walk and an RBI.
Steve Dorsey is a contributor to MLB.com. This story was not subject to the approval of Major League Baseball or its clubs.