Streaky Medica on another torrid spring tear
Padres first baseman-outfielder making case for Opening Day roster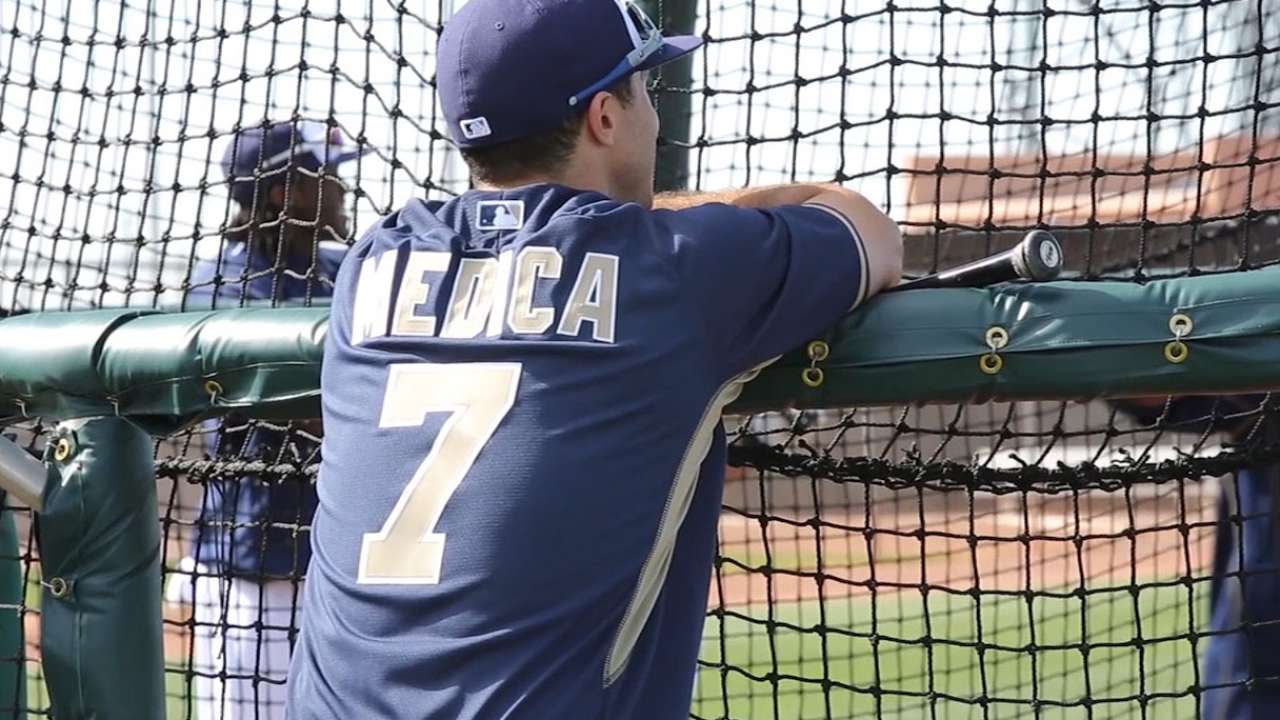 PEORIA, Ariz. -- Don't tell Padres first baseman-outfielder Tommy Medica that Spring Training statistics don't mean anything.
A year ago, Medica essentially hit his way onto the team's 25-man Opening Day roster by compiling a .324/.387/.544 line with three home runs in 68 at-bats.
This spring, Medica is trying his best to parlay another hot spring into a spot on the team.
On Sunday, Medica hit his team-leading fourth home run of the spring in a 6-1 victory over the Cubs. His spring line is now .556/.600/1.074 with 15 hits in 27 at-bats. He has 11 RBIs, which also leads the team.
Take into account the two hits that Medica had in 2013 and he's a career .398/.454/.724 hitter in Cactus League play with eight home runs, six doubles and 20 RBIs in 98 at-bats.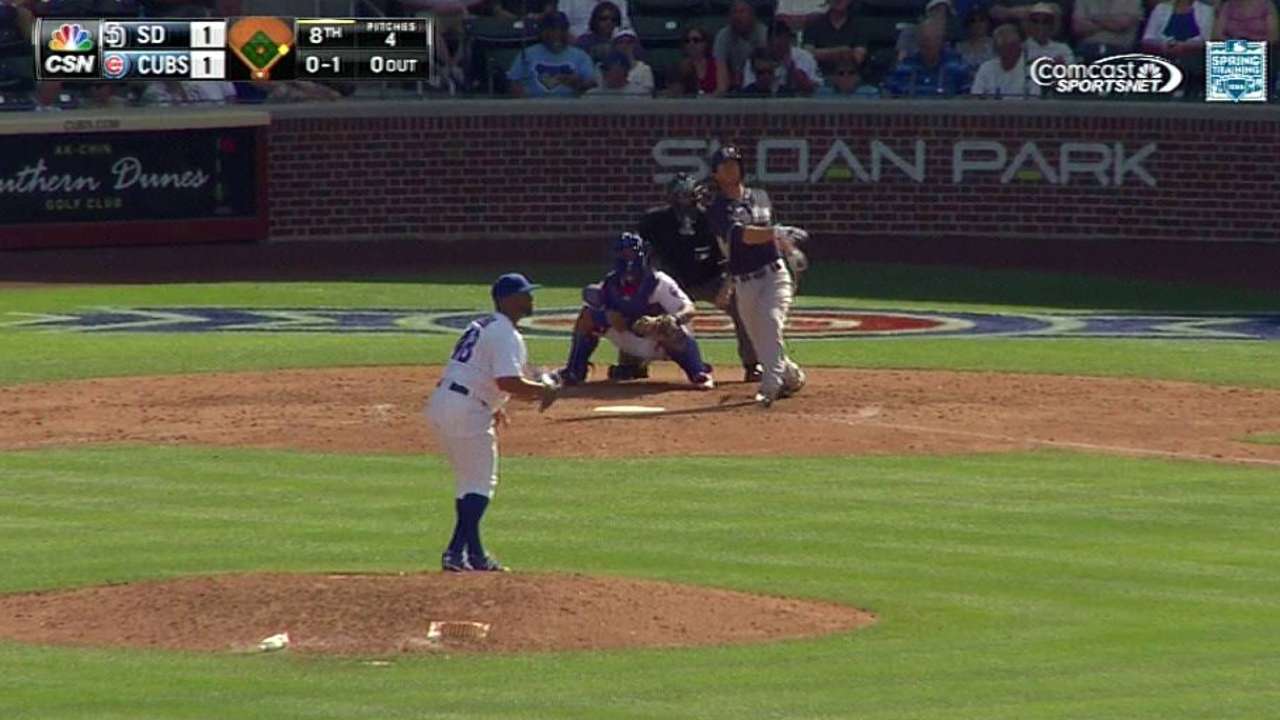 So how does Medica account for his success in Arizona?
"I don't know if it's not thinking about too much when you are at the plate, you're almost just trying to make contact and see what happens," he said. "I think throughout the year you try to do too much at the plate. In spring, stats don't matter. You're up there not trying to do too much."
The less-is-more approach appears to be working. Medica is the first to point out that, yes, hitting in Arizona has its distinct advantages.
"The balls travel a little father here and it's a more ideal condition for hitting here, as a whole. Some of the pitchers are still working on something or aren't completely polished as they would be during the year," Medica said. "But you still see guys trying to win a job, guys coming out of the bullpen coming at you with their best stuff."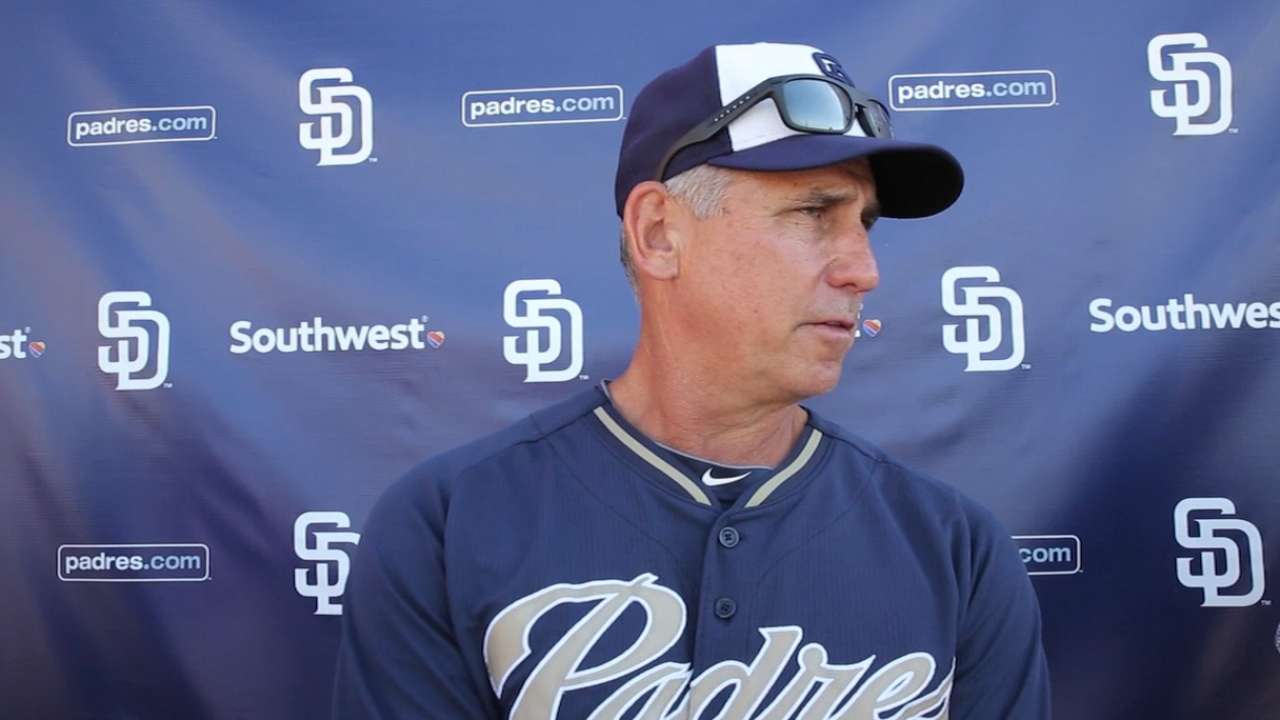 Seeing Medica string hits together like this isn't lost on manager Bud Black, who saw it two years ago as Medica was recalled from Double-A San Antonio and again at times last season.
Last season, Medica combined for six hits, two home runs and five RBIs against the D-backs on May 27-28. In July, he had consecutive games where he had a three-hit and a four-hit game.
"Tommy, it's been documented, can be a little streaky," Black said. "Tommy comes advertised as a hitter through our Minor League system. But we have seen flashes of Tommy swinging the bat well in the big leagues."
Medica, who is listed as a first baseman, has seen most of his time in the outfield this spring. He played there this winter as well to get better acclimated to the position. He appeared in 22 games in the outfield with the Padres in 2014.
Medica spent Saturday morning on a back field with bench coach Dave Roberts, working on his outfield defense, footwork, taking the proper path to the ball and reading the ball off the bat.
It's all still a work in progress for him, one that will likely continue into the regular season, where he's expected to start the season with Triple-A El Paso. The Padres have too many outfielders as it stands. Yonder Alonso, Yangervis Solarte and possibly Carlos Quentin will likely see the most time at first base.
But if the Padres need help at some point, specifically an offensive-minded player, they know where to turn.
"If you can hit, they'll find a place to keep you," Medica said. "I take pride in my defense. But if the bat is what keeps me around, that's fine with me."
Corey Brock is a reporter for MLB.com. Keep track of @FollowThePadres on Twitter. This story was not subject to the approval of Major League Baseball or its clubs.