Pitching prospect Diaz impressing Weiss
Rockies manager says club envisions right-hander as late-innings reliever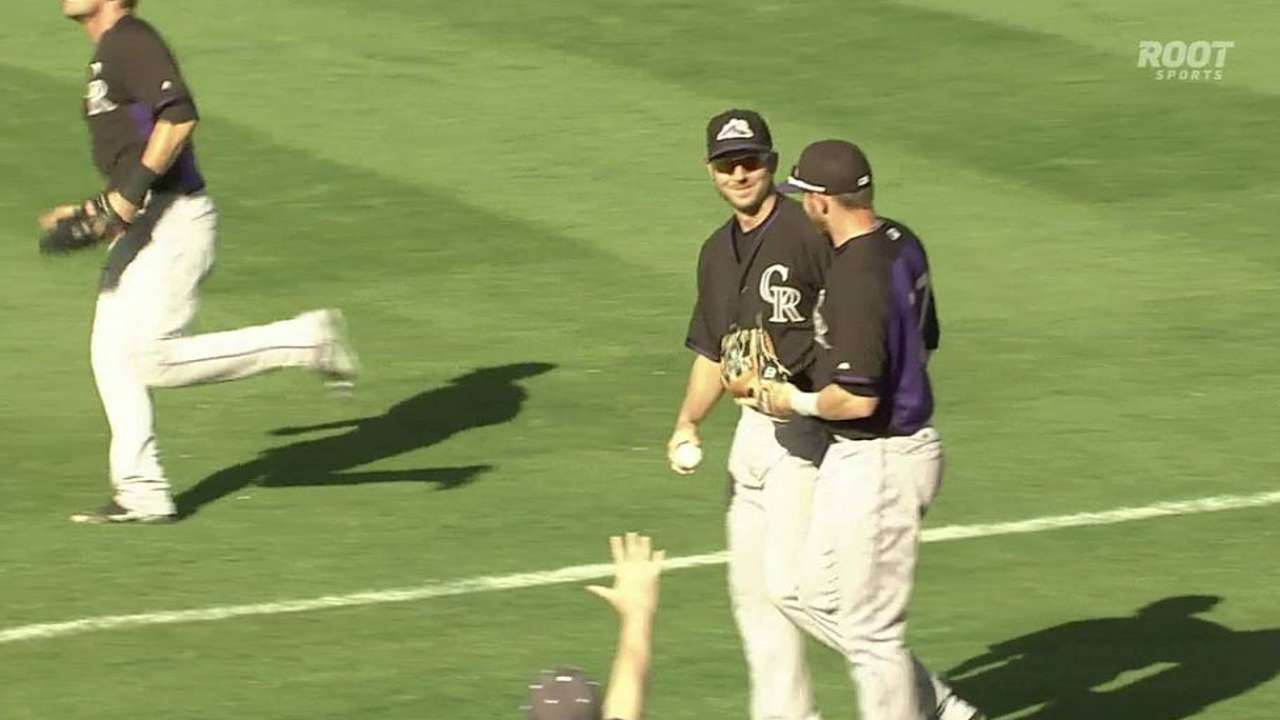 SCOTTSDALE, Ariz. -- It appears to be a matter of when, not if, reliever Jairo Diaz will pitch in the big leagues for the Rockies this season.
"A big-time arm," Rockies manager Walt Weiss said. "His stuff certainly plays in this league."
Diaz, 23, was acquired by the Rockies from the Angels for Josh Rutledge in December, and has a 7.71 ERA in 4 2/3 innings this spring. He pitched in Class A Advanced and Double-A last season and made his big league debut for the Angels last September.
"He's throwing strikes. He's the type of arm that can impact a bullpen," Weiss said of Diaz, who is ranked among the Rockies' top prospects. "That's why we got him and that's why we gave up a Major League player to get him. He's very intriguing."
The Rockies are likely to carry seven or eight relievers in a bullpen that should include LaTroy Hawkins, John Axford, Adam Ottavino, Rex Brothers, Boone Logan and Christian Friedrich. Diaz is competing against Brooks Brown, Tommy Kahnle and Rafael Betancourt for the final spots. The Rockies could expand the bullpen and start the season with four starters, because they won't need a fifth starter until April 14.
Kahnle, Brown and Diaz all have Minor League options remaining.
"I feel really good about what I have been doing, and I'll wait on the decision they make for my future," Diaz said. "I believe I have a chance to make the team, but if I have to go to the Minor Leagues, then I'll go and do what I have to do. I'm just grateful for the opportunity."
Diaz played winter ball in Venezuela and said the experience helped prepare him for Spring Training. Outfielder Oswaldo Arcia, the starting left fielder for the Twins, and Alexi Amarista, who is competing for a starting job with the Padres, were among Diaz's teammates with Caribes de Anzoategui. Former Major League star Magglio Ordonez is part owner of the Caribes and mayor of Diaz's hometown of Puerto La Cruz.
"Ultimately, we see him as the back-of-the-game type of arm," Weiss said. "Sometimes, it's a matter of when that opportunity presents itself, and sometimes, guys don't go right into that role at the Major League level. They start out in another role and evolve into what we think they are going to be or what we project them to be. It's hard to sit here and say how he fits today."
Jesse Sanchez is a national reporter for MLB.com. Follow him on Twitter @JesseSanchezMLB. This story was not subject to the approval of Major League Baseball or its clubs.