Harvey appears primed to return to dominant form
Coming back from Tommy John surgery, Mets righty enjoying outstanding spring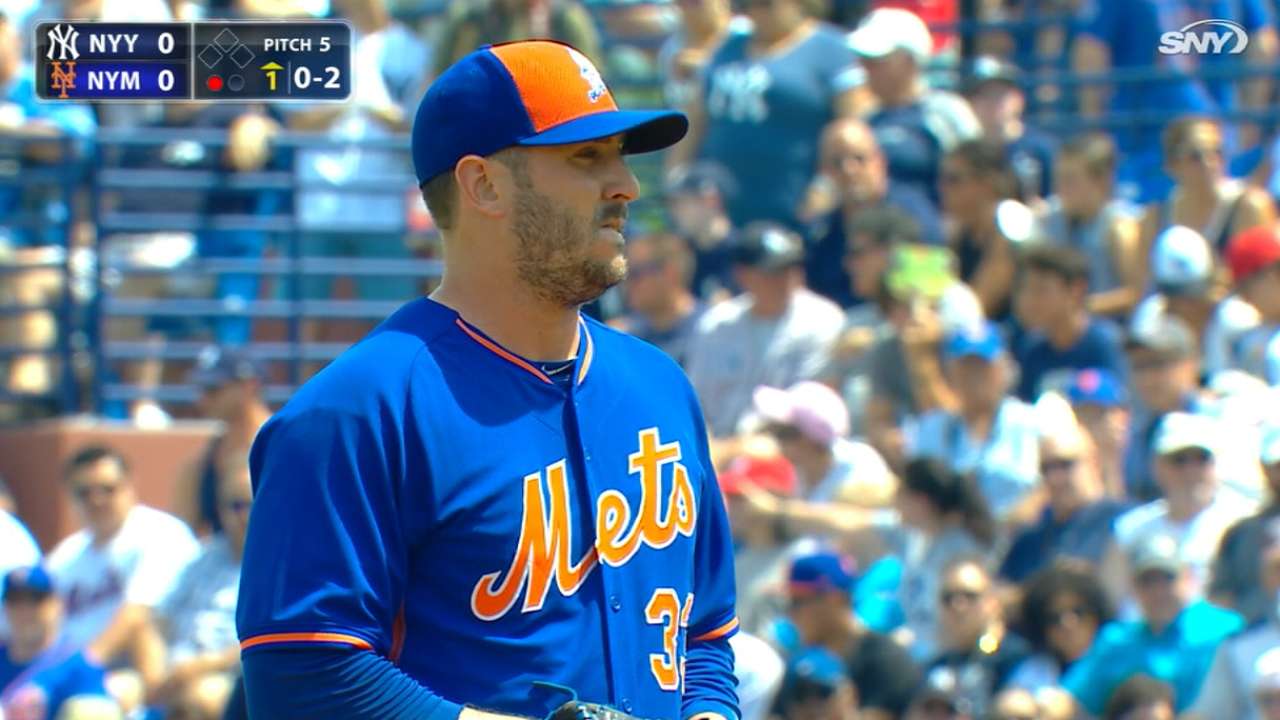 PORT ST. LUCIE, Fla. -- Yankees first baseman Mark Teixeira led off the second inning against Matt Harvey with a single and immediately stole second base. The Mets ace-in-waiting, coming off Tommy John surgery, never blinked. Three outs later, Teixeira was still on second.
The Mets had hoped that Harvey, who doesn't turn 26 until later in the week, could bounce back to be the pitcher he was before Tommy John surgery cost him the 2014 season, the pitcher who started the All-Star Game at Citi Field the year before.
This spring, he's shown every sign of being as good as ever. After four Grapefruit League starts, he has a 1.26 ERA. He held the Yankees to two hits in his 5 2/3 innings. He's walked just one in 14 2/3 innings and has a streak of 9 2/3 scoreless innings working.
With two weeks until Opening Day, he almost looked like he was in midseason form.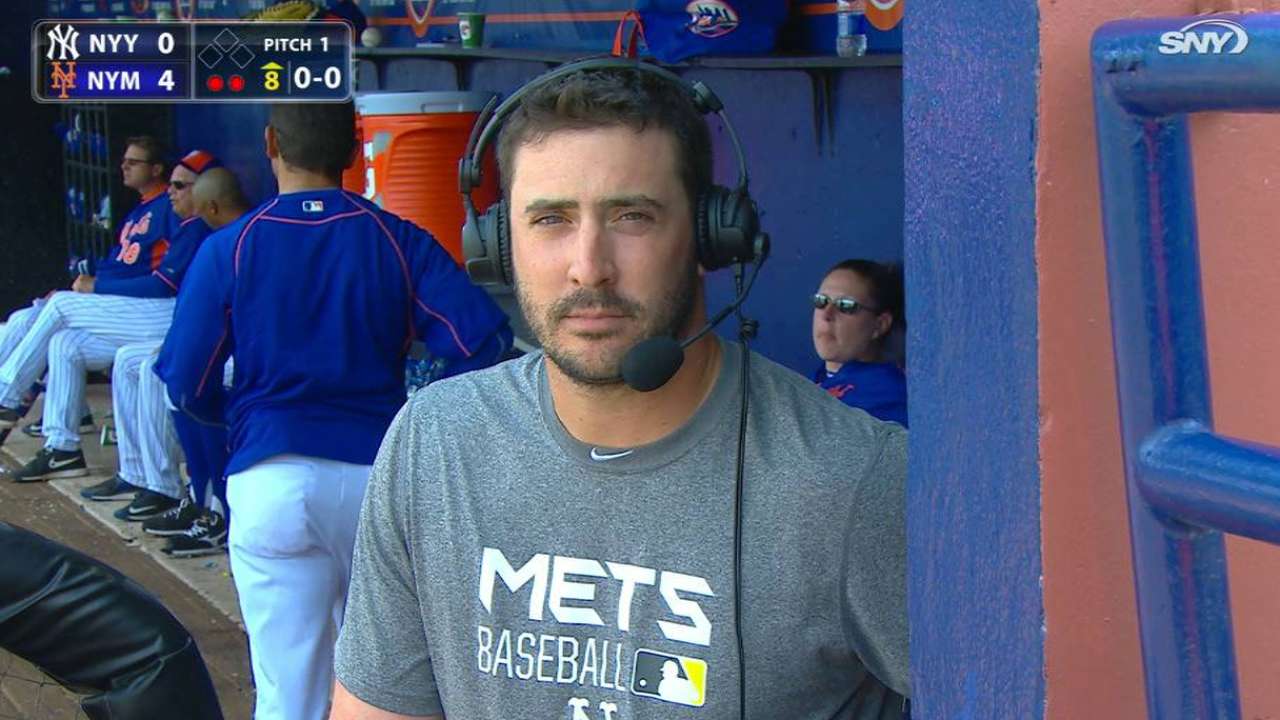 "He needs to build up his pitch count a little bit. But I would say, stuff-wise, yes, he's ready for the regular season. We haven't seen any change in command since he walked back out on the mound. We've just got to build up his endurance a little bit," manager Terry Collins said.
What pleases Harvey most is the command of all his pitches.
"I think the big thing for me coming in, I knew that was possibly an issue with Tommy John surgery. So for me it was a matter of concentrating on throwing strikes and pounding the zone. Kind of picking up where I left off was very important. I'm pretty happy with how that's gone," he said.
Collins admitted that he couldn't have anticipated that Harvey would regain his control so quickly.
"The answer is yes, I am surprised. But it goes to show you what tremendous mechanics this guy has," the manager said. "And to be honest, outside of the fact that he's so big and strong and throws so hard, you don't see guys with those mechanics break down a lot. It's a tribute to the fact that this guy is really, really smooth and confident and not afraid to have contact. That's why he pounds the zone. That's why he gets outs."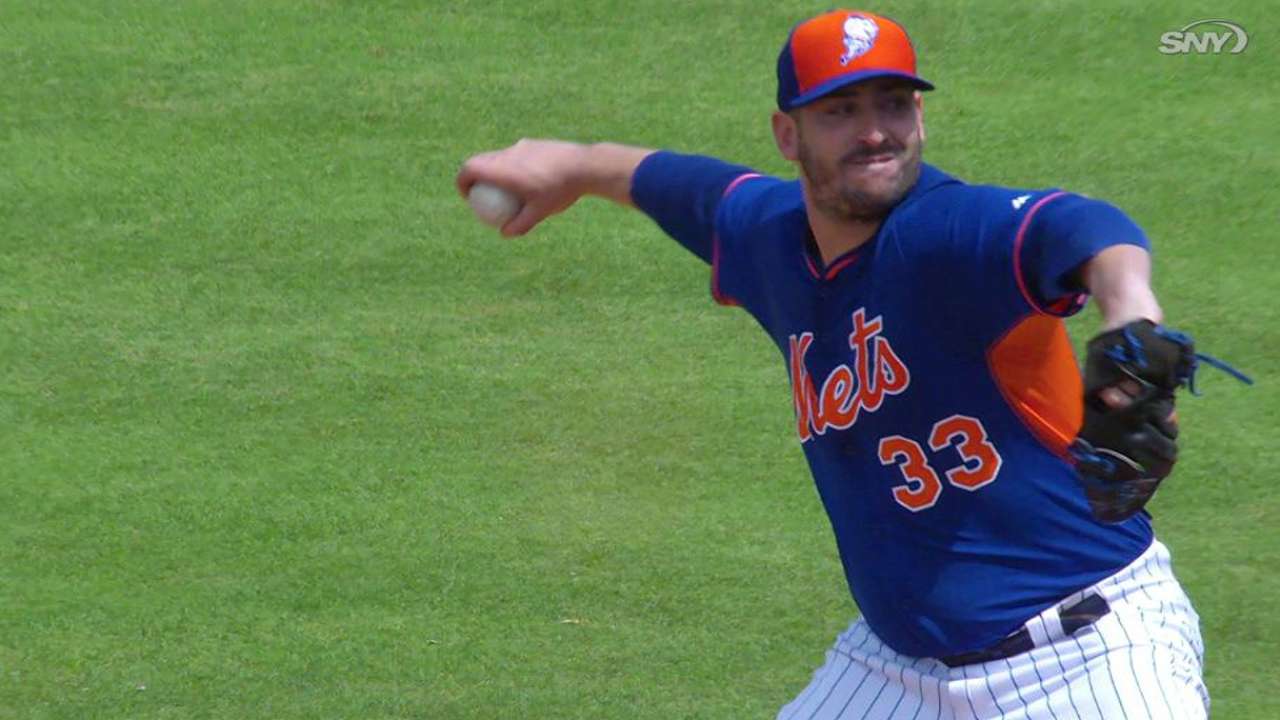 Collins said he could see Harvey bear down when the Yankees got their only runner in scoring position against him.
"You could see the difference in his stuff. This guy doesn't like to give up anything. I don't care what the situation is. And he has that competitive attitude even in Spring Training. That's just the way he is. It's one of the inner traits he's got that makes him special to me," he said.
Said Harvey: "When you're playing and you're pitching, you never want to let in a run. So when you give up a leadoff hit and he immediately steals second, naturally you want to bear down and do your job and keep him from scoring."
That Harvey was able to do that so efficiently is just another reason why there are such high hopes for him in 2015.
Paul Hagen is a reporter for MLB.com. This story was not subject to the approval of Major League Baseball or its clubs.