Veteran Ramirez pleased with new-look White Sox
Shortstop looks strong in camp, leading club in RBIs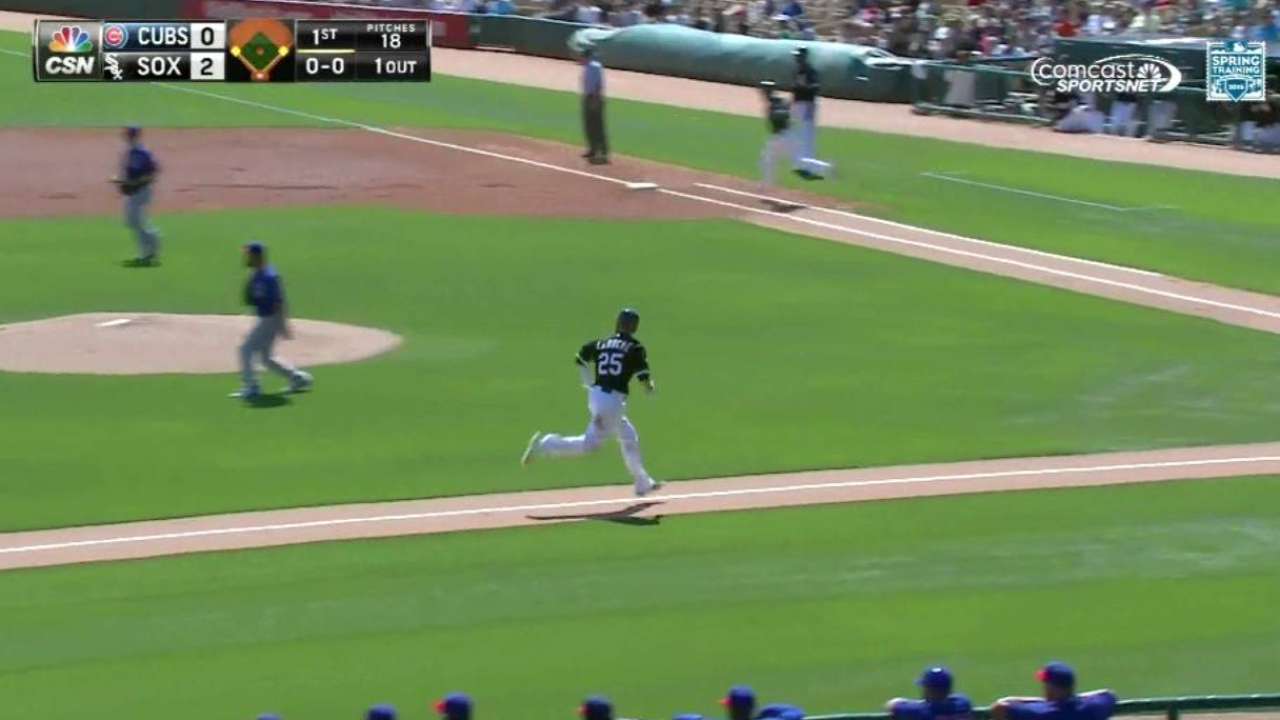 PHOENIX -- At the age of 33 and with the team since 2008, Alexei Ramirez has become one of the White Sox elder statesmen.
Only John Danks has more White Sox service time than their shortstop, but Ramirez certainly is playing with a youthful exuberance during this current Spring Training. His two hits Sunday raised Ramirez's average to .396 and his RBI total of 13 tops all White Sox hitters.
"I feel good," said Ramirez through interpreter and White Sox Spanish language broadcaster Billy Russo. "After six months without facing a pitcher, I think I've adjusted well. My rhythm is OK."
Ramirez admitted it was tough to see veteran teammates traded away during the White Sox reshaping process over the past two seasons. But the shortstop likes the vast changes made by general manager Rick Hahn and is ready for a potential increased run-producing role hitting sixth or seventh in the lineup.
"We are like a family right now. We make jokes. We laugh. I think that it's a good team we have here," Ramirez said. "I think that the front office found the pieces."
• Conor Gillaspie started at first base for the White Sox Sunday, but it wasn't because Jose Abreu or Adam LaRoche were under the weather. It's a role the third baseman could end up seeing late in games.
"That's by design, to be able to stretch Conor into being a little more versatile," White Sox manager Robin Ventura said. "If we have to pinch-run late, sometimes that happens where we're going to need an extra first baseman.
"If Jose or Adam are DHing and you end up running for a first baseman, there's a chance you have to move a guy over there. And Conor's the guy."
• Aaron Rowand, who served as a guest Minor League instructor for both the White Sox and Phillies during Spring Training, brought two of the Las Vegas Aces baseball teams to White Sox practice Sunday morning. Rowand coaches his son on one of those teams.
"It's an opportunity for them to see how Major League players do things," Rowand said. "How to work and what it means to be out there."
The kids were on the field in the outfield in uniform during a simulated game, and one of the players almost made a spectacular diving catch on a pop up down the left-field line. Rowand doesn't think the young players know much about his exceptional playing days.
"I doubt it," Rowand said. "To them, I'm just coach."
• J.B. Shuck picked up his fourth stolen base and had two hits to raise his average to .394 during Sunday's loss to the Brewers. Shuck appears to be strengthening his lock on the final position player roster spot.
"He can run. He plays good defense. He's very aggressive and can run the bases," said Ventura of Shuck. "Good baserunner too. He's done a lot of things well this camp."
Scott Merkin is a reporter for MLB.com. Read his blog, Merk's Works, and follow him on Twitter @scottmerkin. This story was not subject to the approval of Major League Baseball or its clubs.