Samardzija happy with outing despite homers
Right-hander not concerned by pitching line, feels great after start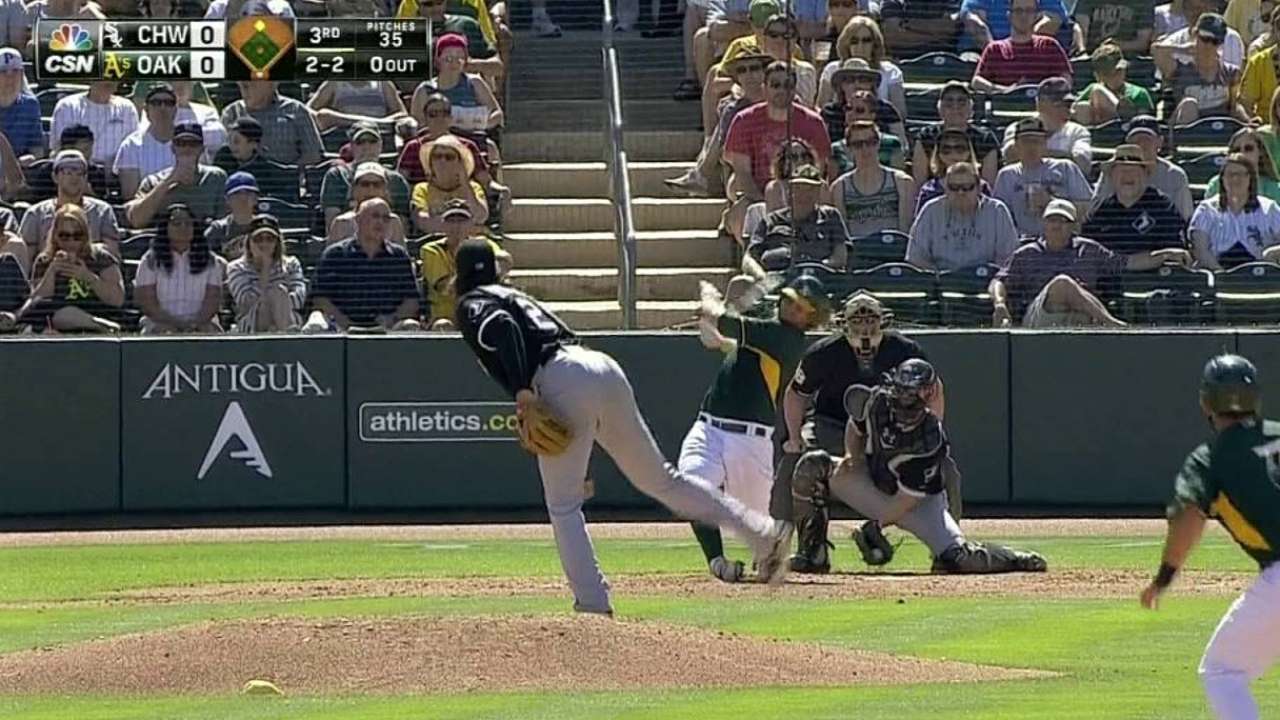 PHOENIX -- Milwaukee touched up White Sox starting pitcher Jeff Samardzija for three home runs over 4 1/3 innings and 76 pitches on Sunday afternoon. Samardzija didn't seem overly concerned with these particular results.
"They hit a homer in Maryvale? That's OK. You make some pitches and those things happen," said Samardzija with a wry smile. "I feel great. I made some adjustments from last time out. I thought we were in the zone, hitting the spot a little more. Worked in some off-speed pitches. Overall, I'm pretty happy with it."
Samardzija struck out two and didn't issue a walk to go with home runs hit by Logan Schafer and then Jonathan Lucroy and Ryan Braun back-to-back in the fifth. Samardzija could have pitched beyond the final total of 76, which included 49 strikes, as he focuses on stretching out and increasing his endurance so he's regular-season ready when somewhere between 100 to 120 pitches are needed.
As the veteran right-hander pointed out, Spring Training doesn't go on the back of baseball cards so results don't really mean anything.
"You go out there and make sure you feel good and make sure your pitches are doing what they are doing," Samardzija said. "You learn from it when it comes to mistakes you mistake and if it didn't go well, why didn't it go well and things like that. But mostly I'm worried about make sure my body feels good, my arm feels good and ready for that start of the season."
There wasn't much interest on Samardzija's part in talking about his next trip to the mound coming against the Cubs Friday in Mesa, calling it just another game. He also wasn't discussing anything related to a potential Opening Day start, which he is lined up for on April 6 in Kansas City.
"They haven't told me anything," Samardzija said.
White Sox manager Robin Ventura didn't have much more to offer about the Opening Day selection.
"Not right now. I'm getting closer," said Ventura, who added the pitchers don't know who is starting Game 1.
When asked why he's waiting, Ventura responded, "Because there's just no reason to do it. I don't plan on changing my mind. There's just no reason to do it."
Scott Merkin is a reporter for MLB.com. Read his blog, Merk's Works, and follow him on Twitter @scottmerkin. This story was not subject to the approval of Major League Baseball or its clubs.