Aguilar attributes improvement to change in mental approach
Indians' first-base prospect has learned how to relax more in camp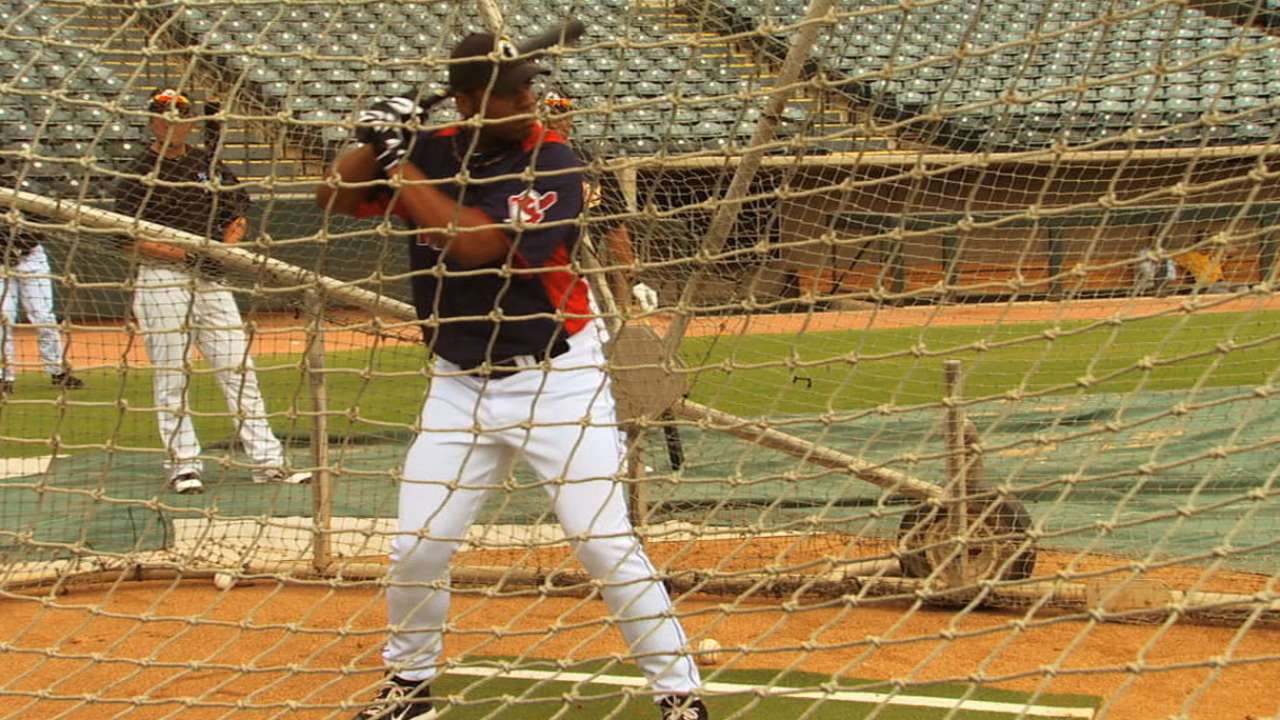 GOODYEAR, Ariz. -- A testament to Jesus Aguilar's progress was found just inside the entrance to the Indians' clubhouse Sunday morning. For the second day in a row, the first-base prospect was featured in a series of still images, breaking down one of his swings from Cleveland's previous game.
The photos of Aguilar were for the "Swing of the Day," which is a daily addition to the whiteboard this spring by hitting coaches Ty Van Burkleo and Matt Quatraro. Aguilar's swings in Spring Training a year ago were less memorable, but he knows that was the result of being too caught up trying to impress the Major League staff.
"I just tried to do too much last Spring Training," Aguilar said. "That's the difference between last year and this year. I'm just trying to make hard contact. I put that in my mind -- just try to do that -- and it's helped me a lot."
The 24-year-old Aguilar went 0-for-15 in Cactus League play last spring and then hit just .121 in 33 at-bats in the Major Leagues. Those numbers went against the raw power and impressive production that the first baseman has displayed as he has marched up the Minor League ladder over the past several years.
At the start of Spring Training this year, Indians manager Terry Francona met with Aguilar and the message was that the team wanted to see him relax.
"I think he was pressing," Francona said of Aguilar's struggles in the big league environment last year. "Sometimes, you'll see [young] guys like that and they'll just swing crazy. He looked like he was almost trying to shoot the ball to right field, like he was trying to be a No. 2 hitter.
"I just think it was a case of a guy that had really worked hard in Triple-A to build a reputation of being one of the feared hitters, and he came to the Major Leagues and wasn't quite sure where he fit in. That happens a lot."
Aguilar -- ranked 13th by MLB.com among the Indians' Top 30 prospects -- said he has grown more comfortable around the Major League team this spring, and more confident as a result. He also credited former slugger Travis Hafner, who was in camp earlier in Spring Training as a guest instructor, for giving him advice on how to relax more in the batter's box.
In Saturday's win over the Rockies, Aguilar went 2-for-4 with a two-run home run and an RBI double. In the previous game against the Angels, he also connected for a double. Through 13 games this spring, Aguilar has posted a .407/.414/.630 slash line to go along with four extra-base hits and four RBIs.
"I feel confident and I know everybody here," Aguilar said. "And I know how I've got to play and work. I come here and relax and go to the field and try to do my job. I don't try to put pressure on me now. I let that go and good things happen."
"You can kind of see him swinging his way into feeling good," Francona said. "He was getting some hits. Then, he was starting to take some better swings. Now, he's driving the ball and he looks like he's going up to hit with an intent to do some damage. We're really enjoying seeing it."
Jordan Bastian is a reporter for MLB.com. Read his blog, Major League Bastian, and follow him on Twitter @MLBastian. This story was not subject to the approval of Major League Baseball or its clubs.