Shaw working out kinks as he develops two-seam sinker
Indians setup man hopes to improve performance vs. lefties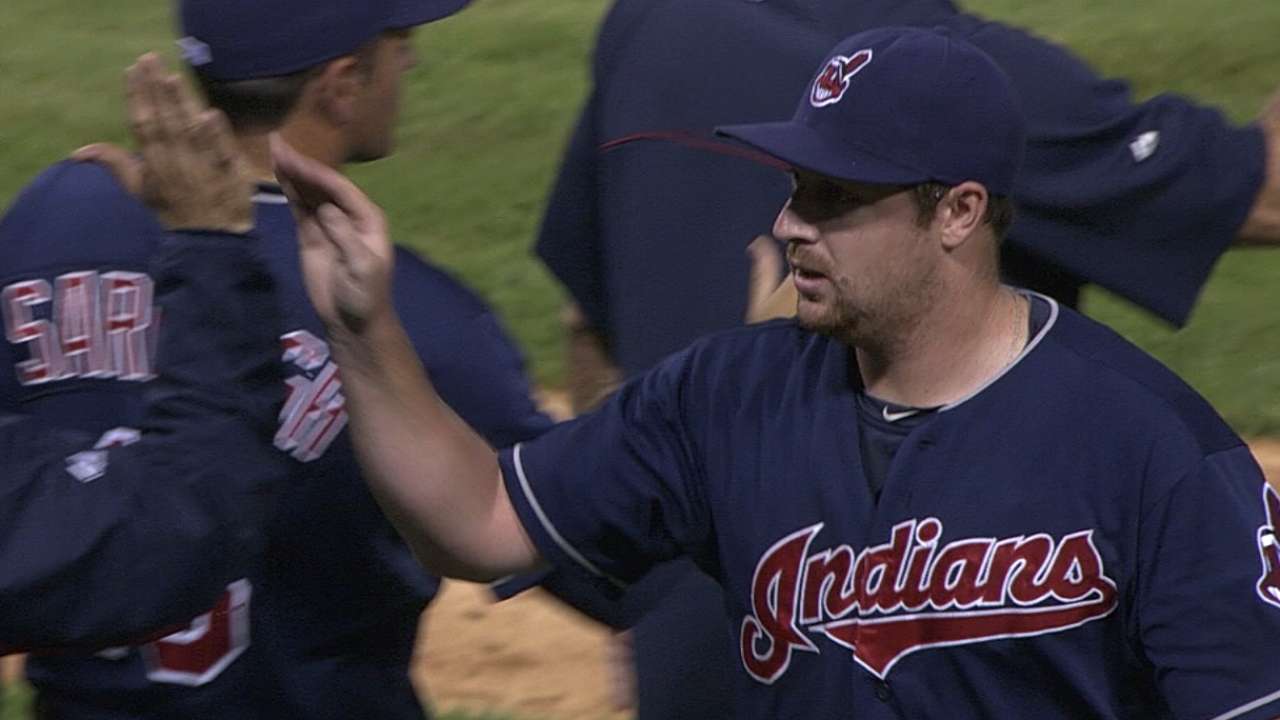 GOODYEAR, Ariz. -- No one around the Indians is concerned by the bloating Cactus League pitching line turned in to this point by setup man Bryan Shaw, because the pitcher has been working on developing a two-seam sinker that he has only thrown sparingly in his career.
Shaw has been abused by left-handed batters throughout his career. In an effort to improve in that area, the right-hander has used early-count situations to work on his sinker. The pitch has been inconsistent for Shaw, putting him behind in the count and leading to poor spring results.
"It's first pitch to every hitter and then trying to mix it in as much as you can," Shaw said. "It's just obviously different from the way that I throw. I cut everything, so it's just trying to basically manipulate it to do something different. It's obviously not quite working."
Last year, the 27-year-old Shaw logged a franchise-record 80 games and turned in a 2.59 ERA with 64 strikeouts and 22 walks in 76 1/3 innings. Along the way, though, lefties hit .294 (.776 OPS) against him. Shaw, who used mostly a cutter and slider, limited right-handed batters to a .168 (.493 OPS) showing last season.
For his career, Shaw has allowed a .285 average (.745 OPS) to left-handed hitters and a .198 average (.566 OPS) to righties.
"He's messed around with [a sinker] in the past," Indians pitching coach Mickey Callaway said. "But he's never really thrown it in a game. It's just something he can throw to lefties. Obviously, he had his struggles with lefties last year. So, he's trying to figure out something he can throw away to lefties and keep it out away from them."
Through five Cactus League appearances this spring, Shaw has turned in an 11.57 ERA, giving up 12 runs (six earned) on 12 hits in only 4 2/3 innings. He has walked three, allowed three home runs (two in the eighth inning Saturday) and struck out two.
"He's just up [in the zone]," Indians manager Terry Francona said. "He's trying to get it down and, as we get further into the spring and he gets it further down, he'll be fine. He's just not there yet. The ball is coming out really good. He's just not driving it down, yet. He will."
Jordan Bastian is a reporter for MLB.com. Read his blog, Major League Bastian, and follow him on Twitter @MLBastian. This story was not subject to the approval of Major League Baseball or its clubs.