K-Rod declares 'mission accomplished' after debut
Veteran reliever strikes out a pair in return to mound against White Sox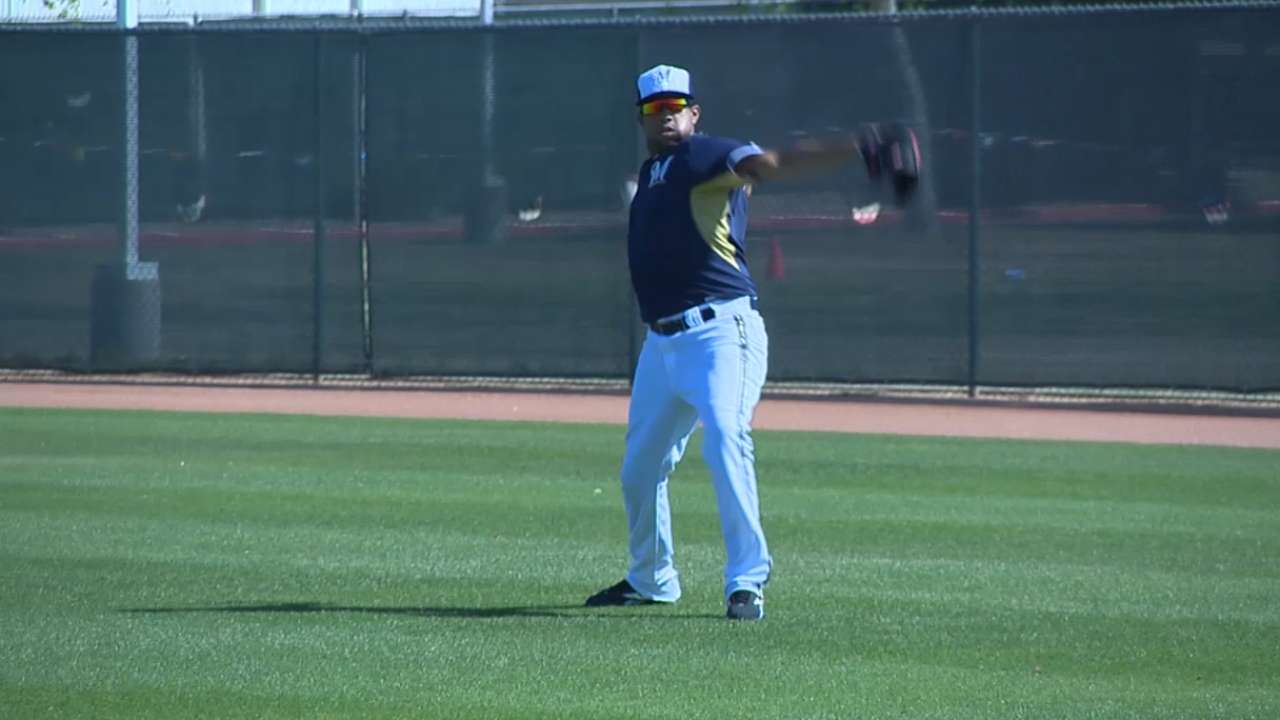 PHOENIX -- Ten days earlier, Francisco Rodriguez was in Venezuela. Nine days earlier, he arrived in Brewers camp for a physical exam. Eight days earlier, he signed a two-year contract and stepped on a mound for the first time since September.
On Sunday, Rodriguez pitched against the Chicago White Sox in front of 6,950 fans -- and pitched well, according to his catcher.
"It's amazing," Jonathan Lucroy said. "He looked like he just got done throwing last year."
The pitching line wasn't particularly inspiring -- one inning, three hits, one earned run, two strikeouts. But the first hit came early in the inning when Rodriguez was throwing fastball after fastball, trying to reacquaint himself with the strike zone. The second hit was on a ground ball to second base that manager Ron Roenicke said should have been a double play. The run scored when Chicago's J.B. Shuck blooped a changeup for a double that bounced two feet from the right-field foul line.
With runners at second and third base, Rodriguez struck out the next two batters, including former Brewer George Kottaras, to escape further damage.
"In the end, I had to turn it up a little bit, be more aggressive," Rodriguez said.
Was the outing a success?
"Mission accomplished," Rodriguez said. "That's the first one out of the way, now I've just got to ramp it up and make sure to be ready for April 6."
Rodriguez has figured all along that he'd have plenty of time to prepare for the Brewers' season opener against the Rockies at Miller Park. Last year, he also signed with the Brewers late in free agency and did not begin pitching until mid-March. That effort was complicated by a misstep in the backyard of his Spring Training residence, where Rodriguez stepped barefoot on a cactus. He was still pulling spines out of his foot in June, but took over the Brewers' closer role on Opening Day, did not allow a run until his 21st appearance, and made the National League All-Star team.
Who needs Spring Training?
"All my career has been like that," Rodriguez said. "It doesn't take me as much. Usually two weeks or less."
He threw on flat ground over the winter in Venezuela, but did not step on a mound until March 14. Two bullpen sessions and one live batting practice later, Rodriguez, 33, was working against the White Sox.
During the winter, he focuses on fitness. The only weights he handles are three pounds apiece. Rarely does he ice his arm.
"When I was coming up, one thing the veterans taught me was stay away from the trainer's room," Rodriguez said. "Don't go in there unless you really, really have an injury. Go in there, get my heat pad or something, and get right out. But don't sit in there."
Rodriguez expects his next appearance to come Wednesday or Thursday. He hopes to log five or six innings before Opening Day.
Adam McCalvy is a reporter for MLB.com. Read his blog, Brew Beat, and follow him on Twitter at @AdamMcCalvy. This story was not subject to the approval of Major League Baseball or its clubs.