Gonzalez remains mystery man in Rangers' rotation battle
Right-hander will get next chance to impress Monday night vs. Reds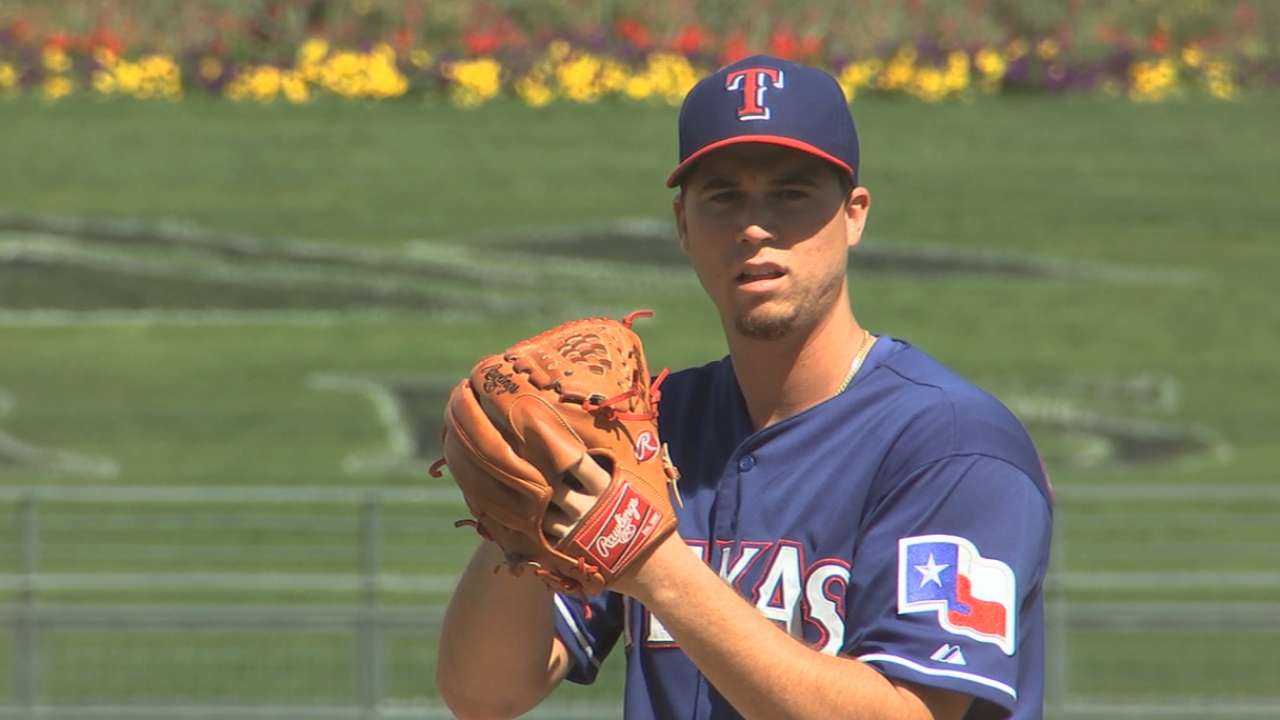 SURPRISE, Ariz. -- With two weeks to go before Opening Day, the Rangers expect to fill their starting rotation with pitchers they already have in camp.
The Rangers know the Phillies are willing to trade Cole Hamels, but they would have to give up three or four significant prospects. Hamels is also due $96 million over the next four years. The Rangers don't like the financial part, but they are more adamant at this point about not giving up the prospects.
General manager Jon Daniels will not address specific trade rumors, but did say Sunday morning, "I don't know if there are any realistic fits we are going to pursue."
Instead, Daniels expressed confidence that the answer to the Rangers' rotation needs is in camp.
"Yes I do," Daniels said. "In addition to the five we break with, we will have several guys at Round Rock that are a phone call away."
The Rangers have two spots to fill in a rotation headed by Derek Holland, Yovani Gallardo and Colby Lewis. Ross Detwiler and Nick Martinez have been impressive early in camp and Nick Tepesch has pitched better lately after a rough start. Anthony Ranaudo, Lisalverto Bonilla and Anthony Bass all got knocked around over the weekend in San Antonio and Ross Ohlendorf is still recovering from a tight right groin muscle.
The mystery pitcher in all of this is Alex Gonzalez, the Rangers' top pick from the 2013 First-Year Player Draft who is still in camp and still getting a hard look. Gonzalez, the Rangers' No. 5 ranked prospect, is starting for the Rangers on Monday night against the Reds in Surprise.
This could be an opportunity to start changing minds about him needing more time in the Minors.
"I'm not trying to take it that way," Gonzalez said. "I hope it is, but I'm not taking it that way. I'm taking it as a game to get my work in and get ready for the season."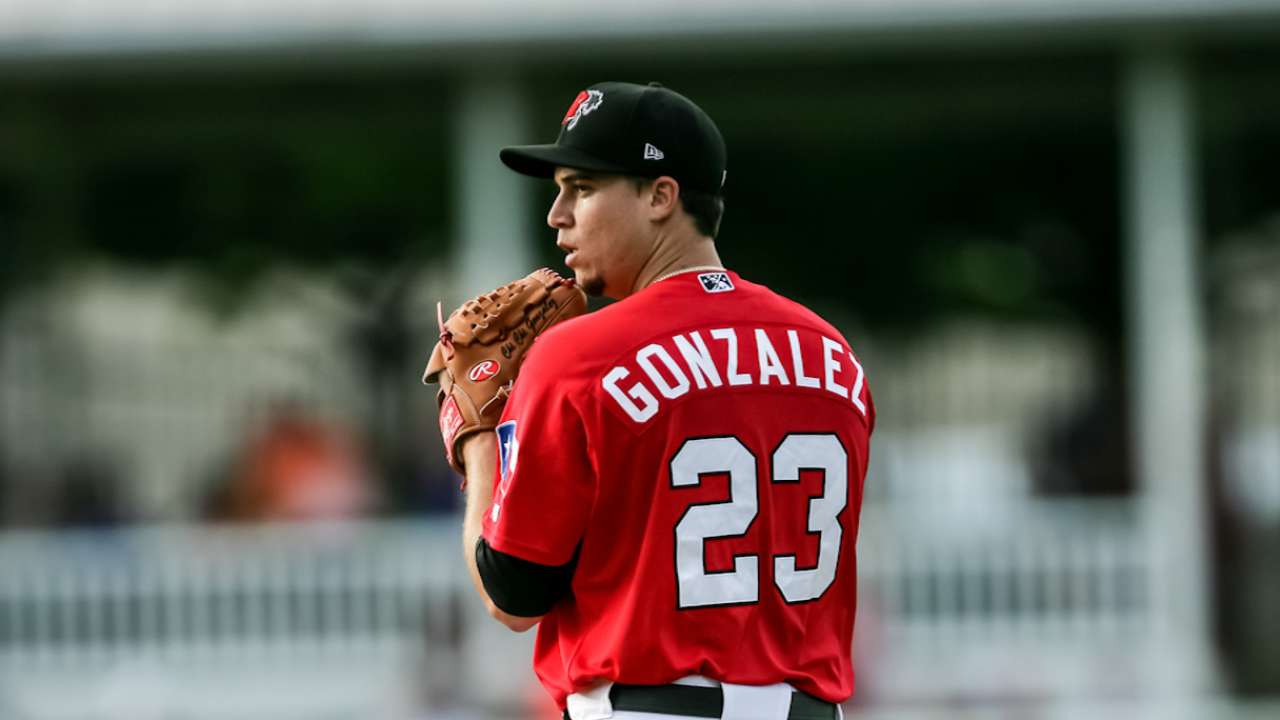 The Rangers have pushed young pitchers in the past. They did so with Tepesch in 2013 and Martinez last season. The Rangers may be able to avoid that this time around because they have more starting rotation depth in camp. But Gonzalez is still here, surviving the first round of cuts that sent other top pitching prospects -- Alec Asher, Jerad Eickhoff and Luke Jackson -- back to the Minor Leagues.
"It's what we've been saying all along, 'If he is here, he is competing for a spot,'" Daniels said. "That being said, for a guy who hasn't pitched above Double-A, we would have to feel he is a finished product and accomplished all he needs to accomplish. He is making strides, but there are still some areas he needs to work on."
Gonzalez has talent, including five different pitches, but also gets high marks for his mental makeup and feel for pitching.
Jason Wood, who was the Double-A Frisco manager last season, said Gonzalez's makeup is "off the charts."
"Plus-plus," Wood said. "He's not just pitching in the moment, he's thinking ahead. He is thinking of what he needs to do to set up hitters. He has a good game plan and he is very competitive. Not only does he know how to make pitches, he is very competitive on the mound. That's the edge he has over the pitchers he is competing against."
Gonzalez was the Rangers' Minor League Pitcher of the Year in 2014, combining to go 12-6 with a 2.66 ERA at Class A Myrtle Beach and Double-A Frisco. He averaged eight hits, 2.7 walks and 7.4 strikeouts per nine innings. He has a 4.15 ERA this spring. Opponents are hitting .212 off him.
"Baseball to me is a game of constant adjustments," Gonzalez said. "I've learned to make quick adjustments as the game goes. I have had a couple of outings where I have done OK. I'm trying to take the positives out of it and prepare me for wherever I am."
On Monday night, he will be pitching for the Rangers against the Reds under the lights at Surprise Stadium. There will be some interested people watching closely.
T.R. Sullivan is a reporter for MLB.com. Read his blog, Postcards from Elysian Fields, and follow him on Twitter @Sullivan_Ranger. This story was not subject to the approval of Major League Baseball or its clubs.