Shift to outfield going seamlessly for Weeks
McClendon, Mariners waiting for converted middle infielder to be challenged more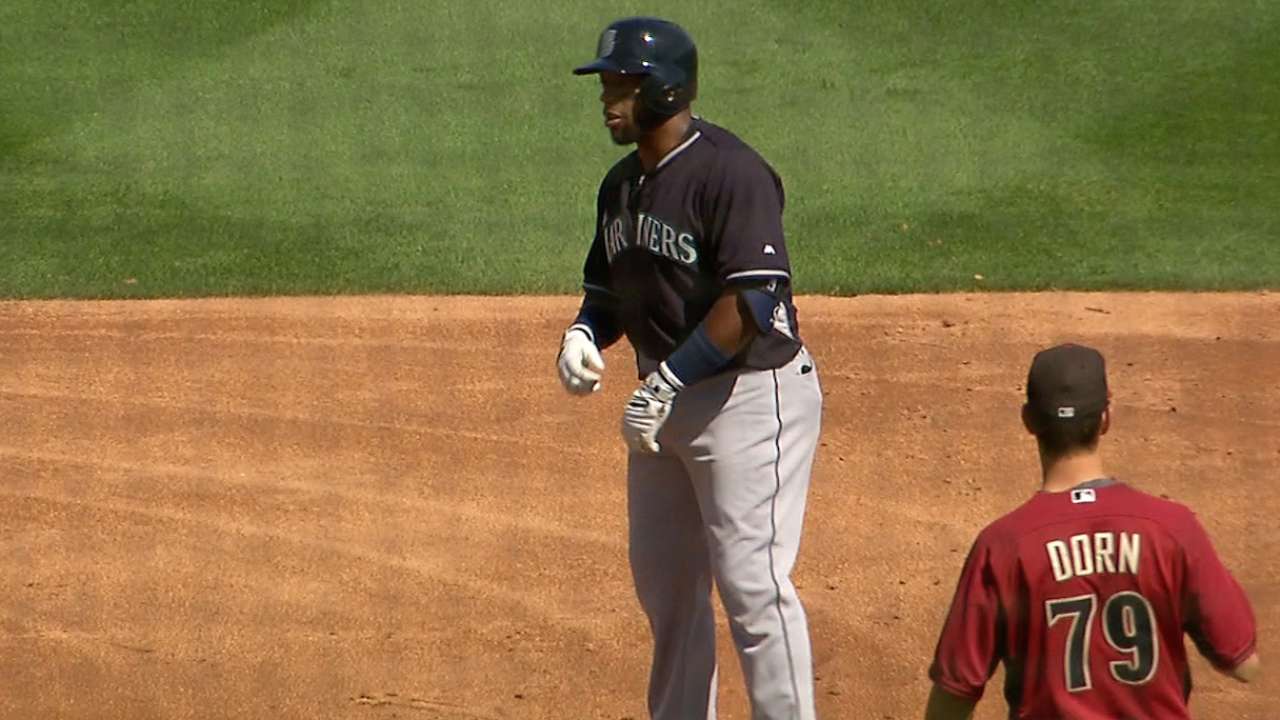 PEORIA, Ariz. -- The transition of Rickie Weeks to the outfield has gone seamlessly to date for the Mariners. So seamless that manager Lloyd McClendon keeps waiting for the former second baseman to actually get challenged in game action.
Weeks has started four games in left field this spring, but had seen just one routine fly ball come his way until Saturday's outing against the Cubs … when several home runs sailed well over his head.
"He moved on some balls. He tracked 'em. That's a start," McClendon said with a laugh on Sunday morning, recalling Weeks' latest action. "He looked pretty good. He was going in the right direction."
Joking aside, both Weeks and McClendon would like to see him get more catchable balls as the regular season nears. Weeks was a second baseman for 11 seasons with the Brewers, but will split time in left field with Dustin Ackley this year if all goes according to plan.
Weeks has handled all the outfield drills thrown his way in the first month of camp and says he's increasingly comfortable in his new role, so he isn't too worried about the lack of game action.
"It's just the game. You just play it the way it is," he said. "I had two balls come to me yesterday. I had a [double] down the line and a base hit to me. But other than that, I'm just waiting for a ball to come to me."
As for turning his head to watch Kris Bryant's bomb as well as a couple other home runs in Saturday's 12-10 loss to the Cubs, Weeks said that's part of the game as well.
"For the most part, I'm just trying to get reads on balls," he said. "I'm pretty comfortable out there."
McClendon has had Weeks doing drills at first base during morning workouts the last few days as his utility role increases. But learning two completely new positions is a lot to ask in one spring, and that remains an early experiment at this point.
McClendon sees Weeks as a potential emergency fill-in at first, along with Ackley, who played that position in college. But for now, Willie Bloomquist is the primary backup to Logan Morrison.
"We'll keep working that in, just getting him familiar with the bag and the footwork and stuff," McClendon said. "I don't know if he'll see game action here [in spring] or not. I don't know. We'll see."
Weeks says he's willing to take on any challenges, but acknowledges learning the intricacies of first base will take some time.
How soon could he be game-ready at first?
"I don't know. I'd just go out there and play," he said. "You have to get used to the small stuff, but for the most part, I've seen what's going on obviously, playing the infield for years. It won't be a shock to me, put it that way.
"I don't shy away from nothing. So it's not one of those things that is going to be overwhelming for me. I'll just go out there and get my work in."
Greg Johns is a reporter for MLB.com. Follow him on Twitter @GregJohnsMLB as well as his Mariners Musings blog. This story was not subject to the approval of Major League Baseball or its clubs.