Backed by early homers, Harvey twirls scoreless outing
Lagares, Duda and Wright take CC deep; Mets ace allows two hits over 5 2/3 to beat Yanks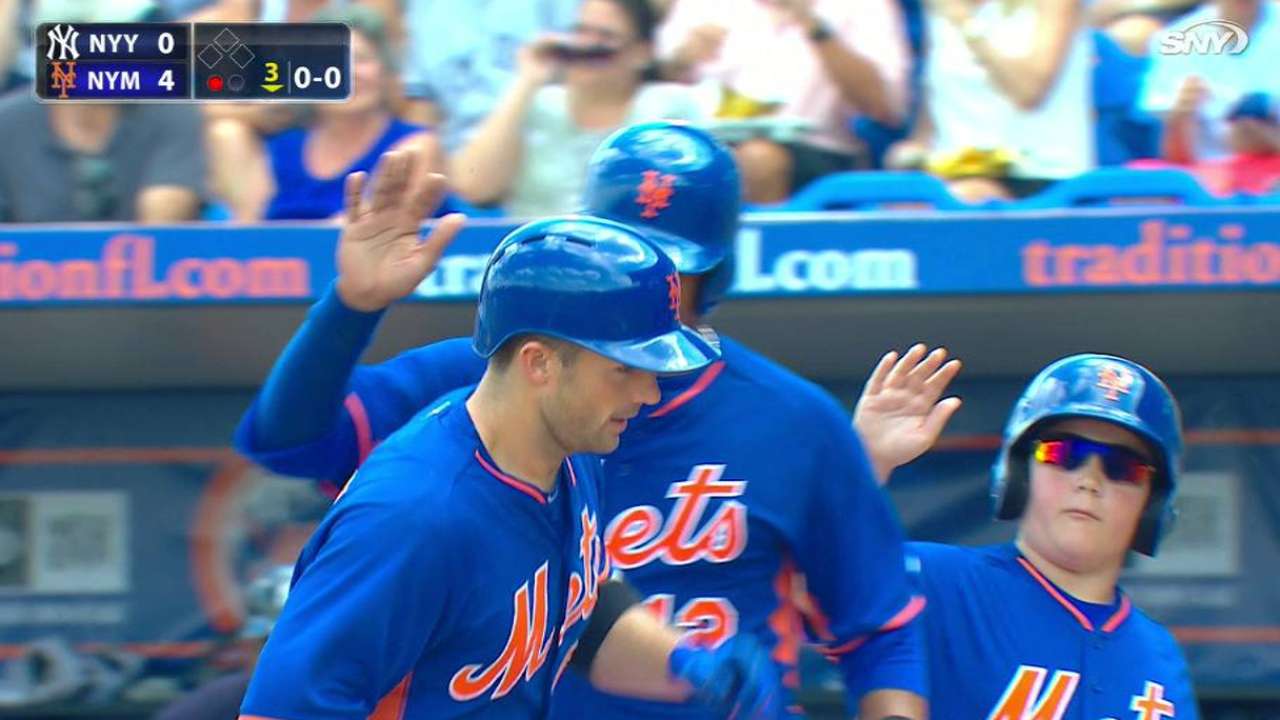 PORT ST. LUCIE, Fla. -- Three home runs against Yankees starter CC Sabathia and another encouraging performance from right-hander Matt Harvey lifted the Mets to a 6-0 Grapefruit League win over the rival Yankees on Sunday afternoon at sold-out Tradition Field.
The Yankees also lost Jose Pirela, who suffered a concussion in the first. He was injured when he slammed into the center-field wall chasing a drive off the fence by Mets leadoff hitter Juan Lagares, who circled the bases for an inside-the-park homer.
First baseman Lucas Duda homered with two outs in the first and David Wright added a two-run shot in the third.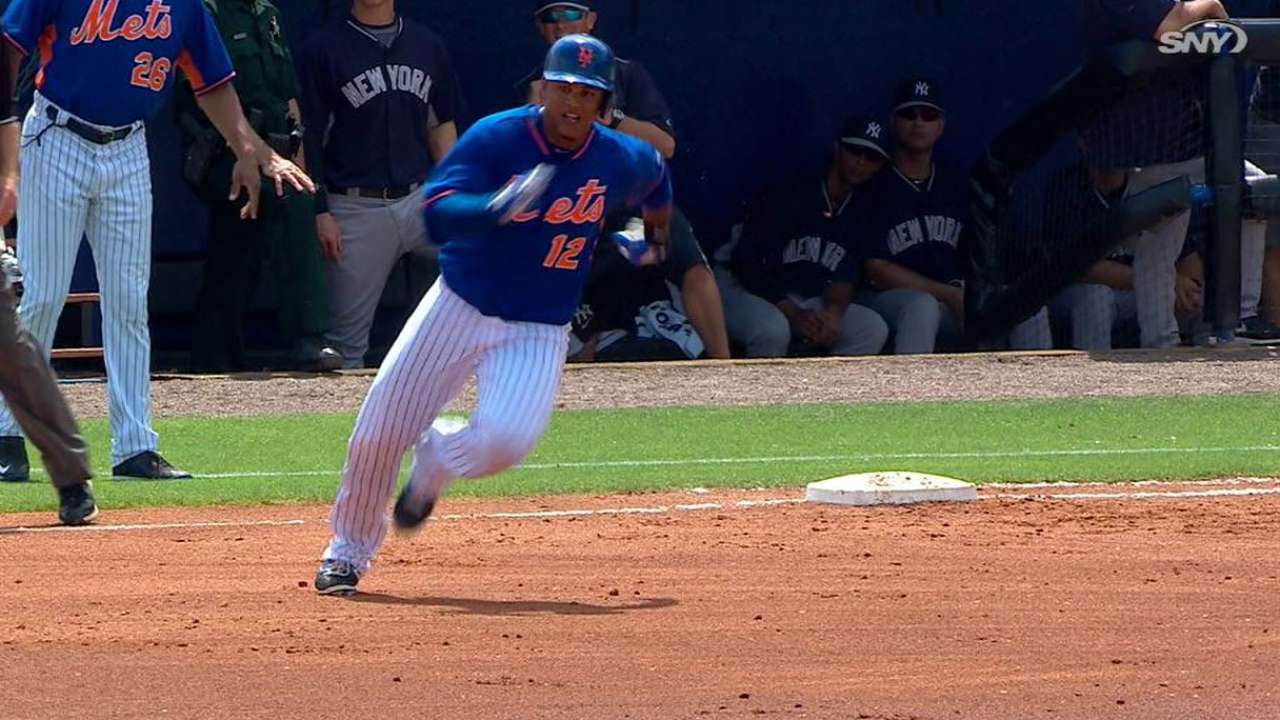 The 34-year-old Sabathia, who is coming off arthroscopic right knee surgery, went 2 2/3 innings in his second start, allowing four runs on five hits. He also struck out four. His Grapefruit League earned run average is 11.57.
The former Cy Young Award winner remains undeterred.
"I told [pitching coach Larry Rothschild] I felt a lot better than I did last spring and I didn't give up any runs," Sabathia said. "So I'd rather get my [behind] kicked and feel like I did [Sunday] than give up no runs and feel like I did last year."
Harvey, who was making his fourth start, is coming back from Tommy John surgery. He's pitched a total of 9 2/3 shutout innings in his last two outings, allowing the Mets and their fans to believe that he's ready to pick up where he left off when he started the All-Star Game as a rookie in 2013.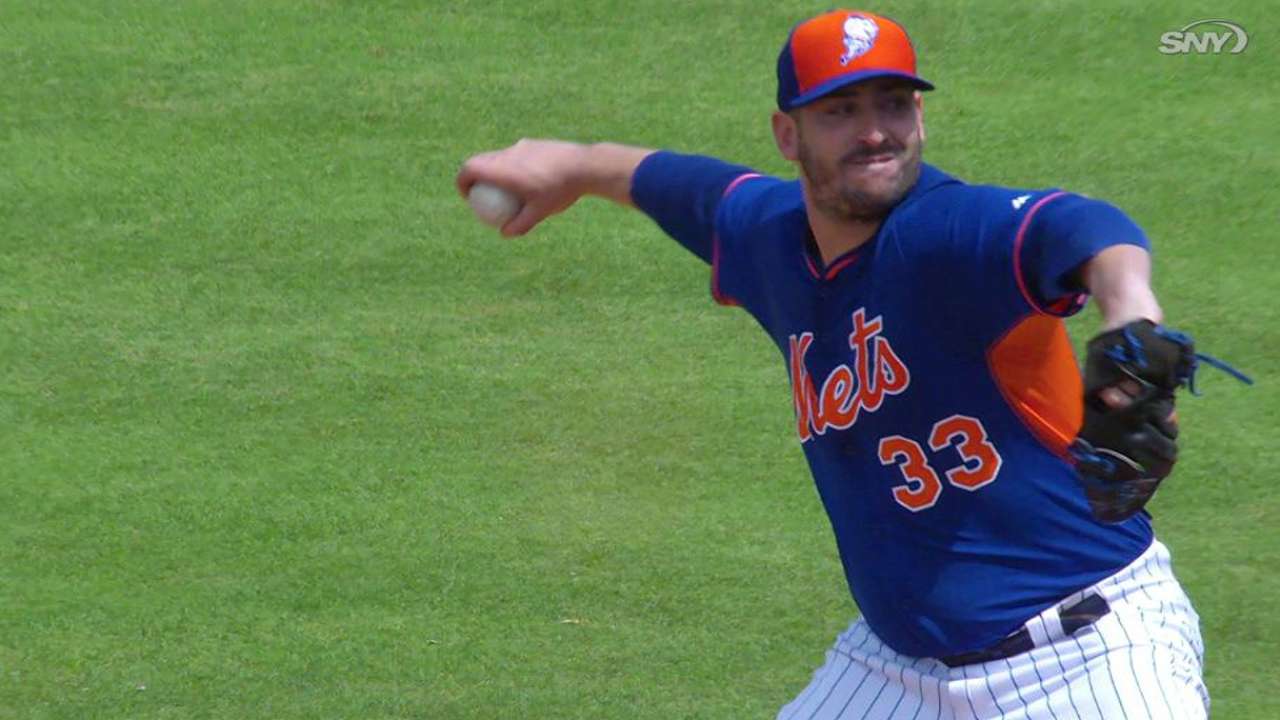 "That was a good test," Harvey said. "Obviously, the workload was increasing. I felt pretty good into the sixth inning. I was commanding pretty much everything. So I'm feeling pretty good.
"We're still about two weeks away from getting all your workload in. We're still working. Obviously, I'm not going to take the rest lightly. There's still a lot of work to be done. As far as today goes, I was pretty happy with the way everything was working. Everything was right around the zone."
Against a Yankees lineup that included starters Didi Gregorius, Stephen Drew, Chase Headley and Mark Teixeira, Harvey allowed just two singles and no walks while striking out four to lower his ERA to 1.26. He was taken out with two outs in the sixth when he reached his 60-pitch limit, receiving a rousing ovation from the crowd.
"We saw it two years ago," Mets manager Terry Collins said. "When he pitched, people were excited to see him; players the same way. It seemed like every night was a big game. So he does bring energy to the team. That's why it's good to have him back in the rotation. And I still believe the other guys in the rotation are going to feed off that same energy that he provides. Even though we lost Zack [Wheeeler], you've still got to like our pitching. We've just got to make sure we've got the right fixes in the bullpen."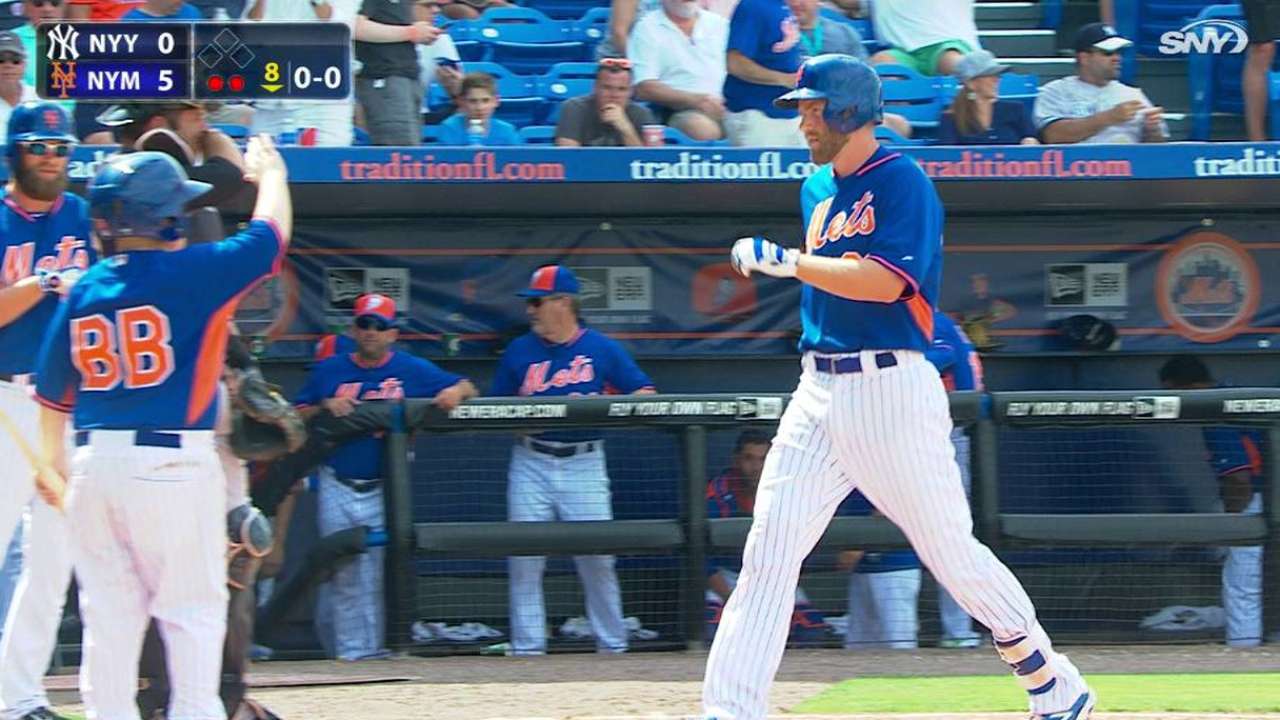 In the eighth, Eric Campbell cracked the Mets' fourth long ball, a solo shot off Chasen Shreve.
Up next: Righty Jacob deGrom, who retired the last 14 batters he faced in his previous outing, will attempt to build on that success -- and improve his chances of being named the Mets' Opening Day starter -- against the Marlins at 1:05 p.m. ET on Monday at Roger Dean Stadium in Jupiter, Fla. The reigning National League Rookie of the Year is 1-0 with a 2.45 ERA in three Grapefruit League starts. Righty Carlos Torres is also scheduled to pitch for the Mets in game that will be broadcast on Gameday Audio.
Paul Hagen is a reporter for MLB.com. This story was not subject to the approval of Major League Baseball or its clubs.