Pitching staff asked to shift to regular-season mindset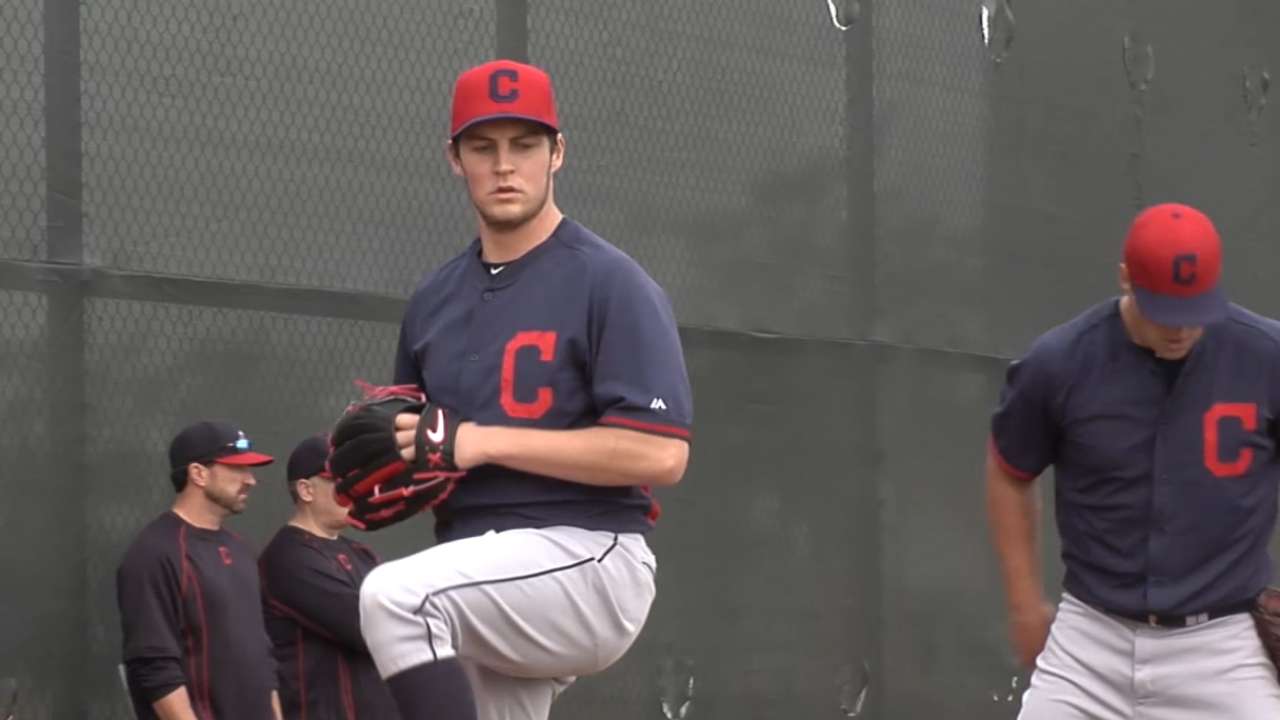 GOODYEAR, Ariz. -- Throughout the first few weeks of Spring Training games, pitchers tend to take the mound with specific goals or tasks in mind. As Cleveland begins to close in on Opening Day, the time has come to for its arms to adopt a regular-season mentality.
That was the message from Indians pitching coach Mickey Callaway on Saturday during his daily meeting with the team's pitching staff.
"We had a good meeting with everybody," Callaway said Sunday morning. "We feel like guys have really worked on some things. Now, let's start stepping it up a little bit. You just can't work on stuff the whole Spring Training. Sooner or later, you've got to transition into, 'I've been working on stuff. Now, I'm going to implement into my repertoire to get outs.'
"Hopefully you're going to see, obviously, a little bit better numbers. Hopefuly you'll see more of what it's going to look like in the regular season."
Worth noting
• Callaway was impressed with how right-hander Danny Salazar used his offspeed pitches in Saturday's four-inning start against the Rockies, but the pitching coach said the starter's fastball was still elevated in the strike zone. Callaway added that another positive from the performance was that Salazar was averaging around 95 mph with his fastball.
"Obviously, his stuff has been there," Callaway said. "It's just now getting it over the plate enough to where it's going to be effective."
• Indians manager Terry Francona said that Jason Kipnis (mid-back spasms) was "still feeling it" Sunday morning. Kipnis will be held out of the lineup on Sunday and Monday, making it five games missed for the second baseman. Francona said they want Kipnis to run through a full workout before returning to game action.
• Indians left-hander Kyle Crockett exited Friday night's game against the Angels in the eighth inning due to right hamstring tightness, but he felt improvement Saturday and Sunday. Barring any setbacks, Crockett is scheduled to make his next Cactus League appearance on Monday against the A's.
• Lefty Scott Downs is the only player in Cleveland's camp who falls under Article XX(B) in the Collective Bargaining Agreement. Downs signed a Minor League contract as a six-year free agent after ending the previous year on a Major League deal. He is eligible for a $100,000 retention bonus and an automatic June 1 opt-out clause if he is not in the Opening Day plans. Cleveland must make a decision on Downs' roster status by April 1.
• Veteran Nick Swisher was scheduled to run the bases again Sunday as part of his comeback from August surgery on both knees. Swisher planned on going through the workout without his knee braces for the first time this spring.
• Sunday marked the 22nd anniversary of the tragic boating accident that claimed the lives of Indians players Tim Crews and Steve Olin. Here is a look back at a retrospective column written two springs ago by MLB.com's Anthony Castrovince.
Jordan Bastian is a reporter for MLB.com. Read his blog, Major League Bastian, and follow him on Twitter @MLBastian. This story was not subject to the approval of Major League Baseball or its clubs.