MLB.com Columnist
Anthony Castrovince
Timing of Wieters' return not Orioles' focus
Baltimore wants catcher to be effective defensively after elbow rehab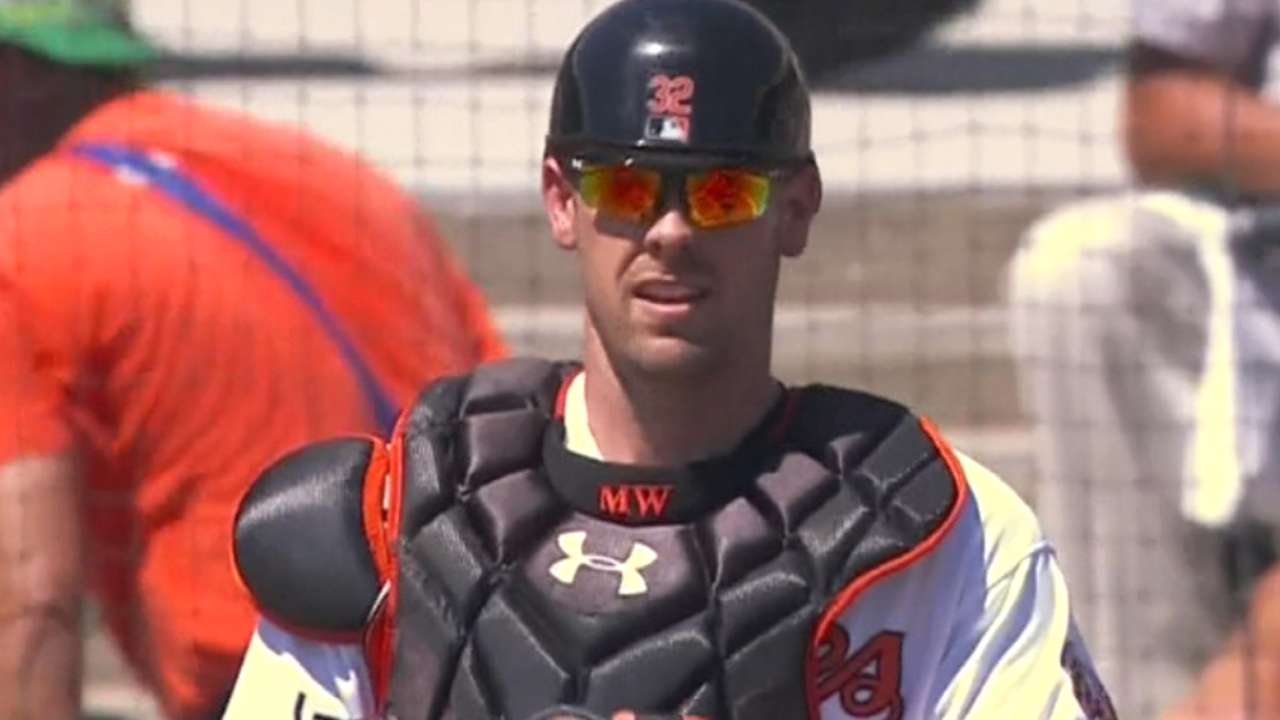 SARASOTA, Fla. -- Mere minutes into Sunday's sun-soaked exhibition with the Cardinals, the Orioles got tested on the basepaths by a streaking Jon Jay. The catcher accepted the pitch from Bud Norris, rose to his feet and fired a bullet to second to nab the would-be basestealer, and the O's had their first out of yet another Grapefruit League tune-up.
This is what the Orioles -- a team that places more emphasis on controlling the running game than arguably any other -- expect to see in 2015. But Matt Wieters, the guy they expected to do the throwing, is back on the shelf as his Tommy John recovery hit something of a snag. So in this moment, it was backup catcher candidate Steve Clevenger behind the dish at Ed Smith Stadium.
Wieters' situation is somewhat shrouded in mystery. Not only do we not know exactly when to expect him back -- manager Buck Showalter has made it quite clear Opening Day is no longer an option -- but there is absolutely no telling what level of performance to expect from him when he does return.
The O's shut Wieters down last week after he logged all of six innings behind the plate. They're calling it tendinitis, and they're reminding us that it's a normal part of the rehab process for a guy nine months post-operation.
"He wanted to come back and start the season," president of baseball operations Dan Duquette said. "Obviously we wanted the same thing. But the rehab schedule is the rehab schedule. That's independent of the playing schedule, and it's different for every player, for every situation."
You might have heard that Wieters' agent, Scott Boras, unsurprisingly -- especially with Wieters entering a contract year -- would like to see the Orioles carry his client as a DH until he's ready to catch.
There would be a stronger argument for that arrangement had Wieters not gone 0-for-23 before the shutdown. However, spring results aside, the O's simply feel it's best to get their catcher in a position to catch, which certainly makes sense.
"Honestly? He probably should concentrate on the rehab," Duquette said. "He has value as a hitter. But as a catcher who can hit? That's where his real value is."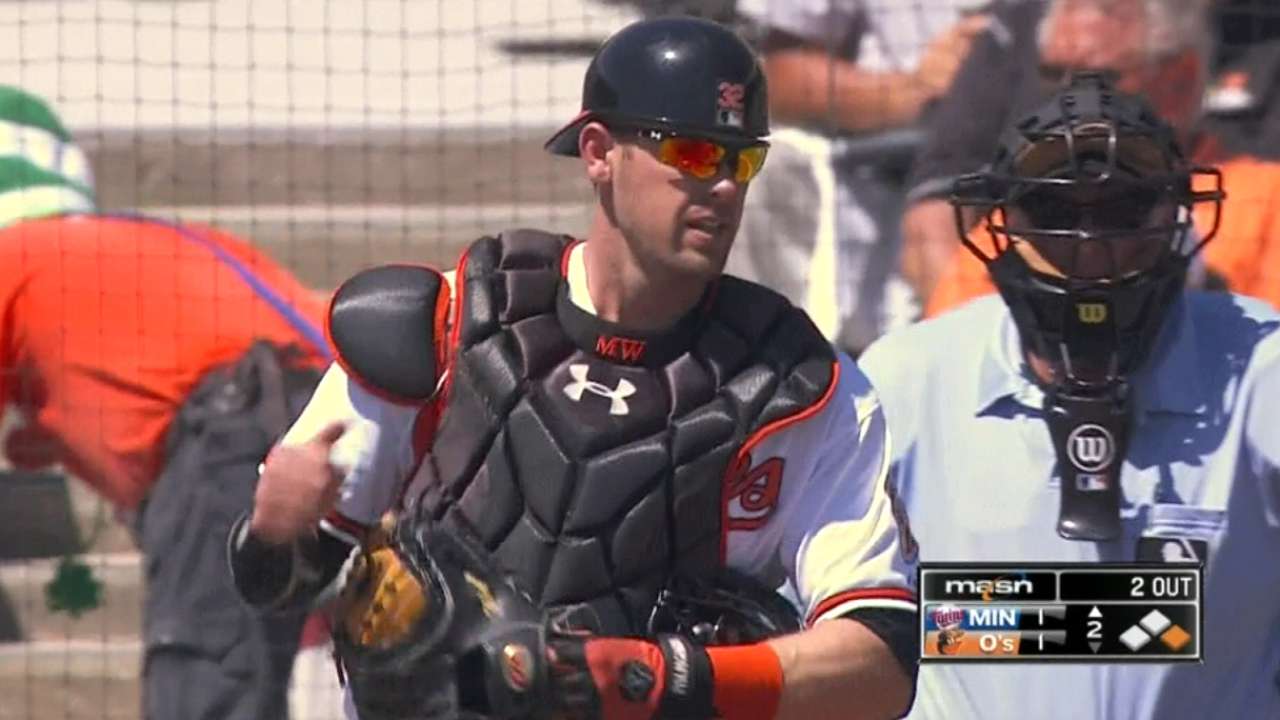 In terms of his surgery, Wieters is kind of in a class of his own.
Baseball Heat Maps' database lists 932 players who have had Tommy John surgery, only 21 of whom were catchers (including repeat customers Vance Wilson and Josh Ford). Of those 21 guys, only six had reached the big leagues before the procedure: Wilson, John Baker, Chris Coste, Todd Hundley, Steve Christmas and, of course, Wieters, who is the most accomplished catcher of that bunch.
Hundley, as a two-time All-Star, might be the closest comparable, but he's a complicated case given the Mitchell Report conclusion that he had purchased Deca-Durabolin and testosterone prior to his 1996 breakout. His career numbers took a decisive tumble after his '97 surgery.
Really, only Hundley, Baker and Taylor Teagarden had Tommy John surgery and went on to log a significant amount of time at catcher in the big leagues after the procedure.
While there is plenty of data to suggest position players return to their level of performance following recovery from the procedure, the thinness of the catcher records and Wieters' considerable past contributions (the switch-hitter is a three-time All-Star with the second-most home runs among catchers since his 2009 debut) make his situation more murky. Catchers have a rigorous role that includes off-balance throws and requires pure arm strength. Wieters has his hands full as he tries to get back to an elite level of run-prevention and run-production.
"It's a lot of unknown there," Showalter conceded. "We're hoping for the best. I do know this: They will have something to base the future on when they start trying to analyze this, because he's been a model blueprint for rehab as far as the work he's done."
But Wieters simply isn't ready.
Showalter mentioned the other day that when Wieters initially got hurt last season, the projected timetable made May 1 of this year seem iffy. So it would not be a big shock if Wieters' season-opening DL stay extends deep into April. This will test an Orioles team that already lost a lot of offense to free agency when Nelson Cruz and Nick Markakis left. Though Travis Snider could be a sneaky-good pickup, and there's always a lot to like about a lineup with Adam Jones and J.J. Hardy in it, the returns of Wieters, Manny Machado and Chris Davis are the O's chief sources of offensive upside.
It is some kind of irony, at a time when elbow ligaments are tearing at a rapid rate, that that the only member of the Orioles' 25-man roster to require Tommy John thus far in Showalter's tenure is the All-Star catcher, not a member of the pitching staff. Though mindful that their good fortune could go south at a moment's notice, the O's are proud of the pitching feat.
As far as Wieters is concerned, they're just as curious as the rest of us.
In the meantime, they're counting on Caleb Joseph, who did an excellent job stopping opposing runners last year but still has plenty to prove with the bat, in the lead role. Clevenger and outside acquisitions Ryan Lavarnway and J.P. Arencibia are competing to be the backup. Clevenger has the advantage of being on the 40-man and bringing a left-handed bat to the equation, but the Orioles aren't yet settled at that spot.
"It was key for us in the offseason to make sure we were covered," Showalter said.
The O's were hoping Wieters would have them covered from Opening Day onward. That's no longer a possibility. And even when he comes back, it's really hard to know if he can reach his All-Star level of old.
Anthony Castrovince is a reporter for MLB.com. Read his columns and follow him on Twitter at @Castrovince. This story was not subject to the approval of Major League Baseball or its clubs.