MadBum shows ace form over six in Giants' loss to Halos
Lefty allows one hit, retires final 16 batters faced in split-squad tilt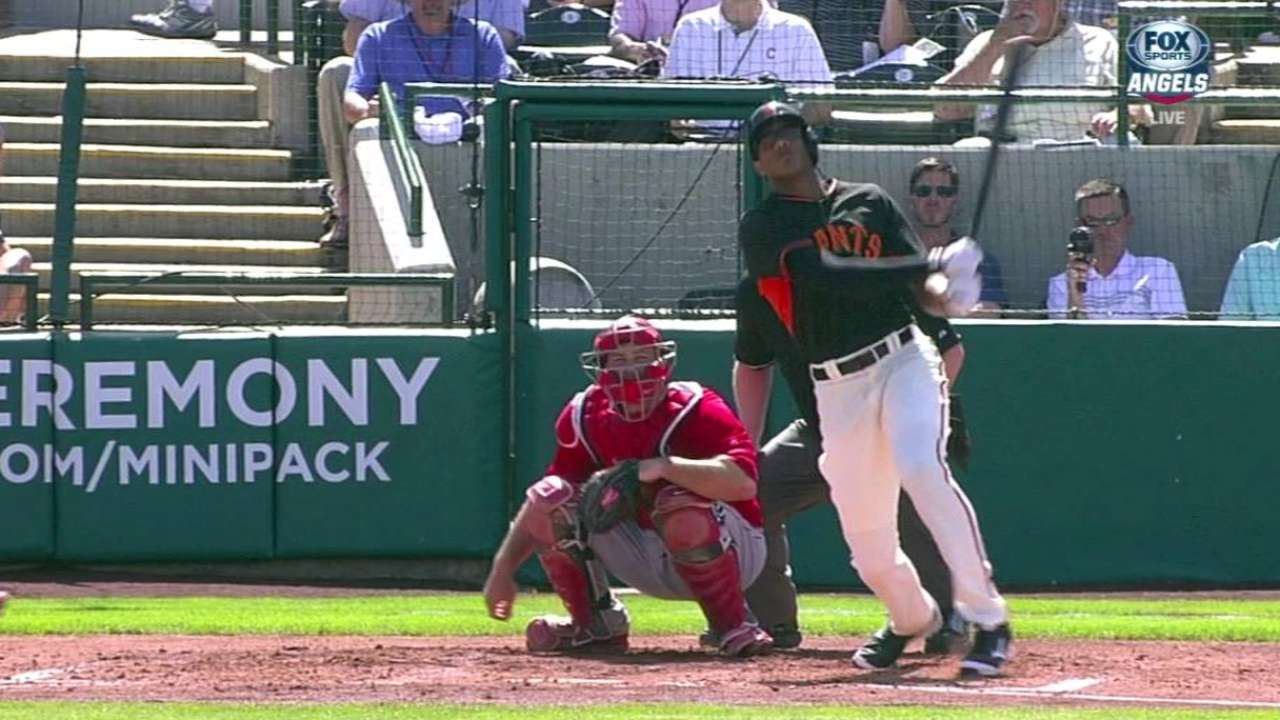 SCOTTSDALE, Ariz. -- When Madison Bumgarner is at the top of his game, he can be a nightmare for hitters, and that was case Sunday afternoon at Scottsdale Stadium.
The Giants' ace threw six strong innings, allowed just one hit and retired the final 16 batters he faced in the Angels' 3-2 win.
"It's just about getting ready for the 2015 season," Bumgarner said. "It's not about how good you are or how bad you are in Spring Training. It's just about getting ready."
Bumgarner had one blemish, with Albert Pujols hitting a changeup out of the yard to give the Angels a 1-0 lead in the first.
Pujols' homer, his second of the spring, was the lone hit off Bumgarner. Pujols also was the only Angels player to reach base against the left-hander.
"It was a pretty good pitch, good pitch, changeup," Bumgarner said. "He stayed on it, hit it good. I'm not going to dissect his swing, but I thought it was a pretty good pitch I made."
While Bumgarner was nearly flawless, Angels left-hander C.J. Wilson, pitching on three days' rest, labored a bit.
Wilson was scratched from his previous two starts, once because of a tweaked leg and once because he was sick, and was pitching on short rest to stay on track to pitch the second game of the regular season.
Wilson tossed 4 1/3 innings and allowed two runs on three hits.
However, he also walked four and gave up a pair of homers.
"It's more realistic, facing a bunch of Major League hitters," Wilson said after his first Cactus League start since March 7. "The only pitch I didn't really throw well was a slider. Good cutter, good curveball, a couple good changeups. I was missing because I was a little bit amped. I was frenzied from getting back out there, and at the same time a little bit weary from [only having] three days' rest."
Matt Duffy, the Giants' No. 8 prospect, hit the Giants' first homer of the game, his second of spring, in the first inning.
Three innings later, Justin Maxwell also flexed some power, taking Wilson deep to left for a solo home run. It was Maxwell's first homer of the spring.
Up next: In another World Series rematch, the Giants will play host to the Royals on Monday afternoon at 1:05 p.m. PT, with veteran Giants righty Jake Peavy scheduled to face veteran Royals righty Edinson Volquez. Monday's contest, which can be seen live via an exclusive free giants.com webcast, and listened to on Gameday Audio, will be the second straight day the two teams have played, although the Giants only sent a split squad to Surprise on Sunday.
William Boor is a reporter for MLB.com. Follow him on Twitter at @wboor. This story was not subject to the approval of Major League Baseball or its clubs.