Duffy builds toward season in KC's win over Giants
Rios ups Cactus League average to .306 with double, single in victory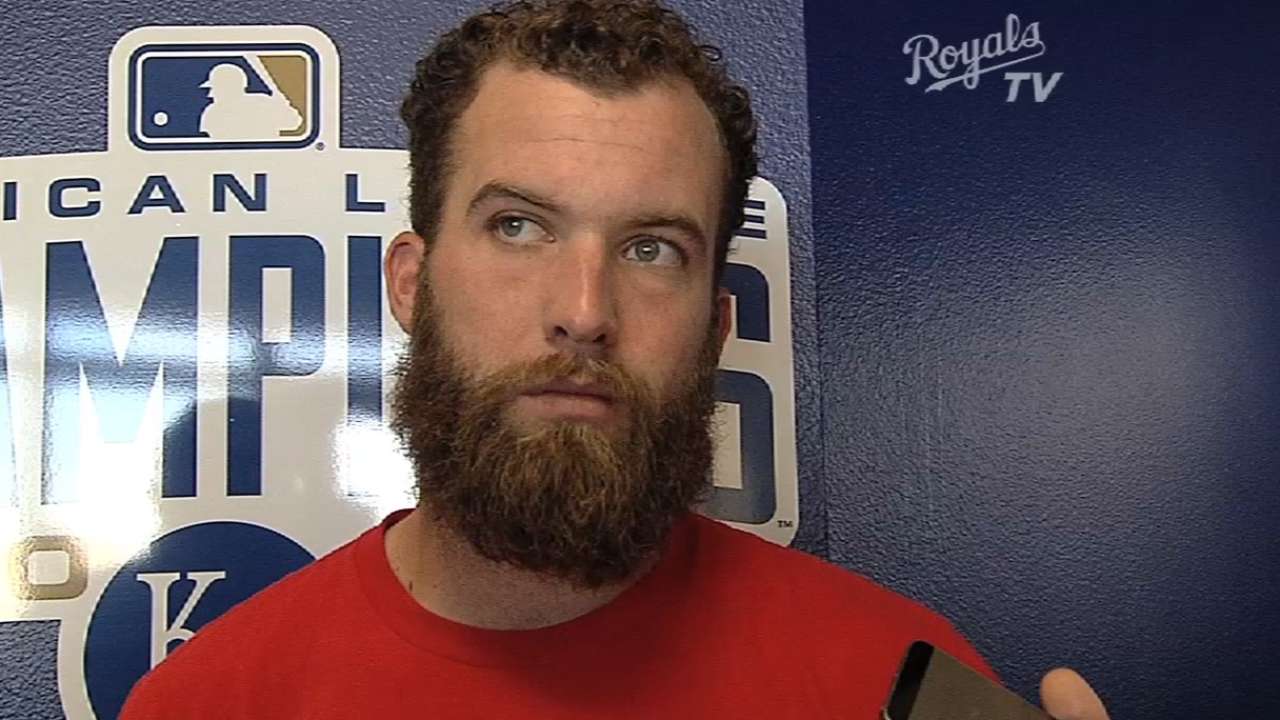 SURPRISE, Ariz. -- When last seen by Royals fans, Nori Aoki was playing right field for the Kansas City club in last October's seven-game loss to the Giants in the World Series. Aoki went 1-for-14 in the Series.
He returned to Surprise Stadium on Sunday and played left field for a Giants split-squad and went 2-for-3 with a double and a walk, the two hits coming against former teammate and left-hander Danny Duffy. Duffy allowed only four other Giants hits and two runs through 5 2/3 innings as the Royals won, 4-2.
"It was good to face him," Duffy said about pitching twice to Aoki. "He's a guy who's hit lefties pretty well, and I can see why after facing him. He's a tough out. We miss his presence in the clubhouse over here. He's a great guy. We wish him nothing but the best, except not when he's facing us."
The Giants signed Aoki as a free agent this offseason to a one-year contract worth $4.7 million, and he was projected as a fourth outfielder. But he's taken on greater value this spring because of injuries to Hunter Pence (broken left forearm) and Angel Pagan (back spasms).
The lefty-swinging Aoki came into the weekend with only four hits, and he's doubled that output with two each against the Angels and Royals. Even so, he's still batting .190.
Aoki said that after the Giants arrived at the ballpark, he went over to the Royals' dugout to say hello.
"To the manager, the coaches, the players, the staff," he said. "The were very warm and friendly to me, quite welcoming. It made me think fondly of my time playing for the Royals. I still like them."
Duffy walked only one, struck out two and tossed a pair of wild pitches in his longest outing of the spring. He was lifted after allowing Brandon Crawford's RBI double with one out in the sixth, having thrown 72 pitches. He's scheduled for two more spring starts.
Oddly enough, four of the Giants' hits off Duffy were off the bats of left-handed hitters, Crawford and Aoki.
"When I played for the Royals, I used to watch Duffy pitch from right field," Aoki said. "That gave me a strong image of Duffy, of the way he pitches. That resulted today in my two hits."
Rookie Chris Heston made his first Cactus League start for the Giants and was nearly flawless through three shutout innings, allowing only Eric Hosmer's single and hitting Lorenzo Cain with a pitch. He walked none, whiffed five and tossed 50 pitches.
Alex Rios went 2-for-3 with a double, single and RBI, his eighth of the spring.
Up next: The Royals travel to Scottsdale for the second of back-to-back games against the Giants, this time the full S.F. squad. It's the only meetings of the spring between last fall's World Series participants. The Royals are slated to start right-hander Edinson Volquez against veteran Giants righty Jake Peavy. First pitch is at 3:05 p.m. CT and can be heard on Gameday Audio.
Barry M. Bloom is a national reporter for MLB.com and writes an MLBlog, Boomskie on Baseball. Follow @boomskie on Twitter. This story was not subject to the approval of Major League Baseball or its clubs.