Henderson confident he can reclaim velocity
Right-hander looks back to early career to show that improvement takes time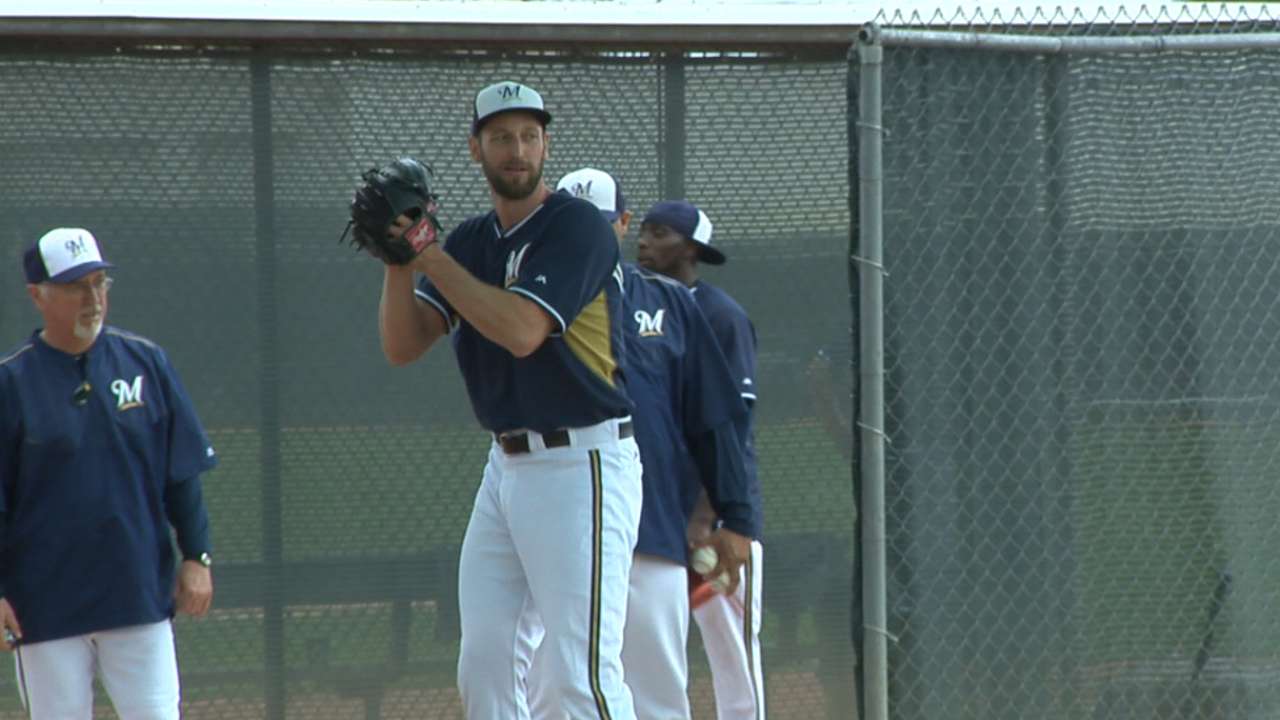 PHOENIX -- Brewers reliever Jim Henderson spoke with confidence on Sunday about reclaiming some of the velocity he lost to last season's shoulder surgery. He believes he has history on his side.
"When I first signed with the Brewers in '09 I went to Appleton [home of Milwaukee's Class A affiliate] and I probably didn't touch 90 for the first month," said Henderson, who has been mostly in the 88- to 90-mph range this spring. "Then by midseason I was in [Class A advanced] Brevard [County] throwing 95. So I'm still trying to be patient with it. …
"Medical people can say what they want, but I think [the velocity is] going to come back. Will it be back to 97, 98? I don't know. But I've thrown four innings so far -- there's going to be improvements."
When he was at his best as Brewers closer in 2013, Henderson's fastball regularly touched 97-98 mph, but he has not come close to that since surgery last August to remove bone spurs and repair fraying to his labrum and rotator cuff.
This week, Brewers officials made clear to Henderson that they don't see him making the Opening Day roster. They spoke of shifting him to Minor League camp before the sides settled on a compromise; Henderson will still dress and get treatment in the big league clubhouse, but will only pitch in Minor League games. Henderson characterized the discussions as amicable.
The arrangement preserves the Brewers' ability to backdate a stint on the disabled list, should that prove necessary. Or, the team could eventually option him to a Minor League affiliate.
"That's yet to be determined," he said. "I'll pitch in Minor League games here, and if we can see some improvements, showing that maybe we still need to work, maybe that's a DL thing. If I'm staying the same, maybe that's the type of pitcher I'll be for a little bit, and we'll go from there."
If it's the latter, Henderson said he is open to reporting to a Minor League club to work on reinventing himself with less sizzle on his fastball.
"It's early. I've thrown four innings," he said. "If I don't get the 'velo' back completely to where it was -- it's going to improve -- I still feel I can get guys out. I've done it for a long time before I threw hard. I'm confident I'll get back to where I need to be."
Henderson was scheduled to make his first appearance in a Minor League game on Sunday.
Adam McCalvy is a reporter for MLB.com. Read his blog, Brew Beat, and follow him on Twitter at @AdamMcCalvy. This story was not subject to the approval of Major League Baseball or its clubs.