Johnson taking veteran approach in stating spring case
Journeying utility player finding stroke at plate after quiet start at Braves camp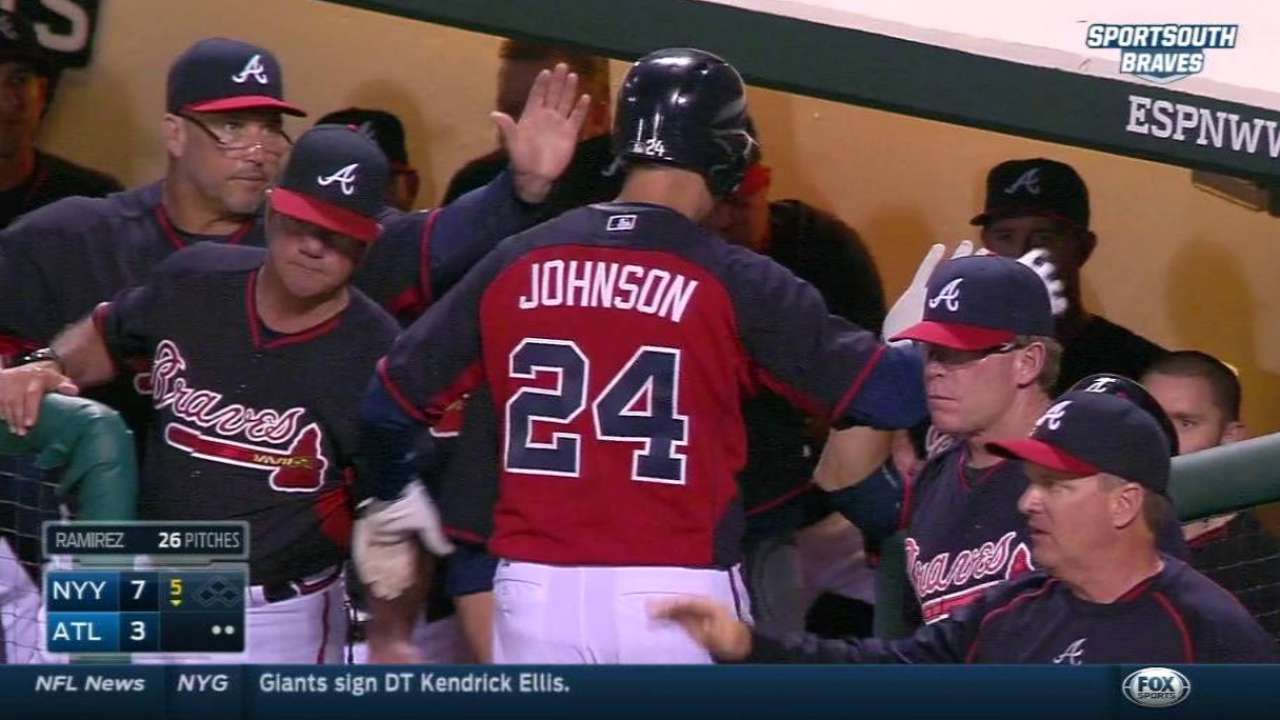 LAKE BUENA VISTA, Fla. -- Veteran utility man Kelly Johnson has been around long enough to understand the intricacies of Spring Training. While the stats and team records may not matter in the grand scheme of things, the reality is what happens in these games can matter a lot more for some players than others.
"Everybody's in a different position right now," Johnson said. "Some guys, the goal is just to stay healthy until the season starts, some guys it's to work on this or work on that, and some other guys really need to go out and perform to show what it looks like when they're locked in."
Johnson, who remains in the hunt for one of the Braves' final Opening Day roster spots, certainly falls into the latter category this spring -- and he's been doing just that of late. After going just 2-for-19 (.105) over his first seven appearances this spring, Johnson entered Sunday's tilt against the Tigers having gone 5-for-11 (.455) with a home run, two doubles and four RBIs over his last four games.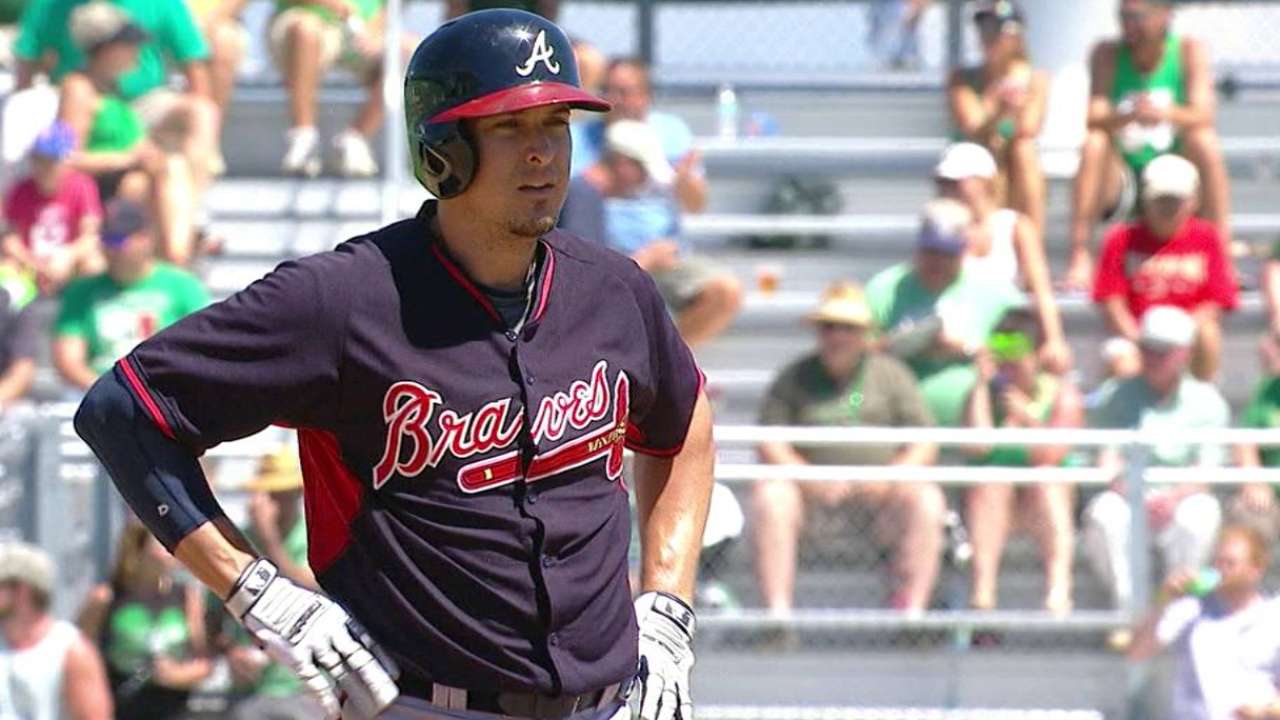 "It's Spring Training, so it's still early," Johnson said. "Sometimes it takes a little bit of time to get the timing down and really get things going. I've been putting in a lot of work, though, and I feel good about where I'm at here now."
While Johnson knows he has a limited timeframe with which to work, the feeling is nothing new for the 33-year-old. After originally being drafted by Atlanta in the first round of the 2000 First-Year Player Draft and spending the first five years of his career with the Braves from 2005-09, Johnson has now played for six different teams over the last five seasons, including three last year alone.
Johnson began last season as a member of the Yankees before being traded in late July to the Red Sox. Almost exactly one month later, Johnson was traded again, this time to the Orioles. He then became a free agent following the season and later signed a Minor League deal with the Braves in January.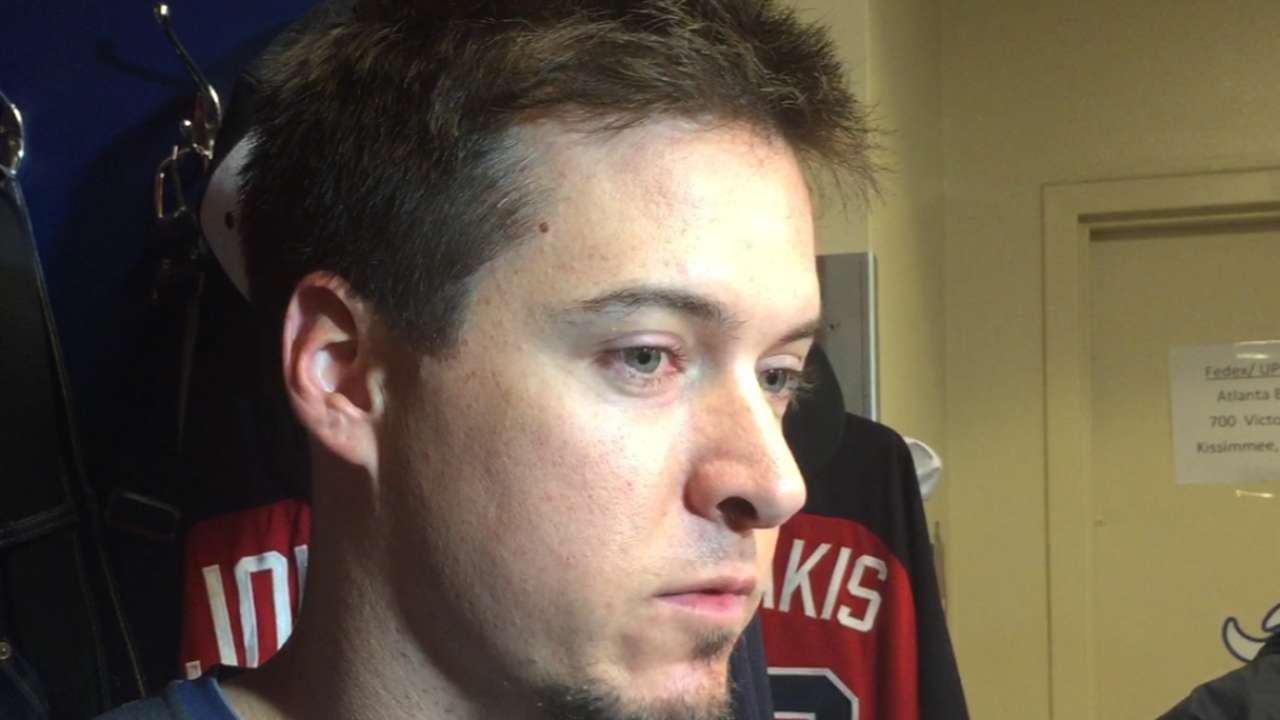 Though he's still unsure of where exactly he'll begin this season, let alone end it, Johnson said the constant moving around in recent years hasn't affected his approach.
"I've been over all that for a while now," Johnson said. "You just do what you can do and put in the work. Being able to come back to somewhere pretty familiar and put on a uniform that I've put on before makes it pretty easy to want to just come in and make a good impression again."
While it remains to be seen whether he will be able to carve out a bench role with the Braves, Johnson's focus remains only on the field for the time being.
"My head's down for now," Johnson said. "There may come a time when you have a little more of a conversation about it, but that kind of stuff takes care of itself in my opinion. It sounds cliché, but really all you can do is handle what you can control, so that's what I'm trying to do."
Paul Casella is a reporter for MLB.com. This story was not subject to the approval of Major League Baseball or its clubs.