Pinto sidelined with possible concussion
Molitor expects catcher to miss at least 4-5 days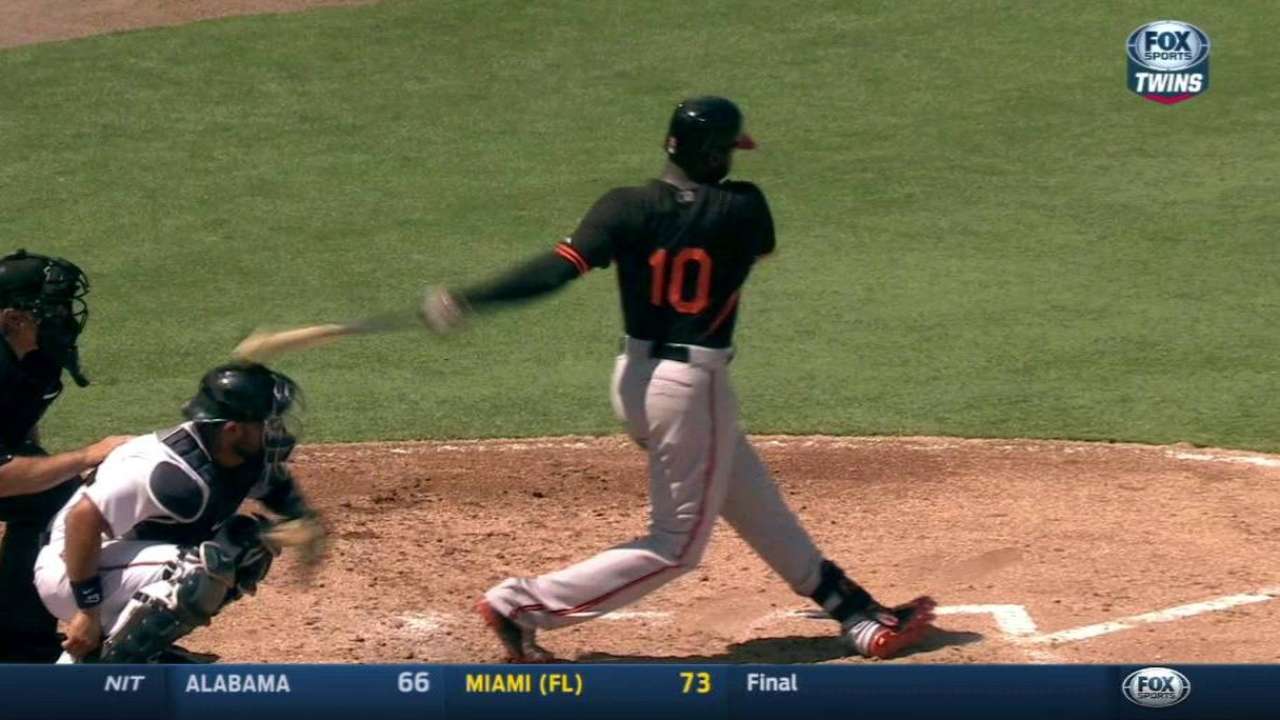 JUPITER, Fla. -- Twins catcher Josmil Pinto has what general manager Terry Ryan described Sunday as "concussion-like symptoms" that likely will keep him sidelined for a few days.
Pinto sustained the concussion during the Twins' game Saturday against the Orioles when Baltimore center fielder Adam Jones struck Pinto's helmet three times on backswings. Pinto left the game in Fort Myers, Fla., in the bottom of the second inning after experiencing some dizziness. Ryan said that a CT scan was negative, but would not rule out the possibility that Pinto indeed has a concussion.
"We're monitoring him," Ryan said. "We'll keep an eye on him for the next couple of days and then we'll move forward. I was pleased with the way he looked and acted (Sunday morning). Just take it a day at a time and see how it goes."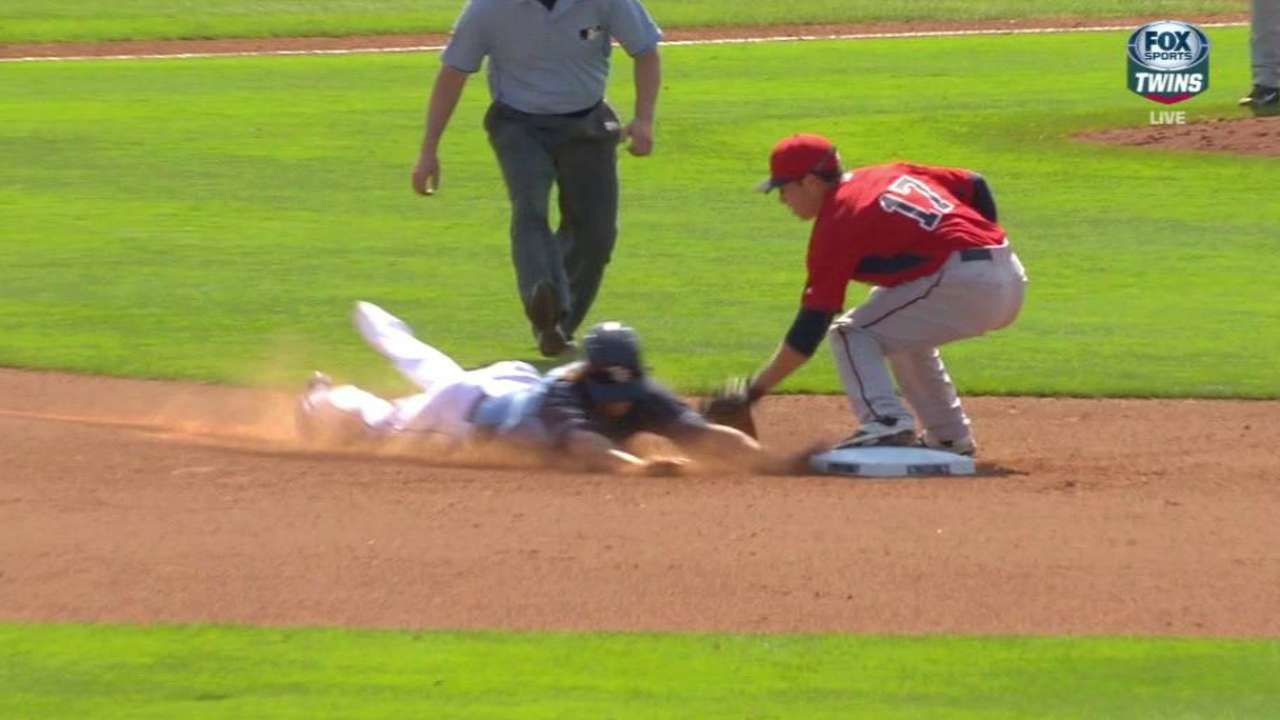 Twins manager Paul Molitor said prior to the Twins' game on Sunday against the Marlins at Roger Dean Stadium that he expects Pinto will "be out of baseball for a minimum of four or five days." Molitor said he also spoke with Pinto on Sunday.
"He's feeling OK, but you move slow on those particular injuries, so we'll just see how it progresses," Molitor said. "He said he felt OK [Sunday], just not quite himself."
It's the second setback for Pinto this spring. He also was sidelined for a few days at the beginning of the Grapefruit League season because of a quad injury.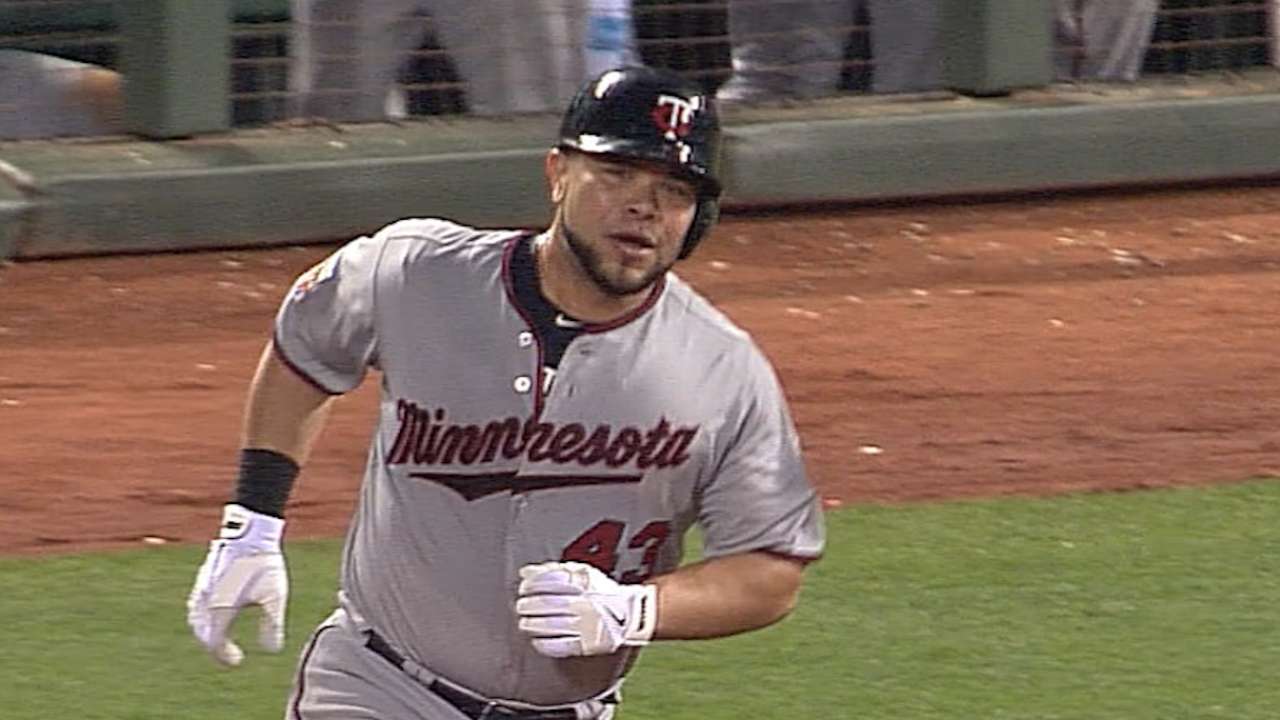 Pinto played winter ball to work on his mechanics and Molitor said he has seen positive progress in that area of Pinto's game. Pinto is competing for the backup catcher role and has performed well at the plate this spring, sporting a .353 batting average in seven games.
Molitor would not speculate on how this setback will affect Pinto's chances of making the final roster when the Twins break camp in about two weeks.
"Sometimes you got to slow people down and that's a good thing," Molitor said. "But he's one of those guys that we're probably going to have to make sure we give him the time because being a competitor and having a chance to compete here he's probably going to try to come back, and we want to make sure we give him the time he needs to get well."
Molitor said he had no problem with the fact that Jones struck Pinto three times on his backswing, one of which Molitor said was a "particularly direct" hit.
"Jones has always had that long follow-through," Molitor said. "And then when you've got a [pitcher] throwing changeups and off-speed pitches, a catcher's tendencies are to maybe scoot a little closer and you become vulnerable to a long swinger like Jones. I know they're constantly trying to improve protective headgear for catchers. You're going to be exposed to it. It is the game."
Steve Dorsey is a contributor to MLB.com. This story was not subject to the approval of Major League Baseball or its clubs.