Pirela suffers concussion in collision with center-field wall
Yankees' No. 25 prospect carted off; brain CT scan and MRI on neck, spine come back normal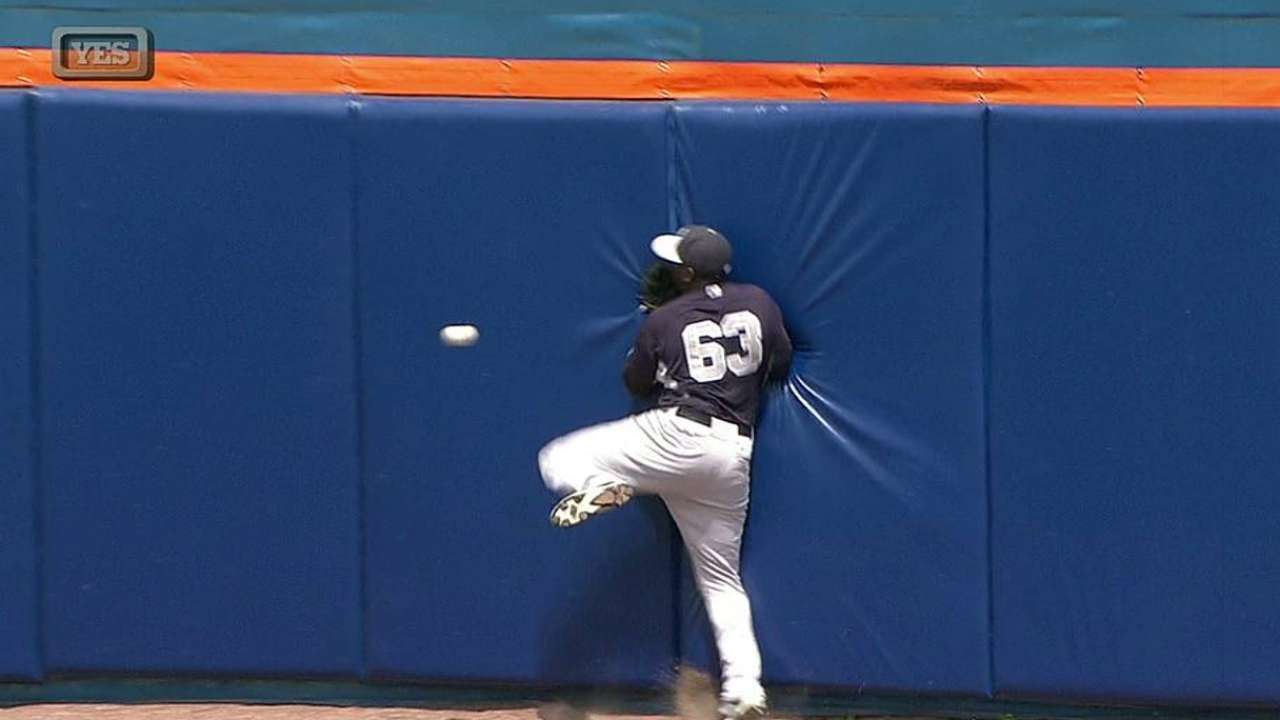 PORT ST. LUCIE, Fla. -- Yankees prospect Jose Pirela has been diagnosed with a concussion after he crashed into the center-field wall during the first inning of Sunday's 6-0 loss to the Mets at Tradition Field.
He was taken to Tradition Medical Center in an ambulance for a brain CT scan, which came back normal. Neck and spine MRI findings also came back normal, and Pirela was discharged Sunday evening.
Pirela collided with the wall while chasing a drive by Juan Lagares from Yankees starter CC Sabathia that resulted in an inside-the-park home run. Pirela appeared to also have hit his head on the ground and remained down on the warning track for several minutes before getting to his feet slowly.
"Obviously you're concerned when a player doesn't get up," Yankees manager Joe Girardi said. "He did not feel good."
Pirela, a second baseman by trade who was making his first start in center this spring, told Girardi that he felt dizzy and was replaced by Slade Heathcott.
This injury could end the spring for Pirela, the Yankees' No. 25 prospect according to MLB.com, considering he will have to undergo a number of tests before returning to the field. He had been playing well, batting 10-for-27 with two doubles and three triples entering Sunday.
"He's going to have to go through a battery of tests," Girardi said. "You just don't know. Some guys respond quicker than others. You wouldn't think that a second baseman has had a significant number [of previous concussions] like catchers, so sometimes the response is quicker. We'll just have to wait and see. I hope not."
Jamal Collier is a reporter for MLB.com. Follow him on Twitter at @jamalcollier. This story was not subject to the approval of Major League Baseball or its clubs.