Markakis to make spring debut today
Rehabbing after neck surgery, Braves outfielder will DH vs. Astros in Kissimmee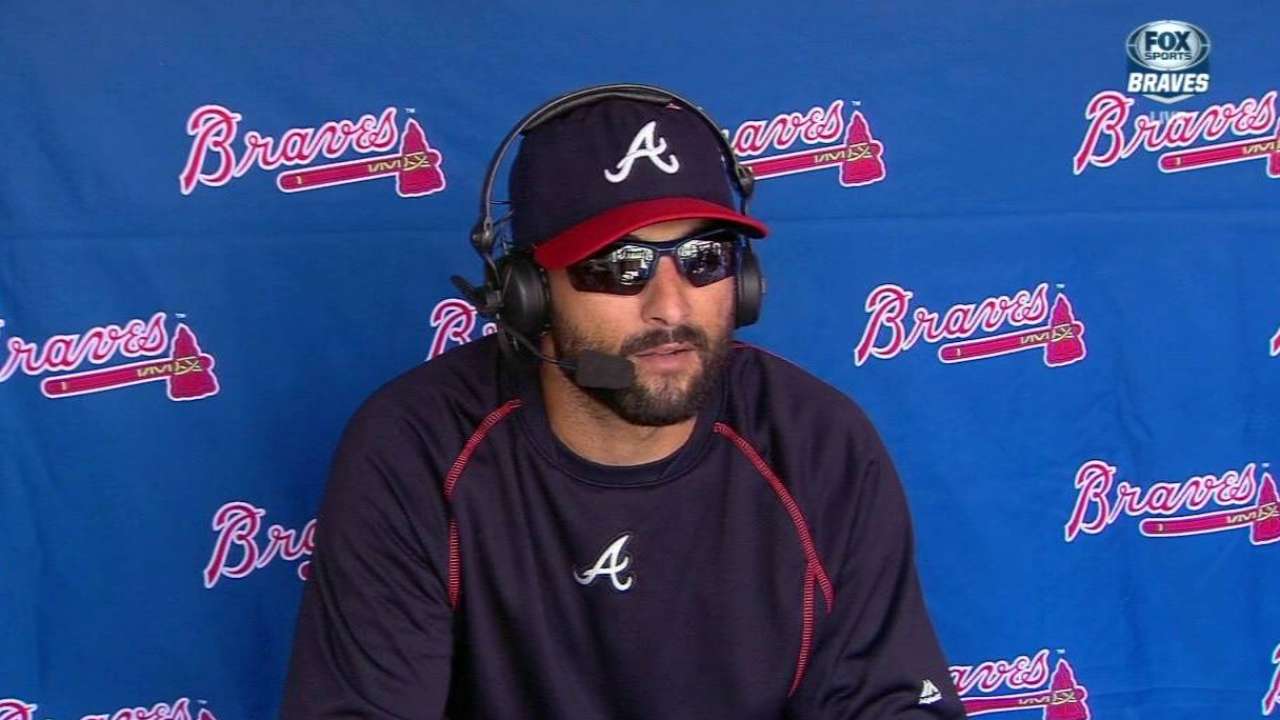 LAKE BUENA VISTA, Fla. -- Braves outfielder Nick Markakis is expected to take a major step in his rehab process on Monday by making his spring debut in a game against the Astros.
Markakis, who took batting practice for a third consecutive day on Sunday, will travel with the club to Kissimmee, Fla., and serve as the club's designated hitter for the Braves' 1:05 p.m. ET game at Osceola County Stadium (live on MLB.TV). Depending on how his debut goes, Markakis could see his first action in the field as soon as Tuesday's home game against the Phillies.
"He looks great and feels great, so I'm gonna DH him [Monday]," manager Fredi Gonzalez said. "If everything goes well, he'll come back here [Tuesday] and maybe play right field."
Markakis, who signed a four-year, $44 million deal this offseason, has been sidelined all spring after undergoing neck surgery on Dec. 17. Though he still has a number of hurdles to clear, even after his expected return on Monday -- such as playing the field, playing it for a full nine innings and appearing in back-to-back games -- Markakis remains hopeful that he'll be ready in time for Opening Day.
"That's been my goal all along," Markakis said. "That's still my plan, but we'll have to wait and see."
As for what Gonzalez needs to see from Markakis before penciling him into an Opening Day lineup, the Braves' skipper said it's simply a matter of getting his conditioning to where it needs to be, while obviously avoiding any setbacks.
"I know what he can do out there," Gonzalez said. "I'm just looking forward to getting him in there and getting him into baseball shape."
Paul Casella is a reporter for MLB.com. This story was not subject to the approval of Major League Baseball or its clubs.